In the autumn of 2017, category-five Hurricane Irma bore down upon the Lesser Antilles of the Caribbean, striking the British Virgin Islands head-on. The aftermath of the storm was a revelation of destruction and danger. Roads were washed out, homes destroyed, hotels inundated, and coastlines completely reshaped by the slow-rolling behemoth that pounded the country. Satellite before and after images of the hurricane's effects show that almost all trees, bushes, and other vegetation were stripped of their leaves. A once-verdant tropical paradise was reduced to scrub and rocks.
Now, one year after Hurricane Irma set its devastating sights on the small Caribbean island nation, the British Virgin Islands are back and ready for business. With hard work, determination, a little outside help, and a lot of cooperation, the British Virgin Islands have taken major steps to a full post-hurricane recovery. But the only way the BVI can make those final leaps from nearly-back-to-normal to better-than-before is with your help. One of the best ways to do that is by paying this formBritishish colony a visit. Seeing how nearly 45 percent of the islands' economy relying on tourism, many of the local people and businesses are dependant on the influx of visitors from the northern hemisphere to the islands during the autumn and winter months. Let's make it our duty to show up. After all, who wouldn't want to help people recover from a massive natural disaster if it means sun, sand, and a week of relaxation.
Here are the best places to stay and things to do in this tropical island escape, the British Virgin Islands.
Newly refreshed rooms, grounds, and exteriors welcome travelers with the best that all the British Virgin Islands have to offer.
Where to Stay
If you're a silver-lining kind of guy, then you'll know that, as a result of considerable hurricane damage done to many of the best hotel and resort properties in the BVI, those that have recently reopened have not only repaired their properties but have gone above and beyond and made them even better before. Newly refreshed rooms, grounds, and exteriors welcome travelers with the best that all the British Virgin Islands have to offer.
Scrub Island Resort
Located a 15-minute boat ride from the BVI's only international airport on Beef Island, Scrub Island Resort is the place to stay if you want to relish every single minute you have on the islands. Going from touchdown on the airport's tarmac to dipping your toes on Scrub Island's north beach should take less than an hour, meaning you get from transportation to relaxation in no time at all. Upon arrival at the resort's dock, you'll be welcomed and ushered to either a condo facing the island's marina or whisked away via golf car to your private villa and suite in various locations.
Multiple beaches can be found here and all are great for wading, swimming, snorkeling and relaxing. A secret beach accessible only by kayak (which you can use free of charge) sprawls along the western and northern parts of the private island. A water trampoline floats offshore from the main beach and is the perfect place to relive your youth by backflipping into the Atlantic.
Private villas feature full kitchens, plunge pools, large porches and balconies, and absolutely unparalleled views of the clear blue waters of the surrounding inlets and bays. An on-property spa boasts deep tissue and other massages along with other treatments; an island store provides groceries, beer, sundries, and deli sandwiches; and a gift shop and dive shop round out the other commercial offerings. Dining options include the Caravela restaurant — the resort's centerpiece establishment thanks to dishes like filet mignon, rack of lamb, and jerk chicken — but the pièce de résistance of the property is the double-decker pool with waterslide and waterfall.
Private villas feature full kitchens, plunge pools, large porches and balconies, and absolutely unparalleled views of the clear blue waters of the surrounding inlets and bays.
Oil Nut Bay
To step up your level of luxury, pass on Scrub Island Resort and opt instead for Oil Nut Bay. Situated on the northeastern tip of Virgin Gorda (another of the larger islands of the BVI), Oil Nut Bay is a luxury property development combining all the amenities anyone could ask for with the perfect location at the nexus of great sailing, beautiful beaches, and stunning landscapes — not to mention two marinas, a nature center, a spa, a beach club, and a restaurant. There are only 88 villas on property, which means renting one for a few days or a week is like acquiring your own private slice of paradise. Other guests and owners tend to keep to themselves, another attribute that reinforces the quiet solitude at Oil Nut Bay. And that quiet solitude is truly worth the price.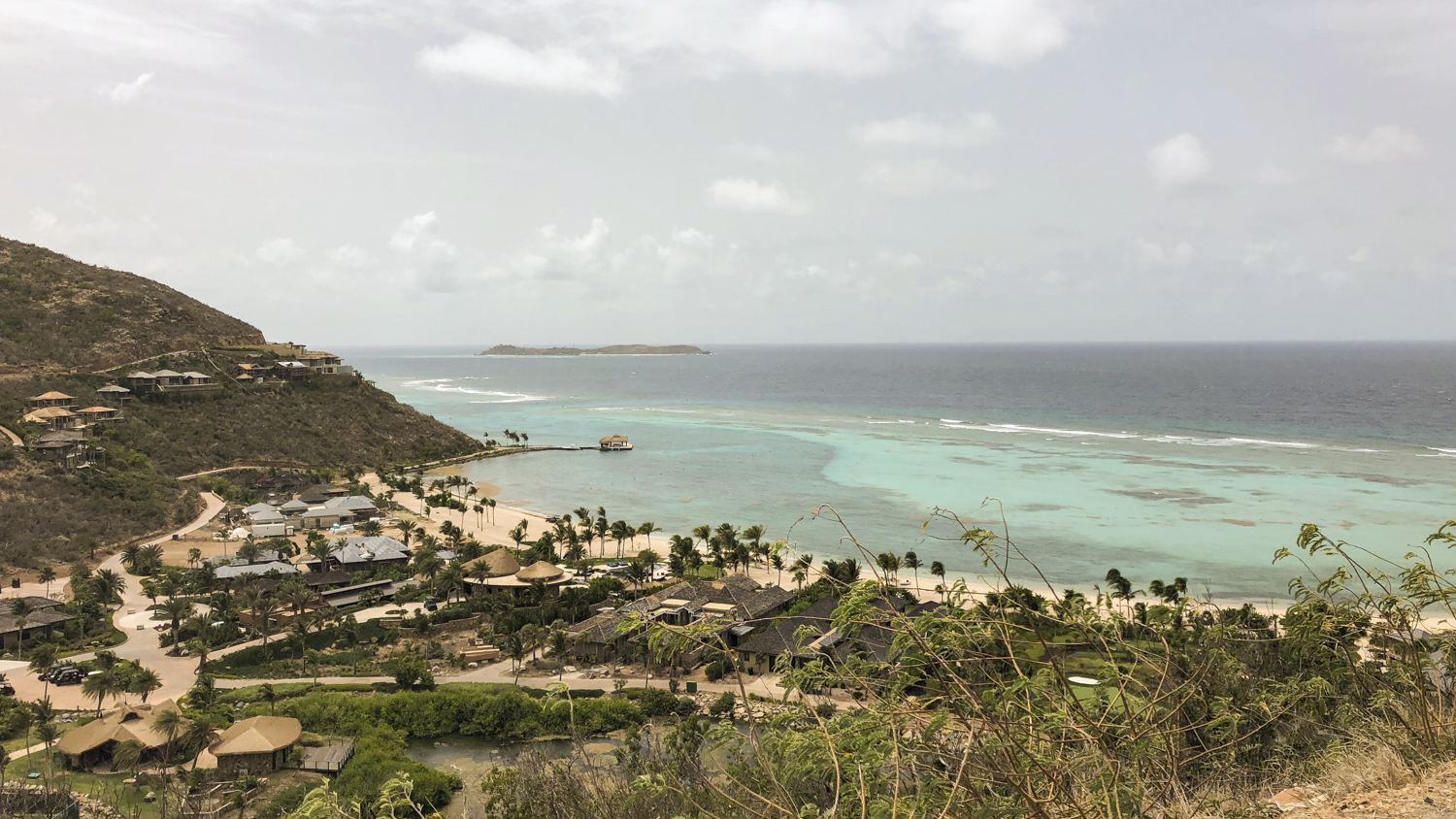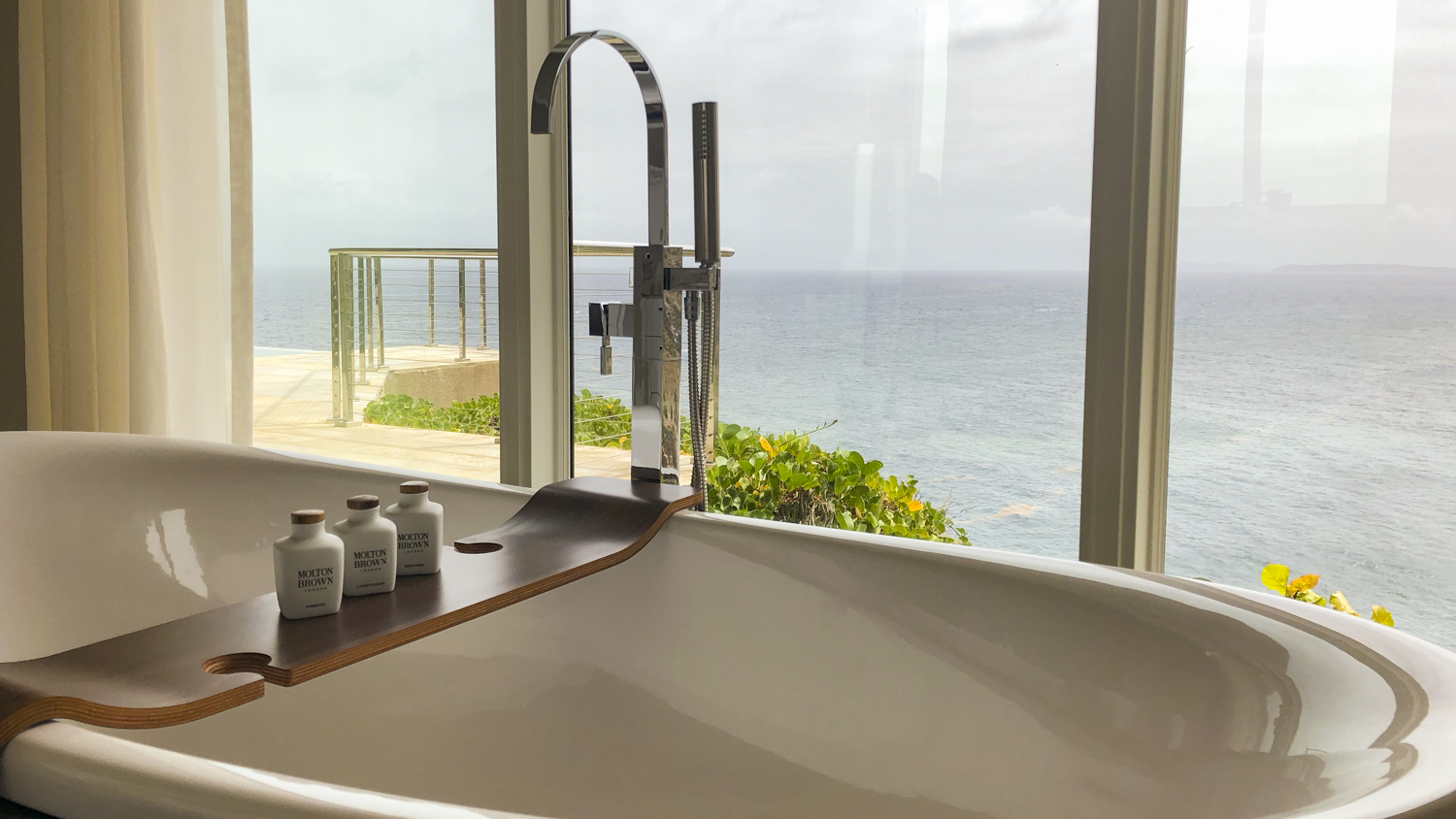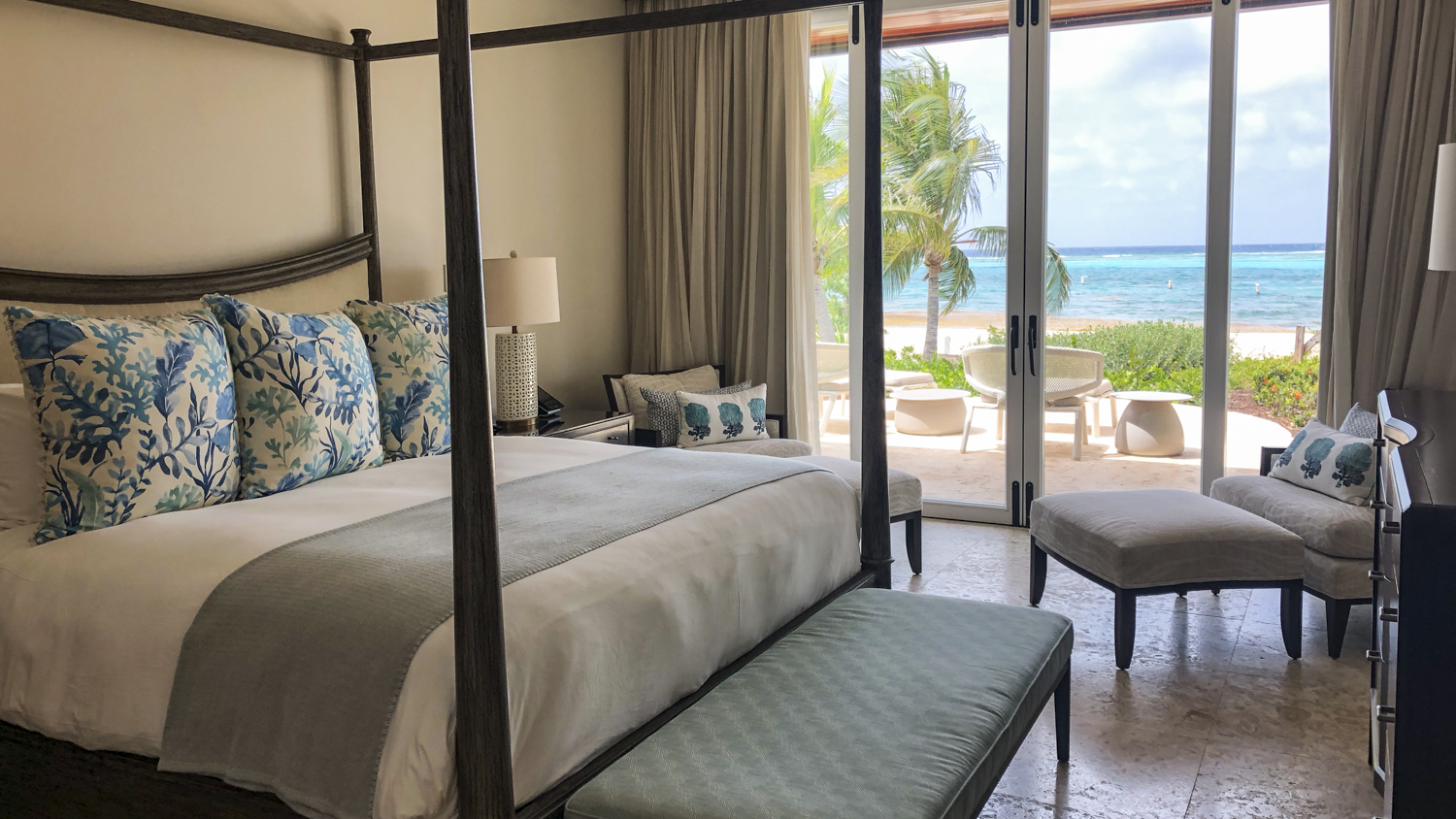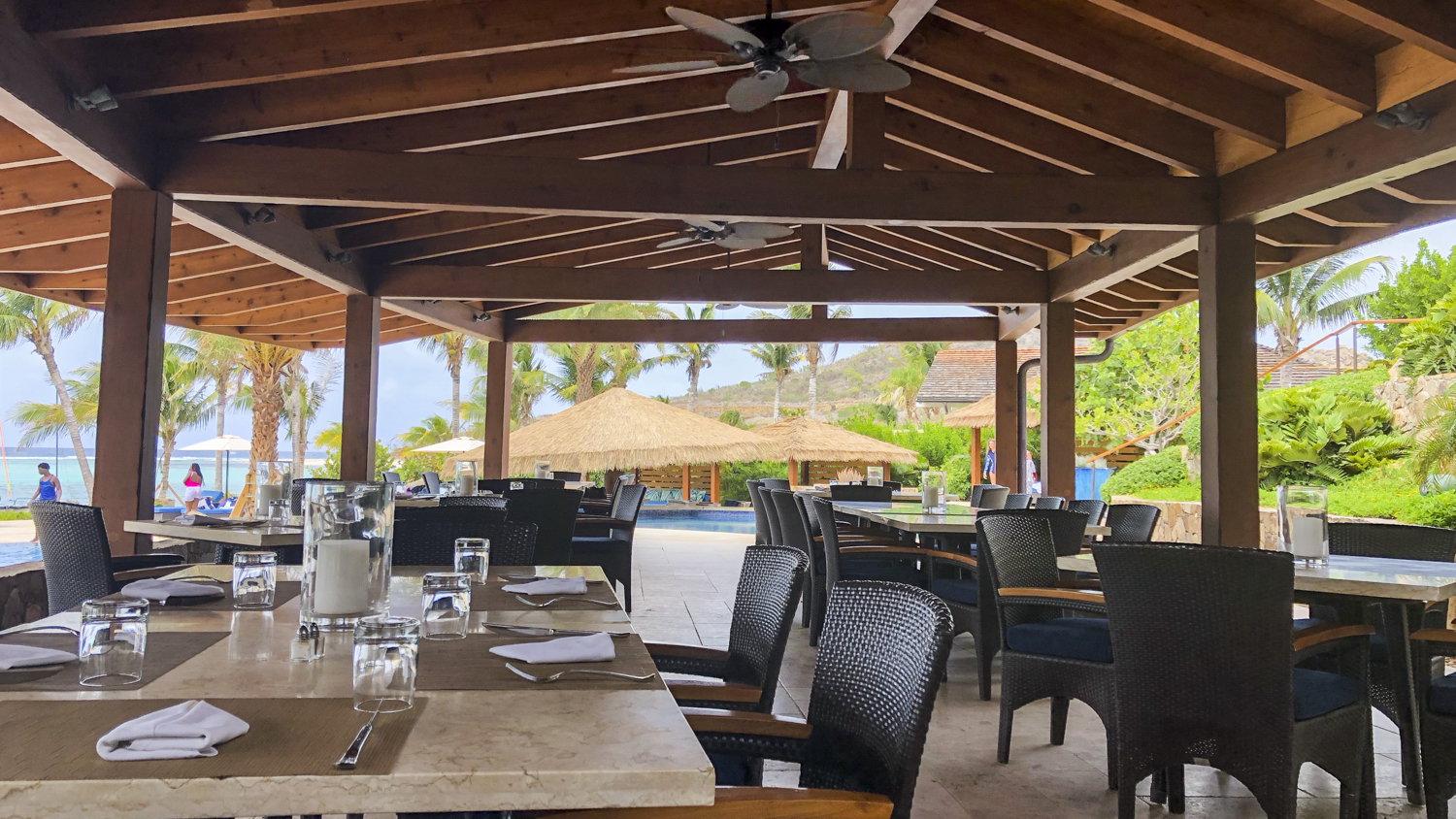 Ridgemont House
For an altogether affordable and unique, though no less luxurious, place to stay in the British Virgin Island, why not try the private, five-bedroom Ridgemont House? Perched atop a high ridge at the far eastern tip of Tortola, Ridgemont House boasts incredible views of the Caribbean sea — all the way to Jost Van Dyke island and even St. John in the U.S. Virgin Islands. There are many amazing villas in Tortola, but Ridgemont House is the cream of the crop with its stunning infinity pool in an open courtyard between the two main buildings of the property. Above that, a winding staircase leads to a ridgetop gazebo and hammock, perfect for swaying in the sea breeze with a nice cocktail.
A fully-equipped kitchen in the main house connects to a massive living room with a nearby office area (if you must work a little); an adjoining outdoor living and dining area that abuts the pool. A lower-level living area features a small kitchenette and complementing bedroom and bath. Two double bedrooms can be found upstairs, and across the courtyard in a separate building, two more bedrooms with bathrooms can be found.
At just $1,000 a night, Ridgemont House is the perfect location for a bachelor party, family getaway, or a five-couple adventure vacation.

What to Do
While many businesses are still in recovery after Hurricane Irma, many more are open and ready to take your tourist dollars. And you should oblige them. Here's everything good to do in the British Virgin Islands, from bars and restaurants to scuba diving and beach bumming.
Offshore Sailing School
The No. 1 sailing school in the Americas is located right in The British Virgin Islands. If you've ever wanted to learn to sail in less than a week, Offshore Sailing School is the place to go. With experienced sailors teaching you the ins and outs of all things sailing, by the end of your time at Off-Shore, you'll be sailing a catamaran by yourself from island to island with only your knowledge and newly acquired skill to help you. It's harrowing. It's real. It's a once-in-a-lifetime experience.
Dive BVI Art Reef
Thanks to Sir Richard Branson (whose own mansion was destroyed in Hurricane Irma), the BVI Art Reef is ready to welcome scuba divers of all stripes to its underwater art-gallery turned artificial reef.
Blue Rush Water Sports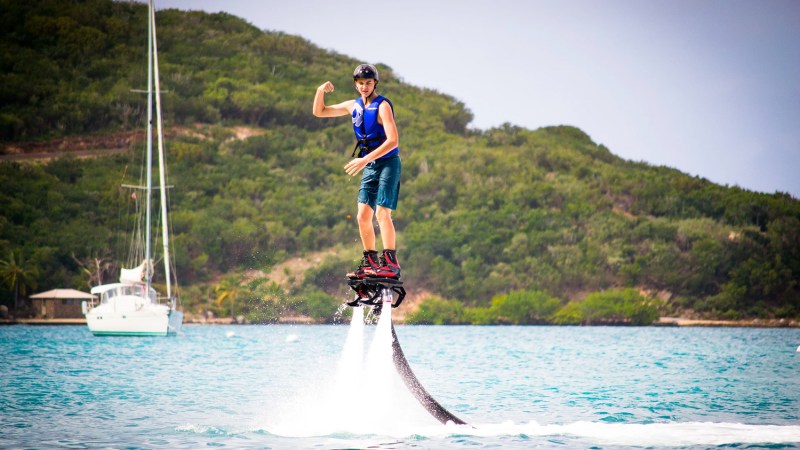 Ever wanted to fly above the water, powered by water? Or wanted to ride a jet ski over some of the clearest waters on earth? Head to Blue Rush Water Sports, the go-to for flyboard, jet-ski, Hobie cats, and paddle-board rentals.
Where to Eat and Drink
Seafood, plantains, and rum lead the charge on British Virgin Islands' bar and restaurant menus. Here are the best places to drink and eat on the islands, from a centuries-old distillery to a brand-new, post-recovery bay restaurant. The food scene in the BVI is champing at the bit to give you delicious bites.
Callwood Rum Distillery
The oldest operating rum distillery (and only one, in fact) in the BVI, Callwood Rum Distillery still makes rum the old-fashioned way: from the juices of pressed sugar cane distilled in a reputedly 400-year-old still. While the still is probably not as old as they say, the guys behind the bar at Callwood are happy to oblige you with a sample of their wares for only a few dollars.
Omar's Cafe
Serving up the best breakfast and coffee on the eastern half of Tortola, Omar's Cafe is the perfect early-morning eat-in. If you in indulge in a classic breakfast of bacon, eggs, toast, and jam,or French Toast, omelets, and eggs Benedict, you won't leave Omar's hungry.
Banana's Bar & Grill
Born from the rubble of beachfront bars and restaurants, Banana's Bar & Grill is a new dining hot spot on Tortola's eastern end. With BVI favorites like conch fritters, island-spiced fried chicken, and the obligatory deep-fried plantains, Banana's serves up traditional island fare and an airy, fun atmosphere.

The Best Beaches of the BVI
Even if you decide to stay at a resort your entire time in the BVI, you should take at least one day to go beach-hopping on Tortola or spend an afternoon at the famously beautiful Baths. These are the best beaches and other places to test the placid, azure waters. You'll need a car to access most of them, and since islanders drive on the left (and most rentals are American imports with steering on the left), driving is more of a sport than a chore. Hairpin turns and steep inclines make a visit to any of these beaches a true island adventure.
Hairpin turns and steep inclines make a visit to any of these beaches a true island adventure.
Cane Garden Bay, Smuggler's Cove, and Long Bay
There are no shortages of great beaches on the main island of Tortola. Thought all beaches suffered damage from Hurricane Irma, most of the downed palms and other damaged plant life have been removed, leaving clean, wide swaths of soft, white-sand beaches. Cane Garden Bay is popular with locals and tourists alike and is lined with restaurants and bars that open right up onto the sand. Smuggler's Cove is a bit of a trek but is well worth it when you basically have the beach all to yourself. Long Bay promises one mile of pristine, uninterrupted beach paired with tranquility, solitude, and spectacular sunsets.
The Baths
Located at the tip of Virgin Gorda (one of the main islands of the BVI), The Baths are a geological wonder composed of massive granite boulders towering overhead in seemingly hand-placed composition, creating clear, calm pools and a rope-climb down to the formidably named Devil's Bay.
How to Get There
Most flights to the British Virgin Islands that originate in North America must go through San Juan Puerto Rico or St. Thomas in the U.S. Virgin Islands. From there, flights to Tortola, Virgin Gorda, or Anegada Island are operated by Cape Air and Seaborne Airlines.
For more information on your next trip to the British Virgin Island, BVI Tourism has everything you need to plan the perfect getaway.
Editors' Recommendations