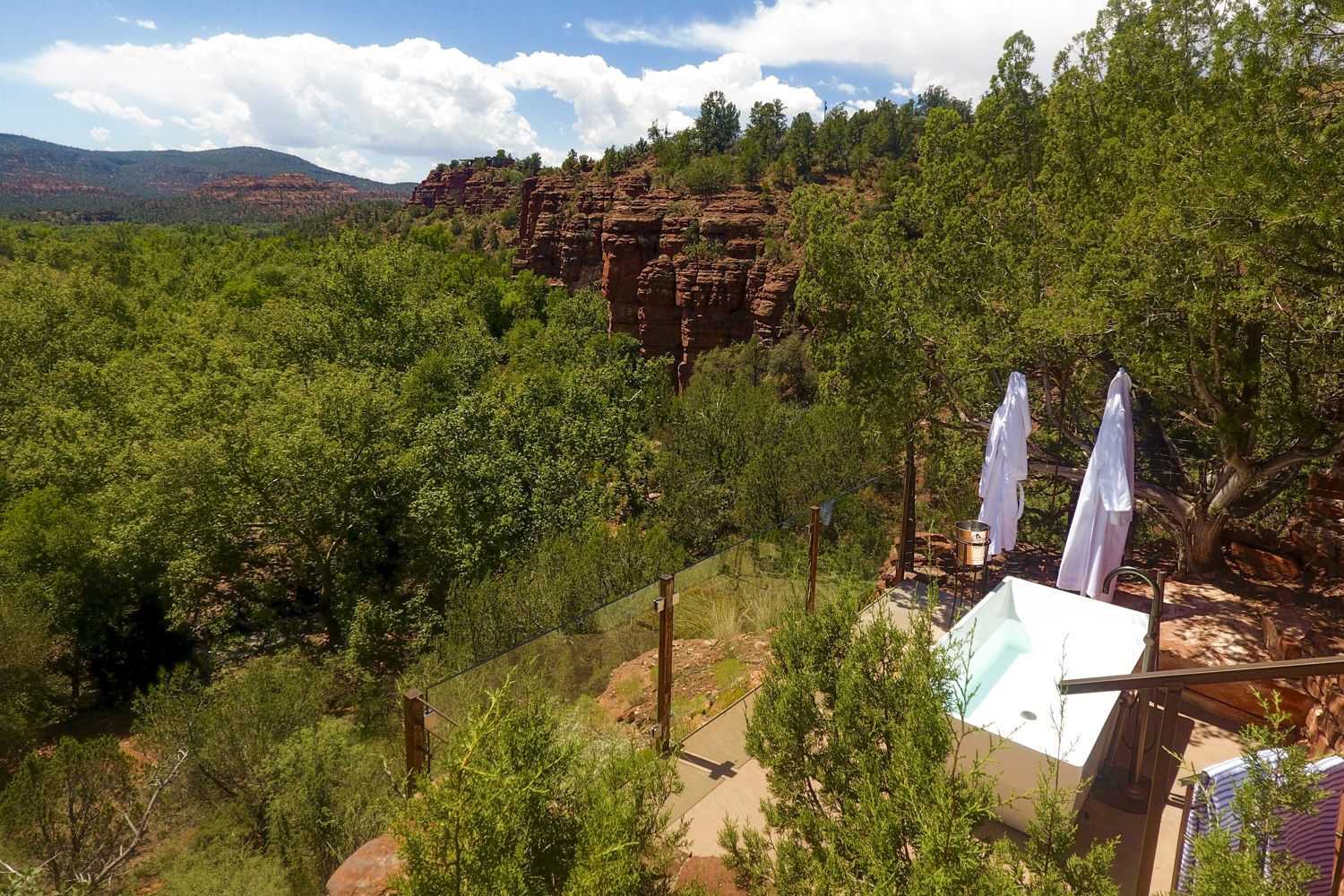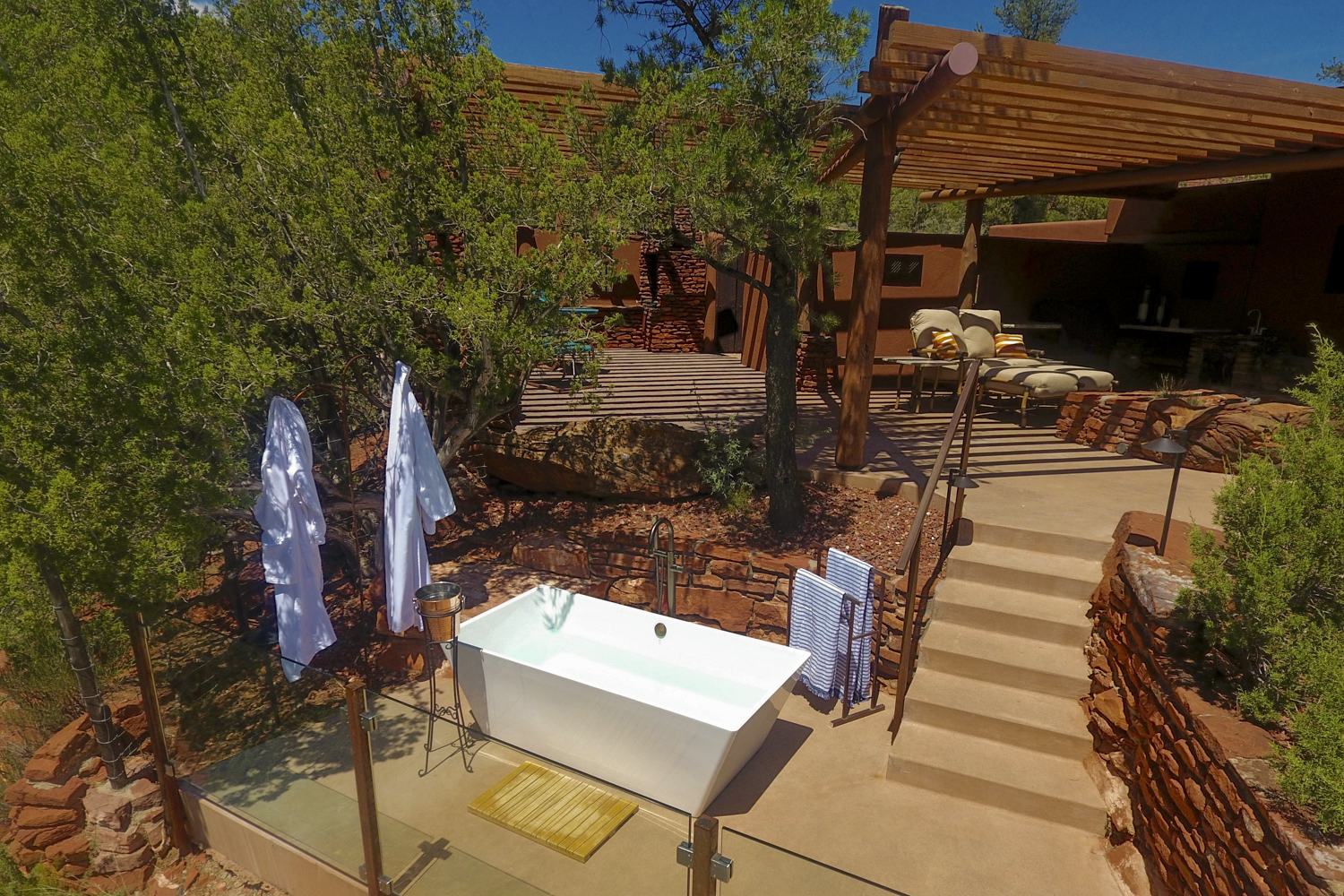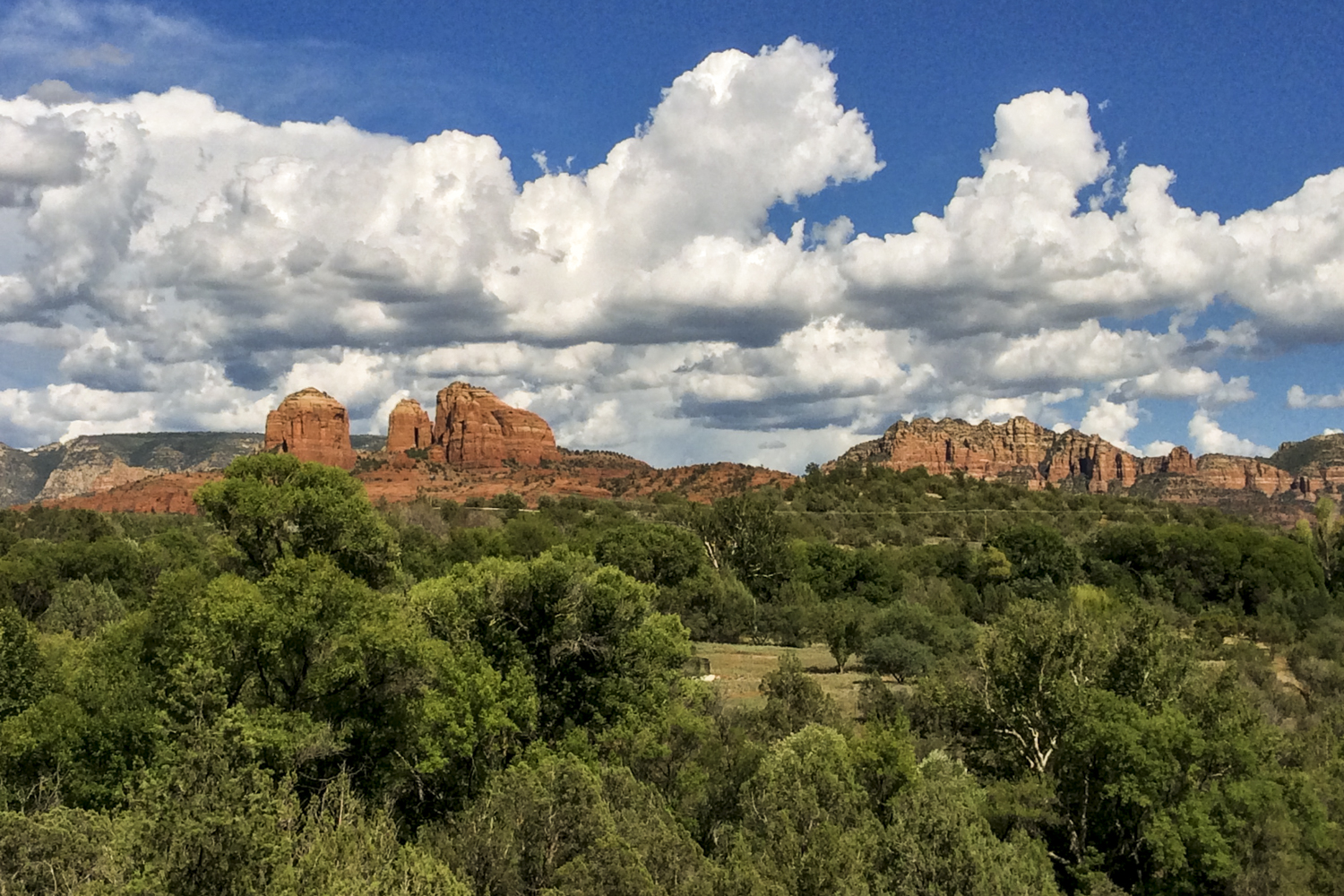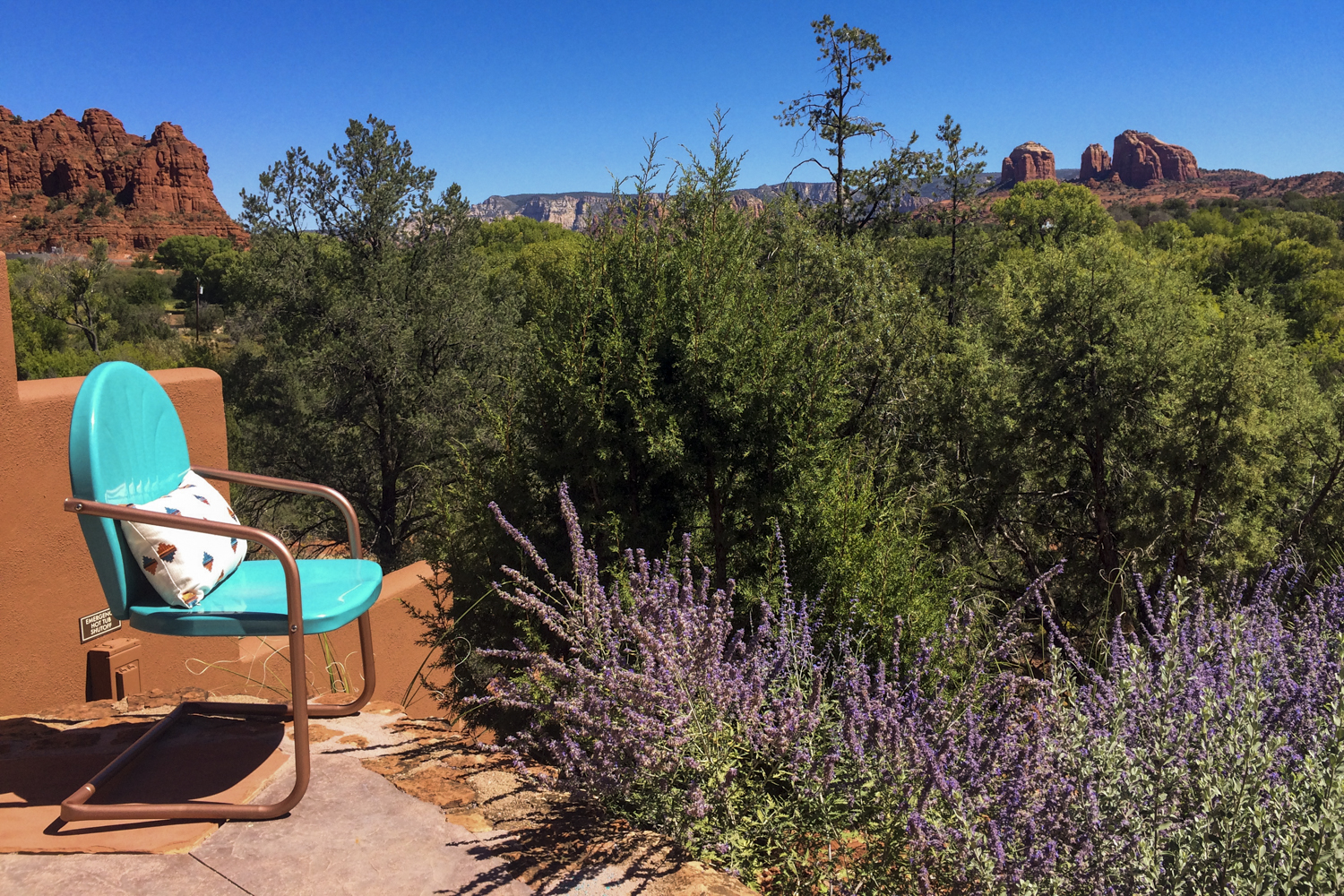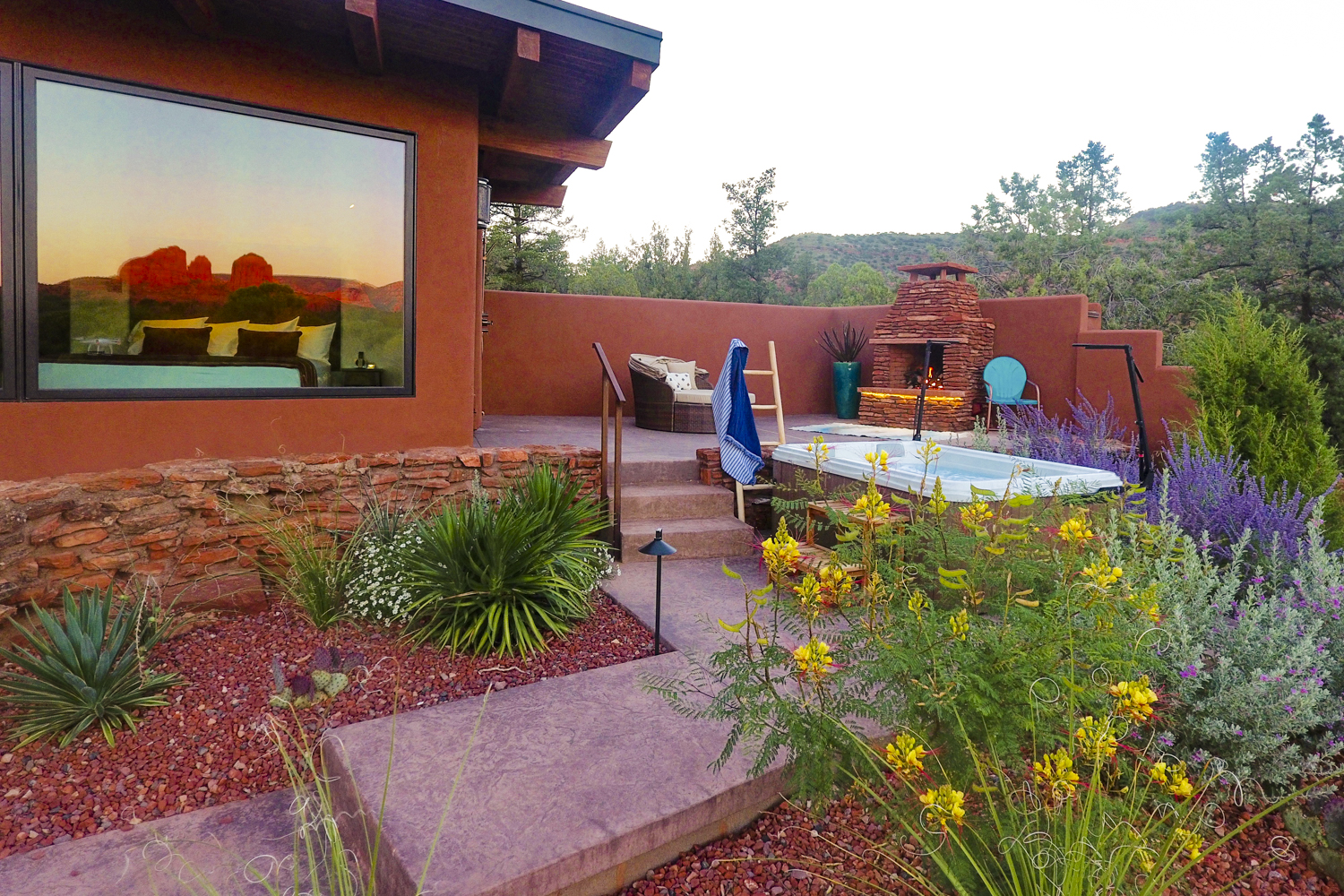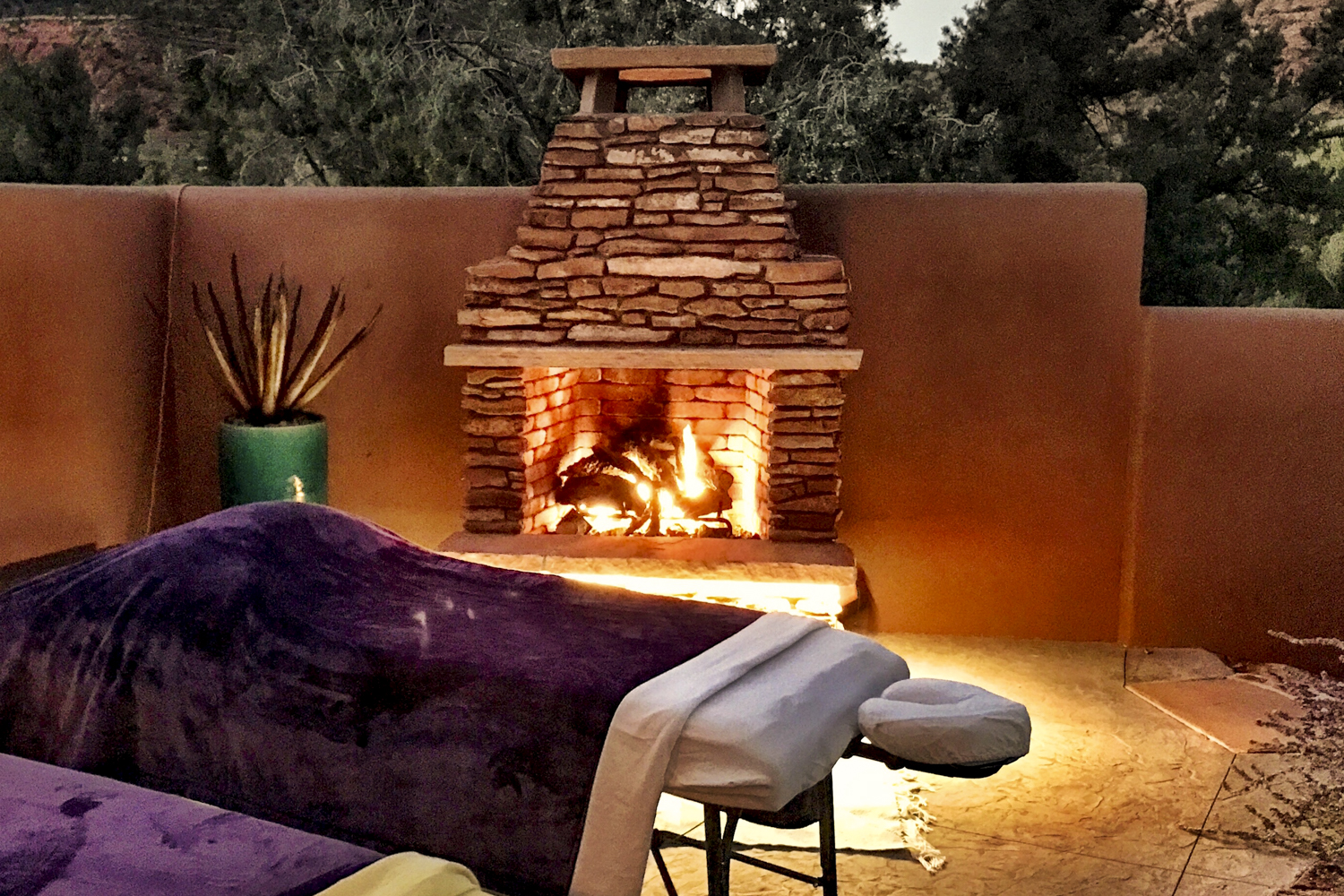 Sedona is one of those magical places that most people from around the world fantasize of visiting. The stunning red rocks formations, the timeless canyons with rivers gushing through them, and the spiritual energy of the vortexes that surround the city are all part why so many flock here. There's just something about it that draws you to Sedona, and once you're there, you will feel a sense of peace and relaxation that many can only dream of. Conveniently under two hours driving from Phoenix, Sedona is just far enough away from the city but still accessible, and the drive there from Phoenix is rather beautiful. Tucked away in the Oak Creek Canyon on a private and gated 24 acres is Sun Cliff Sedona, a secluded vacation rental with the amenities of a five-star hotel and one-of-a-kind views of Cathedral Rock. This resort for two will elevate your Sedona experience to the next level.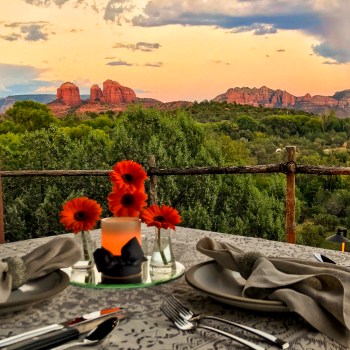 Inside, you will find an elegantly simple one-bedroom casita, which was designed with the views in mind. Every window captures the incredible views of Cathedral Rock, the green valley, and musical Oak Creek, which sits within your own private 24 acres. The home mimics nature in color, feel, and flow. Expect to find Navajo rugs, Native American art, and local watercolors. The home is modern when it comes to its gourmet kitchen and luxe bathroom. The fireplace in the living room is beyond inviting and allows you to enjoy a cozy indoor fire while taking in the views of the outside.
The casita is perched on the cliff's edge and offers over 800 square feet of outdoor lounge space, which includes an expansive patio, cozy seating areas, multiple fireplaces, a soaking tub that will have you in tune with nature from the moment you step foot inside, and a two-person Jacuzzi located just outside the bedroom doors, as well as a door that leads directly into the steam shower (and yes, there's also an outdoor shower for your convenience as well).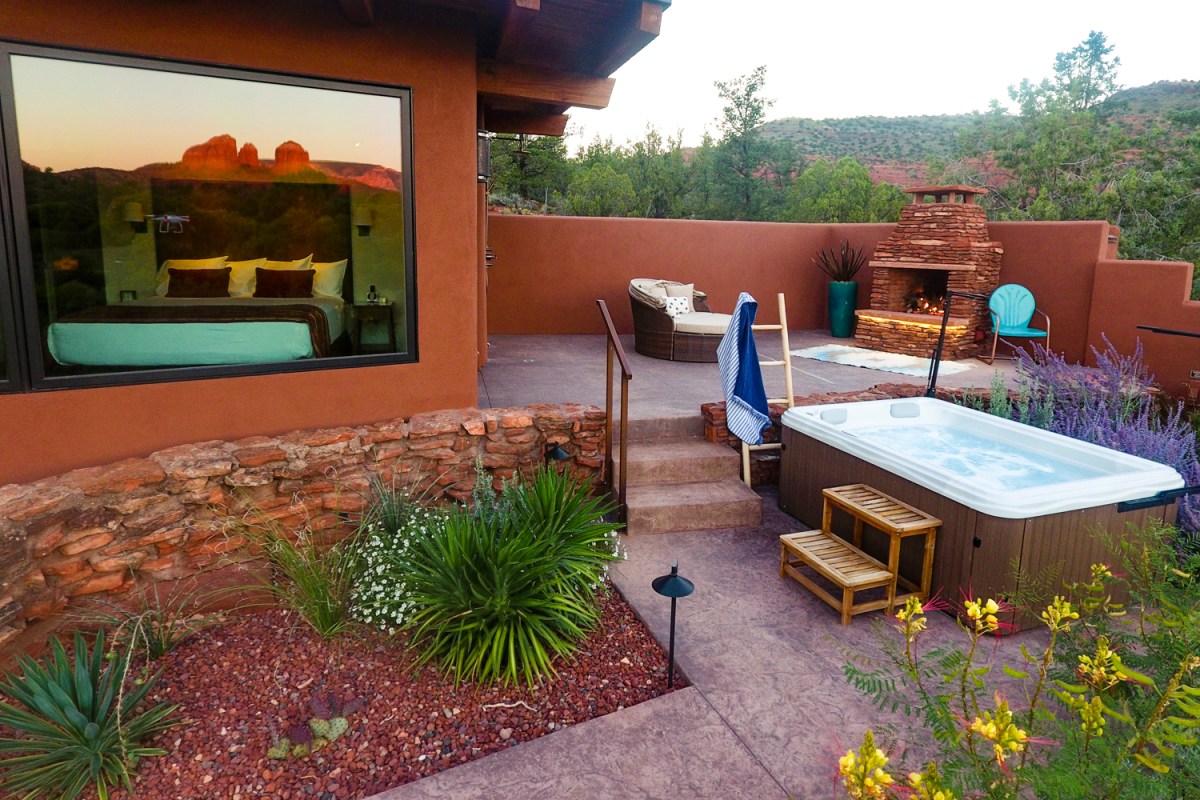 It's important to note the husband-and-wife owners of Sun Cliff trained to become certified butlers so that their guests would feel as if they were truly staying at a resort. Sun Cliff comes with a pillow menu, robes and slippers, and dual bath amenities by Gilchrist and Soames. Other perks include complimentary snacks and beverages, custom-blend coffee, Wi-Fi and a computer to use, laundry machine and dryer, essential oils to use in the soaking tub or in the steam shower, and even Sun Cliff bottled water that is sourced from an Artesian spring in Oak Creek Canyon. From the moment you arrive through the private gates, you will be greeted with hot towels and an impeccably kept home with picturesque windows that will constantly draw your attention to the outside.
You will feel as if you are booking at a five-star resort because Sun Cliff Sedona is just that: a resort, but a resort for two.
Guests at Sun Cliff can rest assured that anything they may want will most likely be possible. From a private chef to massage services on property to concierge services for experiences and activities, this place has it all. Sun Cliff has formed partnerships with Sedona's best tour companies in order to provide their guests with once-in-a-lifetime opportunities, such as a hot air balloon ride over the red rocks, four-wheel adventures in a Jeep, private wine tours of Verde Valley Wine Region, private helicopter tours, and horseback riding through private trails. Many guests take advantage of their weddings and honeymoon packages as well, since it's hands down, one of the most romantic spots in Sedona and, well, the views make for the most memorable photographs.
Sun Cliff Sedona has no resort fees or hidden costs. Your stay includes daily housekeeping, nightly turndown service upon request, and 24-hour on-call concierge. Complimentary drinks and snacks are stocked daily, Wi-Fi and local/long distance services are free, and robes are provided for use while slippers and water bottles are yours to take home. The owners, Tom and Kate, have insider knowledge and know how to point you towards the sights, activities, and attractions that only Sedona insiders know. From the moment you begin your reservation inquiry, you will feel as if you are booking at a five-star resort because Sun Cliff is just that: a resort, but a resort for two. Rates range from $800-$1,000 per night, plus taxes.
Editors' Recommendations