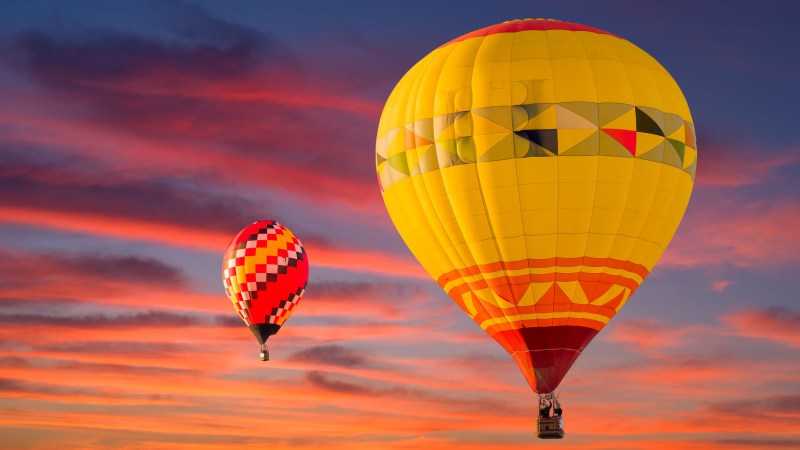 Albuquerque — just "ABQ" to locals — was hardly a blip on the tourist radar 10 years ago. Fast-forward through five seasons of Breaking Bad and the runaway success of the Albuquerque International Balloon Fiesta, and the city has fast become a destination in its own right. While walking in the footsteps of Walter White is a worthy reason to visit, there are plenty of other things to do in Albuquerque. Here are our top picks for first-time visitors to New Mexico's largest city.
What to Do
From the seeds of Microsoft in 1975 to the world's first-ever Bitcoin vending machine, Albuquerque has a long history of fostering smart, technologically-minded people. So, it's no surprise the city is home to more unique, geek-friendly experiences than almost anywhere in the country. Here are just a few of our favorites.
Escape the Desert Sands via the Sandia Peak Tramway
For first-time visitors to ABQ, there's no better first stop to get a lay of the land (literally) than the Sandia Peak Tramway. From its base on the desert floor to the 10,378-foot summit of Sandia Crest, the 2.7-mile aerial tram is the longest in the United States and the third longest in the world. The views from the top are breathtaking. At sunset, the desert glows with a million stunning colors spread across more than 11,000 square miles including the Land of Enchantment and the Rio Grande Valley. If you're feeling ambitious, grab a one-way ticket up and hike back down.
Brush Up on Your Trivia Knowledge at ABQ's Niche Museums
Albuquerque's National Museum of Nuclear Science & History is a fascinating glimpse into New Mexico's inextricable link to nuclear technology. The many exhibits here cover everything from nuclear medicine to nanotechnology to the processing and disposal of nuclear waste. The outdoor Heritage Park provides an up-close look at dozens of decommissioned planes, missiles, rockets, and a nuclear sub sail.
For sheer quirk factor, check out the American International Rattlesnake Museum. It's an entire museum dedicated to, and full of, rattlesnakes. It claims to be the world's largest, but we'll go out on a limb and guess it's the world's only. The "curator's" goal is to shed light on the role of rattlesnakes and other "less desirable" critters in the lives of humans. Trust us, iit's way more interesting than it sounds.
Find a Pen Pal at Petroglyph National Monument
Archaeologically speaking, petroglyphs — ancient symbols and designs carved into rock — are arguably the most valuable pieces of written human history ever discovered. New Mexico's aptly named Petroglyph National Monument is home to more than 24,000 such glyphs that provide keen insight into how Native American and Spanish settlers lived nearly 700 years ago. The monument sits on the outskirts of downtown Albuquerque with dozens of hiking trails to explore, and free guided tours are available.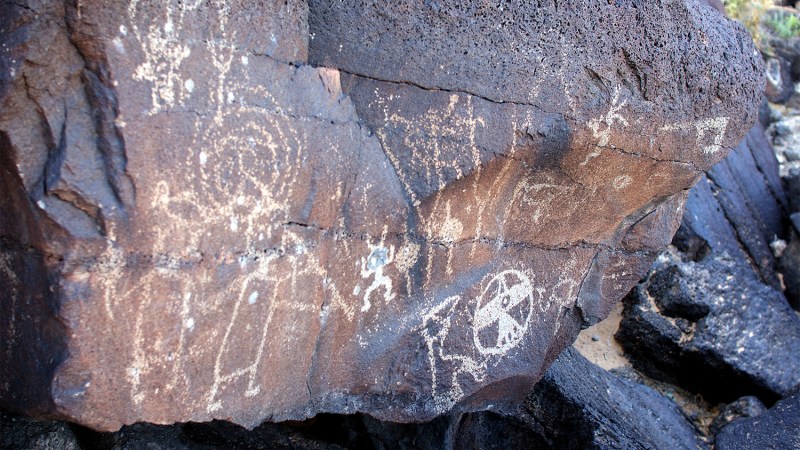 Stare Into Deep Space (and Ponder Your Existence)
The high desert landscape that surrounds Albuquerque guarantees prime viewing of the night sky. As home to more than half a million people, you still needn't drive far outside the city limits to experience near-zero light pollution. If you're down for a road trip, take the less-than-two-hour drive to Salinas Pueblo Missions National Monument. The 1,000-acre mission complex is a fascinating visit in its own right. It's the crystal clear skies overhead — the reason why it was designated an official dark sky park in 2016 — that keeps amateur astronomers coming back. Stare into the void long enough, and you can almost hear Neil deGrasse Tyson softly narrating the cosmos to you.
Plot a Balloon Trajectory Over the Chihuahuan Desert
If hot air ballooning had an official home, Albuquerque would be it. The city has a decades-long history with the sport, and it's still celebrated here like nowhere else on earth. Take a sunrise flight over the high desert surrounding the city with Rainbow Ryders. Their pilots are the best in the world, helmed by owner/operator Troy Bradley, one of the world's most preeminent balloon pilots with more than 20,000 hours and sixty world records on his resume. It's worth a flight with him just to hear his stories. After touching down, check out the Albuquerque International Balloon Museum, a huge, modern shrine to all things ballooning.
Where to Eat and Drink
Sadie's of New Mexico
Chilies are as quintessential to New Mexican life as air and water. No restaurant does the peppers justice like Sadie's of New Mexico, a local culinary institution with a passion for peppers and educating their guests on the beautiful subtleties involved in tasting and cooking with their many varieties. Their signature eats are a who's who of legendary New Mexican dishes like enchiladas, carne adovada (chili-braised pork), burritos, and some of the best-selling independent jarred salsa in the U.S. Every meal here can and should end with a basket of stuffed sopapillas.
Zacatecas
Amid the buzzing Nob Hill neighborhood, Zacatecas is a perfect blend of authentic Mexican taqueria and cocktail bar. The lunch and dinner menus offer a solid mix of gourmet Mexican food (the shrimp tacos are incredible), tortas, and traditional antojitos. The bar is also backed with a deep selection of tequilas and bourbons; flights of both are available. The open-air seating provides the perfect spot for people-watching on Central Ave with a Mezcal Manhattan in-hand.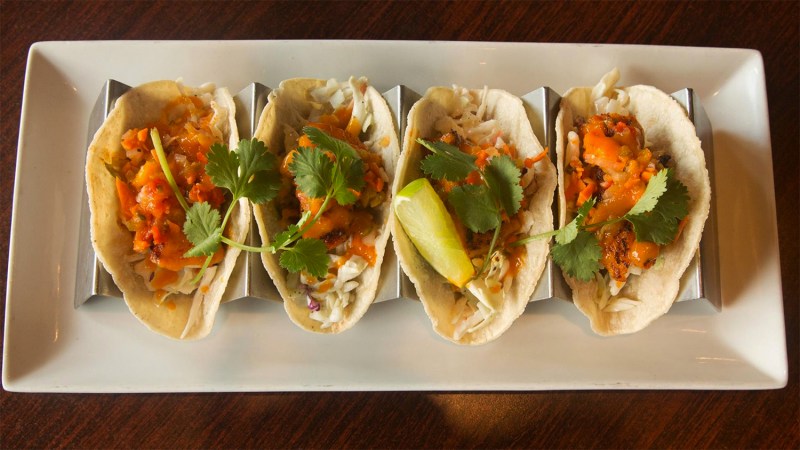 The Candy Lady
From Walter White porkpie hats to Jesse Pinkman "Let's Cook!" chef's aprons to exhaustive tours of every possible shooting location, "Breaking Bad" is deeply ingrained in the city's tourist culture. Embrace the kitsch and stop by The Candy Lady for a taste of the show's infamous "blue meth." Visitors can buy a dime bag of the rock candy cooked using the same recipe as the prop smack seen on the show.
Where to Stay
Hotels Parq Central
Hotel Parq Central is our go-to accommodations just steps from ABQ's downtown core. Don't let the three-star rating fool you — there's almost no part of this hotel that feels mid-range. The muted, sophisticated decor blends high-end modern materials like hardwood laminate flooring, Frette bedding, and oversized leather lounge chairs with classic touches of railroad memorabilia and Depression-era glass accents throughout. The latter is a nod to the building's historic, sometimes sordid (and haunted) past as a hospital and psychiatric facility for railway workers. By late afternoon, head to the rooftop Apothecary Lounge which serves a legit 1920s-inspired cocktail menu (with a deep library of specialty bitters) and panoramic sunset city views.
Hotel Andaluz
If the Parq Central isn't quite disco enough for you, Hotel Andaluz offers a more distinct brand of boutique luxury. It's the sort of luxury that earned it a Conde Nast Traveler Readers' Choice Award as "One of the Top Hotels in the World." It bears a unique distinction as one of the first-ever Hilton hotels, and the architecture and design maintain the same sophistication and upscale look and feel. The decor is a contemporary take on traditional Southwestern design. Every room offers a list of thoroughly modern amenities like flat-screen TVs, iPod docks, and high-end bedding. The swanky Ibiza rooftop lounge hosts weekend DJ sets and a fantastic cocktail menu with locally inspired tipple. Try the Sandia Haze (Old Forester Bourbon, Averna, Carpano Antica, mole bitters, hibiscus, and clove aromatic) — it's bold, punchy, and distinctly Southwestern.
When to Go
Albuquerque is uniquely situated in the middle of the Rio Grande Valley, with the Sandia and Manzano mountains to the east, and five volcanic cones to the west. All of this means the city's weather is a mixed bag.
Spring-time is often comfortable but can get too cool for some. Summer can prove too hot (with highs in the low 90s), coupled with predictable afternoon rain showers that keep most of the tourist crowds at bay. Fall is right in the sweet spot weather-wise, and it's also the city's most happening festival season.
If it's festivals and events you're after, here are the ones to keep an eye out for:
Editors' Recommendations