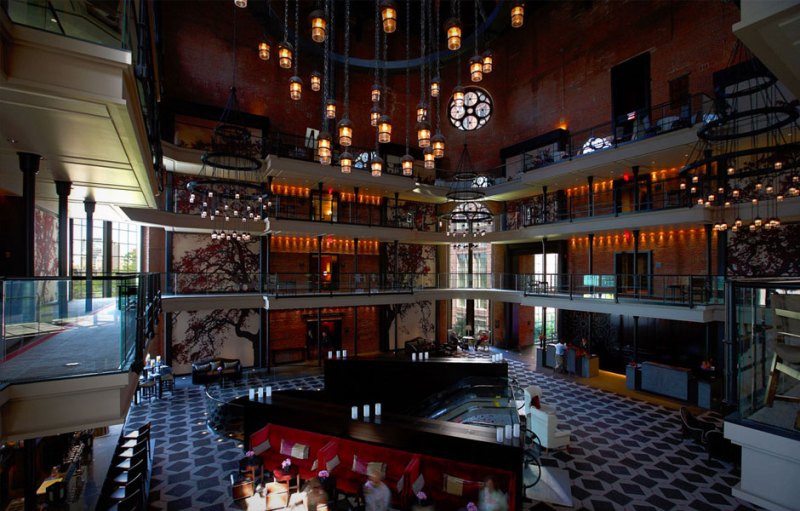 Hokey theme hotels are best reserved for traditional family amusement parks. But Boston's five-star Liberty Hotel is an entirely different matter. After 120 years as the city's most notorious prison, the one-time Charles Street Jail was carefully renovated into a stunning luxury hotel worthy of a true gentleman. Today, the unique property is among the city's best destination hotels — home to five great restaurants and the area's most lively afterhours scene.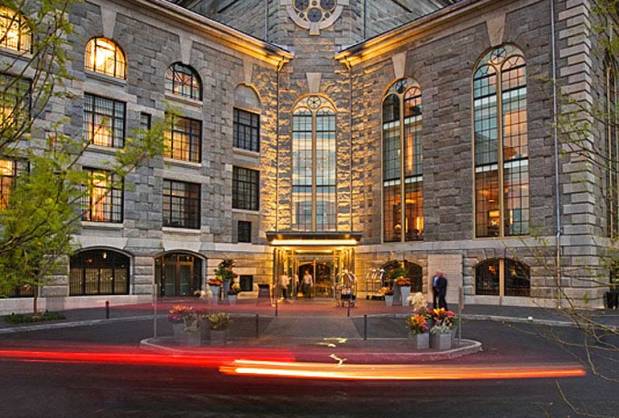 Thankfully, many architectural details of the original prison were left intact. The most prominent and noteworthy is the soaring, 90-foot central atrium that now serves as the hotel lobby. Exposed brick walls and wrought iron fixtures have all been meticulously blended with glass, tile, and polished black wood. The result is a spectacular, one-of-a-kind atmosphere unlike any other hotel in the city. It stands as one of the best preserved examples of 19th-century "Boston Granite Style" architecture.

In addition to the expected amenities of a luxury hotel of this caliber, the Liberty is home to five of the city's best restaurants. The flagship eatery is the aptly named CLINK. where guests can dine inside the remnants of the prison's original cells. The decor has of course been updated with contemporary touches like butcher block tables, gold leather chairs, and granite floors. The restaurant serves breakfast, lunch, and dinner, all with concise menus of upscale comfort food. As a New England eatery, it's no surprise that the house made CLINK. Lobster Roll is fantastic.
As part of the hotel's Liberty Affairs series of events, CLINK. also provides guests with exclusive access to their Craft Culinary Series. These monthly workshops provide amateur chefs with expert kitchen tutorials from Chef Bradford Rainville. Each hour-long session focuses on a single kitchen skill or recipe, such as dry aging rib eye & butchering, making fresh butter, or knife sharpening.
Most hotels boast a clientele that mixes travelers and locals alike; but few deliver. The trendy Liberty Bar at the base of the lobby is the rare exception where Boston locals gather alongside hotel guests almost every night of the week. The bartenders are hip to the city's burgeoning cocktail scene and offer a rotating menu of clever, house-infused classic cocktails. The hotel's newest bar, Catwalk, is situated on the prison's original catwalk overlooking the nighttime action in the atrium, lobby, and bar below. This exclusive guest-only space offers cocktail service, as well as a full dining menu.
The Liberty also offers seasonal and promotional packages that rotate throughout the year. For the sophisticated man, The Bespoke Suit Package is an ideal way to spend the weekend in Boston. Along with overnight accommodations, the package includes a private, one-hour fit and style consultation, including a 3D body imaging scan, with the experts at bespoke luxury clothier Alton Lane. Guests leave with a complete, tailored 'Black Label' suit and shirt custom-crafted to their liking.
Editors' Recommendations