If, as a child, you dreamed of attending summer camp, but for whatever reason (geographic, economic, insectophobic), you never had the chance, then you'll want to drop everything and immediately make plans for your next summer vacation. Camp Wandawega, also known as Wandawega Lake Resort, located just 90 miles north of Chicago near Elkhorn, Wisconsin, is the relaxing, summer-camp-like getaway of your adult dreams.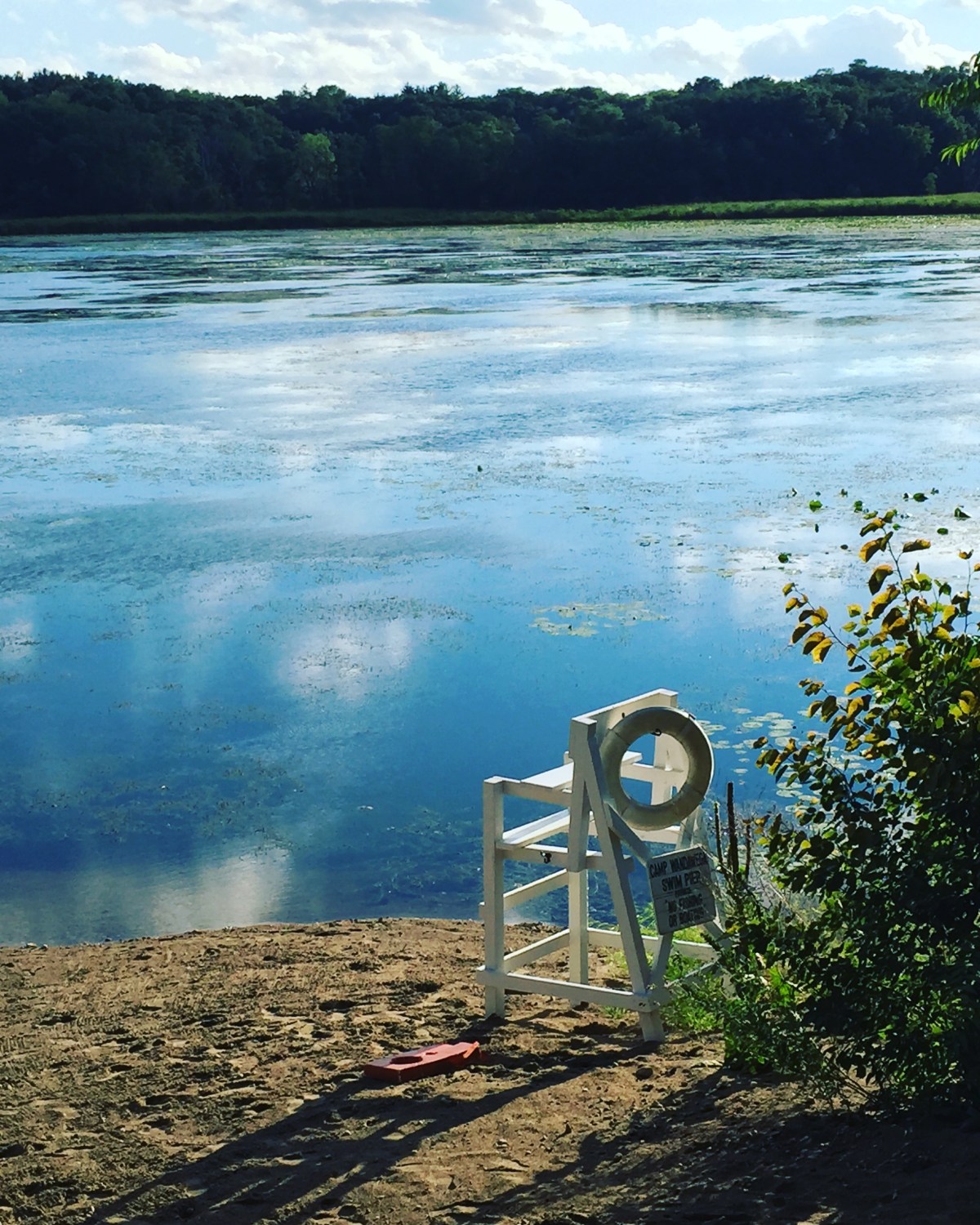 Established in 1925 as a bootlegging locus and speakeasy (complete with a secret hooch cellar found beneath a trap-door in the main lodge), it wasn't long before prohibition ended and Wandawega morphed into a backwoods brothel and gambling den, before being transformed a few more times into a family summer resort, a Latvian Catholic retreat, and finally its current incarnation: a no-frills, vintage and vintage-inspired, woodsy, lake retreat complete with bunkhouses, cottages, and old-school camping tents–all created and curated by Chicago-based couple David Hernandez and Tereasa Surratt.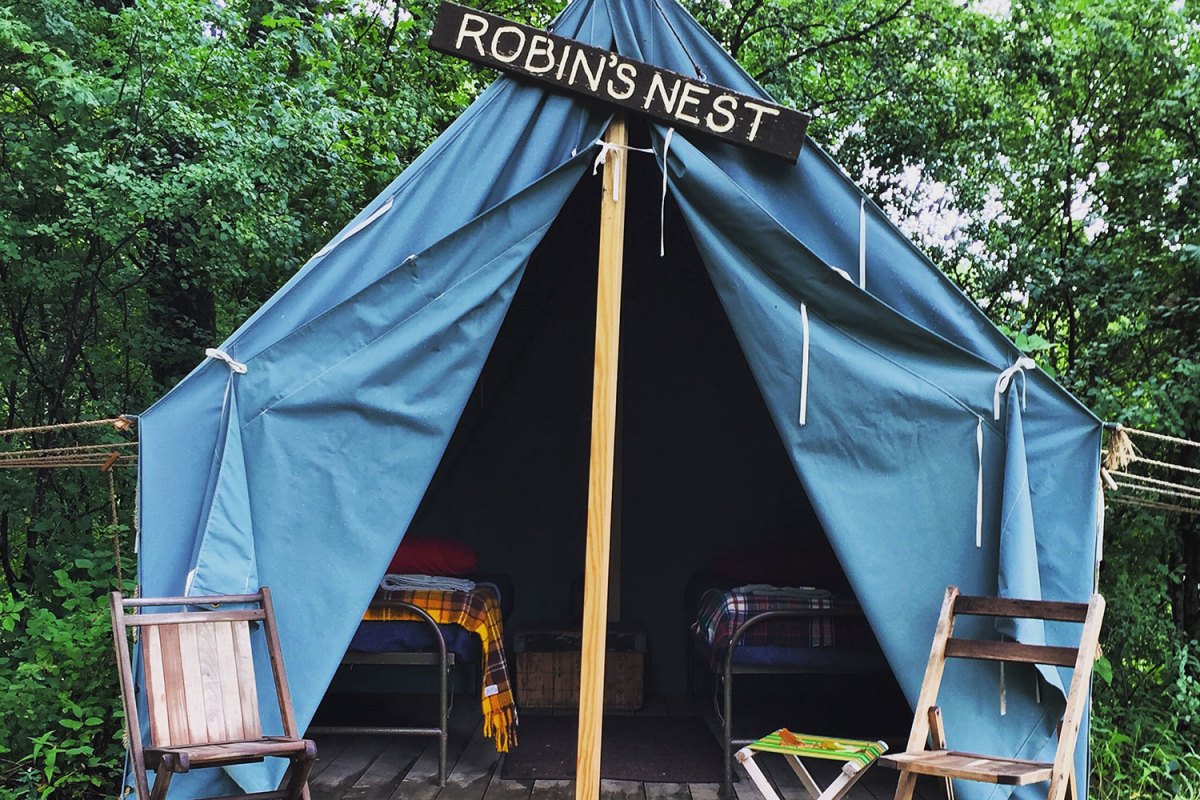 I had the pleasure of visiting Camp Wandawega with a bevy of other writers for a makers' retreat hosted by Shinola Detroit. While there, we learned the ins and outs of leather working, craft cocktail construction, and were able to enjoy all the amenities and activities that the camp has to offer. So trust me when I say this: Camp Wandawega is a world unto itself–a place where time seems to pass more slowly and straddles eras, causing even the most city-loving, schedule-obsessed urbanite to ponder what decade they're in. Wandawega is a place to go when you want to cast aside your worldly cares, ditch your emails and phone calls, and simply be.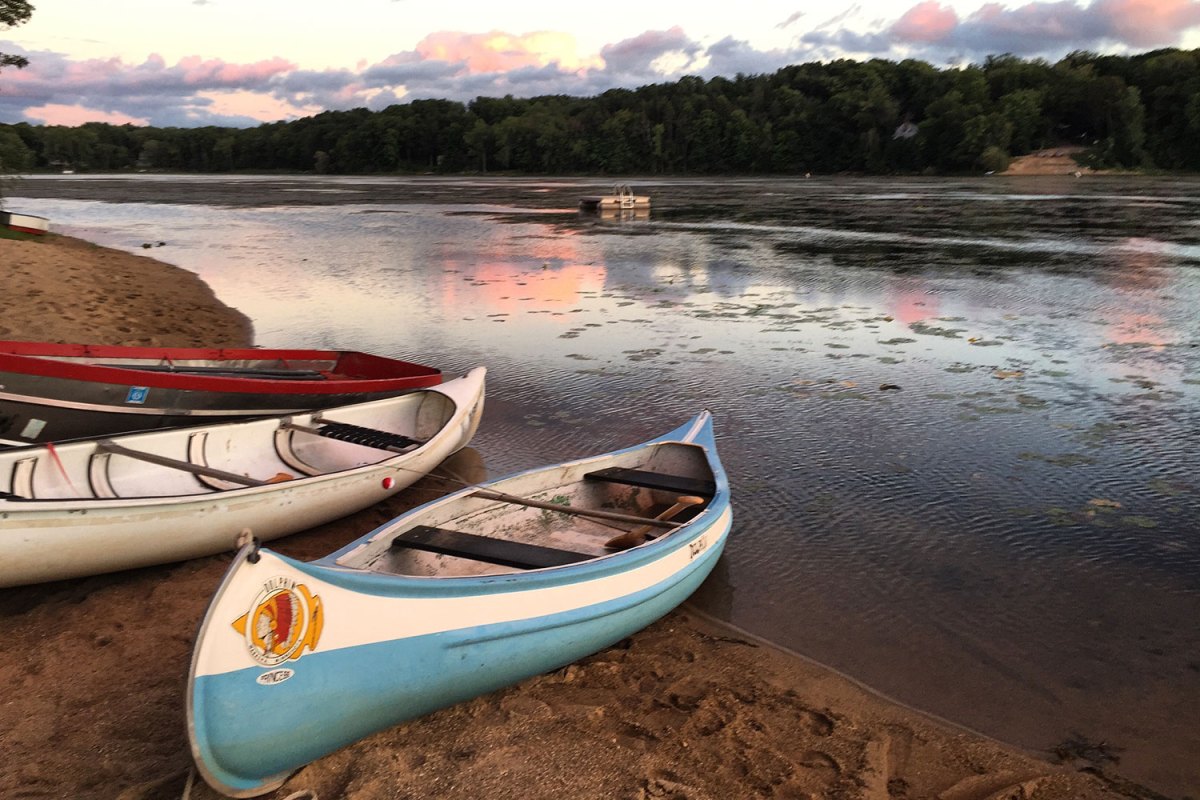 Nestled on over 25 acres of forested Wisconsin land skirting the edge of Lake Wandawega, Camp Wandawega has everything you could ever need or want in your own personal summer camp. With lakeside cabins, a two-story treehouse, a vintage travel trailer playfully nicknamed "The Canned Ham," and an authentic camp bunkhouse and lodge, there's a place for everyone at camp.
But do not be fooled by the gorgeous setting and polished photos. This isn't glamping, as even Wandawega's Manifesto of Low Expectations warns.
"We are not for the meek, the squeamish, or any other synonym for folks who don't like roughing it," reads a harrowing line from the manifesto guests receive prior to arrival. This is just an ever so slight exaggeration–you're not sleeping in a hut or a slum. But you will be sleeping in rooms that haven't been updated since they were built–where windows get stuck, there's no air conditioning, kitchens and bathrooms are communal, the beds are squeaky and rickety, and you are issued one towel for the duration of your stay. Also, there are no televisions on the property. Now, if that sounds like a disastrous vacation in the making, again, do not be swayed, because, for all its rough-around-the-edges-atmosphere, Camp Wandawega truly is place for you to let go, sit back, crack a beer, and relax. However, f you're not a sit-around-and-do-nothing type of person, Wandawega has more than enough activities to satisfy your lust for adventure.
Ever wanted to throw hatchets or knives? Check. Try your hand at Archery? Check. Swimming, boating, fishing, rope-swinging? Check, check, and double check. Interested in playing shuffleboard, basketball, tennis, horseshoes? There's an entire sports locker stocked with vintage gear that could have belonged to your grandfather and which you can use free of charge and with absolutely no supervision–so be safe! Feeling woodsy? Set off through the surrounding forest for a lakeside hike where you'll be surrounded by the sights and sounds of the natural world–a perfect antidote to our overly-scheduled and hectic lifestyle.
Not interested in sports? No problem. Take a few short steps from your room to the lake, grab a boat and an oar, and row on out to float the day away on some seriously peaceful waters with virtually no other boat traffic. Pole along through thick lily-pads and algae to find a shaded spot near the abutting wetlands and let birdsong and the croak of frogs lull you into a contented midday revelry. Too lazy to even row? Sink into one of several hammocks strung among the trees and slip into an unashamed midday slumber.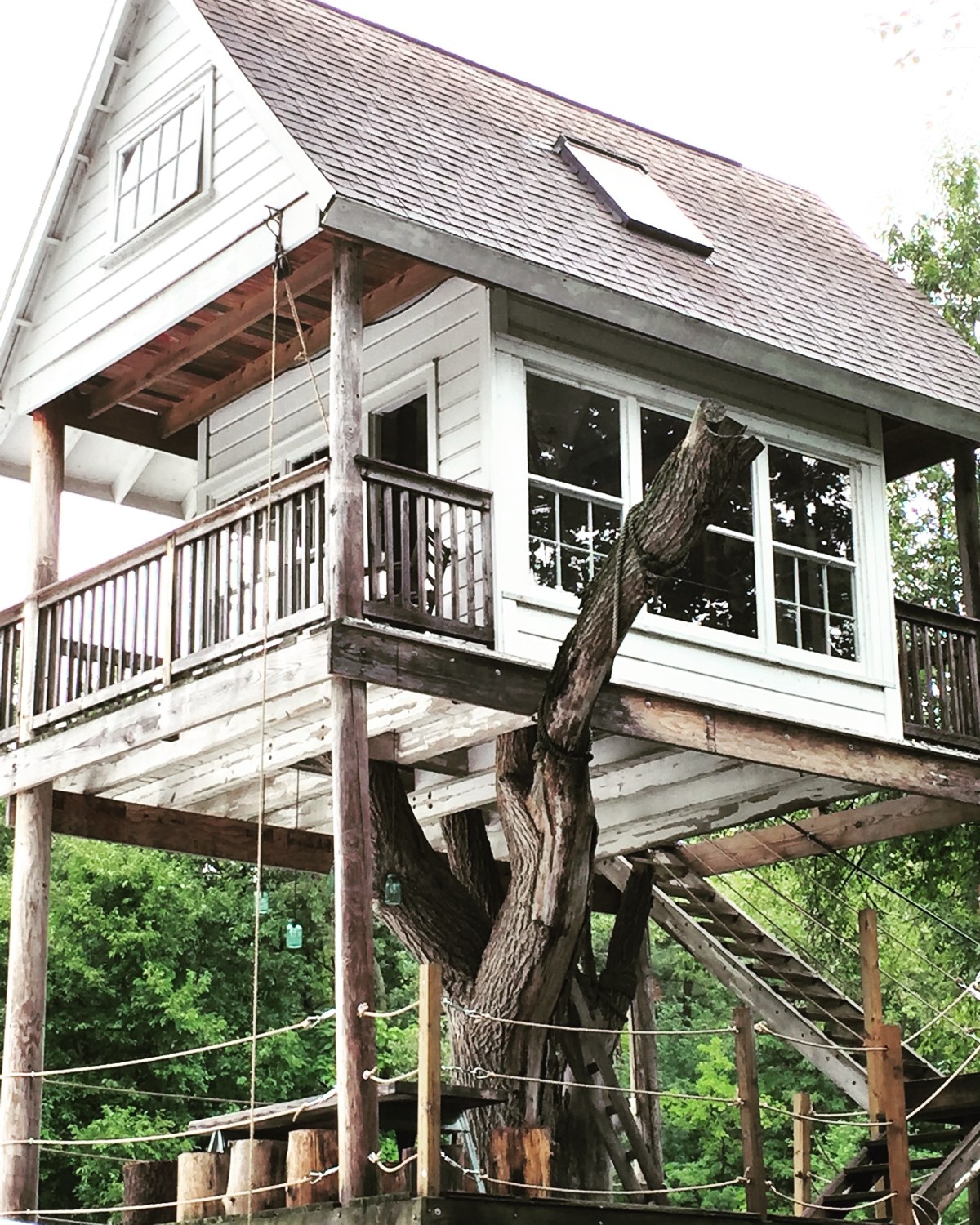 Hungry? Wandawega offers no food or restaurants, so pack your own cooler before arrival. Bring all the typical camp fixings: hot dogs, hamburgers, chips, dip, beer and the requisite chocolate, marshmallows, and graham crackers for s'mores. Feel free to use the communal kitchens, grills, and barbecues found throughout the property (firewood is free, but you'll have to bring your own charcoal). If you're itching to get back to civilization for some chef-cooked grub, head away from camp toward the local town of Elkhorn, Wisconsin where you'll find pizza, a couple of throw-back supper clubs (Mars Restaurant & Resort and The Village Supper Club), and The Chalet, an atypical middle-of-nowhere restaurant with quality ingredients and tasty fare. Friday nights in Wisconsin are all about the fish-fry, thanks to the state's large Catholic population, so expect some fresh-caught lake perch or walleye, deep fried, with a few potato pancakes on the side.
Looking to reserve your spot right away? Wandawega, unlike many lakeside resorts, remains open year round. So if you're in the mood for some snow-shoeing, cross country-skiing, hockey, or ice skating, book a spot for December or January when the camp takes on the serene quiet of an Upper-Midwest winter. As for the summer months, it's best to book well in advance. As The Manifesto of Low Expectations explains, "…everyone from Martha to NPR seem to like [Camp Wandawega]. If you can find us and there's still a cabin open, it's yours. We still can't figure out why, but we book up fast." After visiting myself, I could give them more than a few reasons.
So, whether your're gearing up for a romantic weekend away or are planning a summer family reunion, Camp Wandawega can handle it all, if you can handle it. Rent a single room, an entire bunkhouse floor, or hell, the whole camp. It's up to you and your budget.
The only downside to Camp Wandawega is the fact that, eventually, you have to leave. So if you're looking for a souvenir to remember Wandawega by, check out their Camp Store–located in the main lodge–for some nostalgic, fun, and occasionally practical doodads and trinkets. It's the Camp Wandawega way.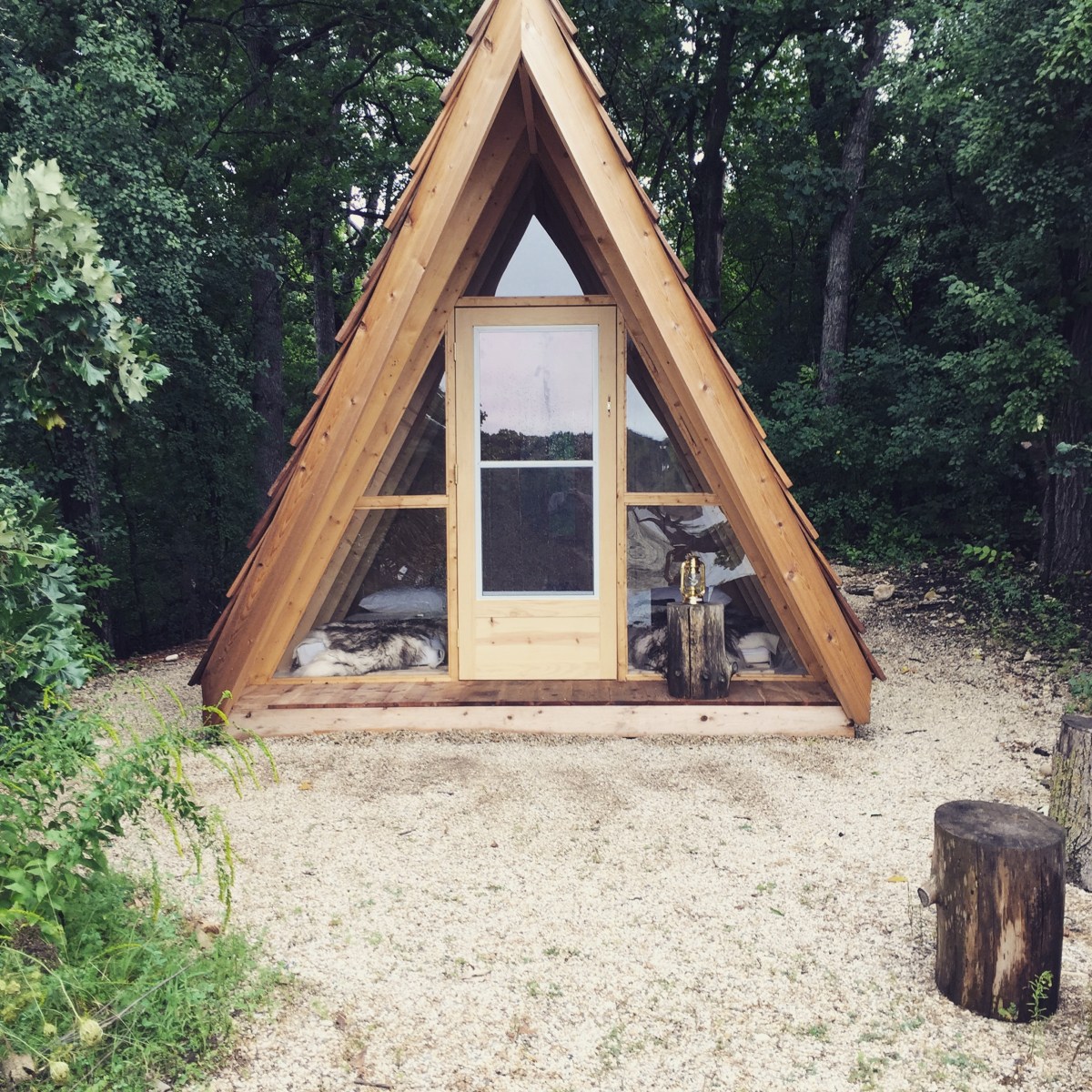 Camp Wandawega is located approximately 90 miles north of Chicago near Elkhorn, Wisconsin. For reservations, see their Visit page for more information, availability, and links to their AirBnB page.