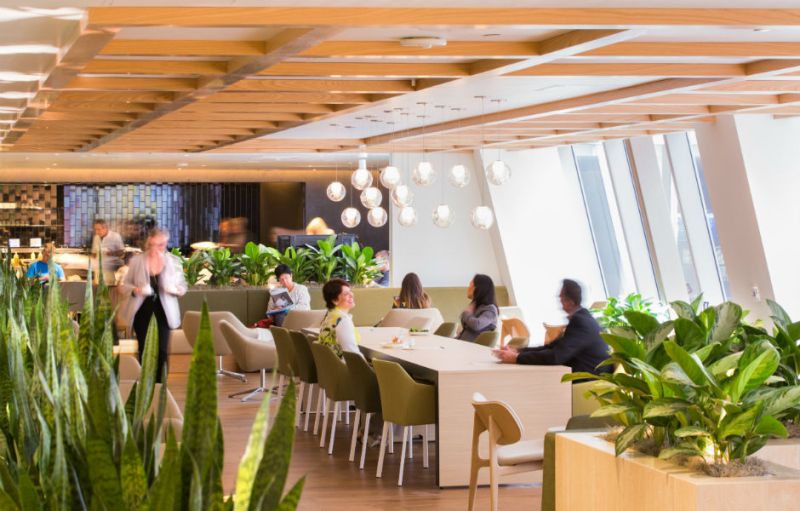 Travel can be exhausting. We know from experience. Between jetlag and trying to squeeze in work at the airport and on the plane, a calm environment can make all the difference. Flying first class or business is an extra-added bonus thanks to lounge access. Next time you're in LAX and have Oneworld lounge access, head straight for the Qantas First Lounge or the Los Angeles Business Lounge, which take up a combined 12,795 square feet.
"The new Los Angeles Business Lounge is proof of our ongoing investment in our product to ensure we provide the best travel experience possible for our customers when they are on the ground and in the air," said Qantas International CEO Simon Hickey. "As well as an overall upgrade, we've significantly increased the amount of space in the lounge for our premium customers. It's designed to reflect the culture of California, while providing a place to relax, socialize and work before their flight."
The lounge can fit around 600 people, and is the perfect place to work, dine or hang out in a stylish setting. If you need to freshen up in between flights, there are also showers for guests to enjoy. Australian chef Neil Perry created a menu that reflects local Los Angeles cuisine, with influences from the multicultural metropolis, including Italian, Mexican, Chinese, Korean and street food. Some dishes include crumbed cod tacos with red cabbage slaw and lime chipotle mayo and Asian-spiced chicken wings. Check out the touches by industrial designer Marc Newson, who designed the teacups and décor for the lounges especially for Qantas.
So next time you're at LAX, make sure to pay a visit to one of the new Qantas lounges.
For more information, visit qantas.com.au.
Editors' Recommendations