In a few short years, New York's Parisian-inspired NoMad hotel has become a staple of Manhattan's luxury travel scene. Sydell Group, the brains behind the concept, have made it their mission to repurpose historically beautiful buildings in some of the world's most exceptional destinations. Last month, the company debuted NoMad Los Angeles, and we're thinking it's high time for another visit to the City of Angels.
Like its sister property, the NoMad Los Angeles building is steeped in history. The historical Giannini Bank building dates back to the 1920s when it was erected to house the headquarters for The Bank of Italy. The bank's founder, Amadeo Peter Giannini, made history as one of the country's first to offer banking to the middle class and women.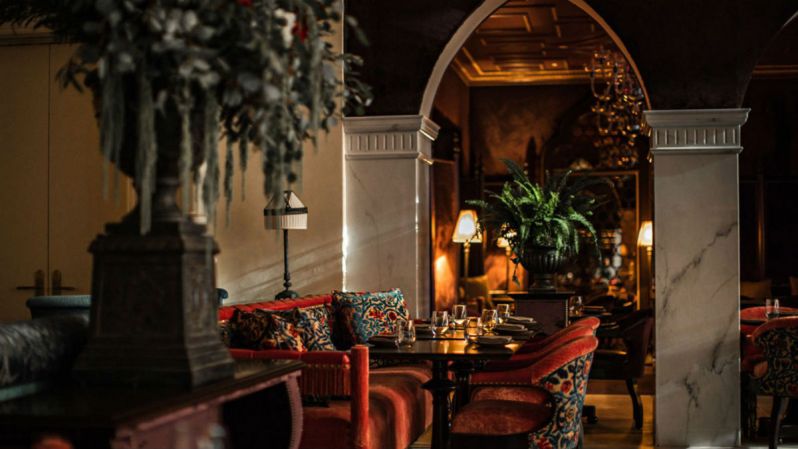 In its new incarnation, the hotel pulls heavily from the building's stunning Neoclassical architecture. Nearly all of the original detailing remains thanks to a meticulous, 18-month renovation by Los Angeles-based architects KFA and French architect/interior designer, Jacques Garcia. Most notable is the bank vault, which serves as the hotel's pièce de résistance. That it's been converted into a public bathroom might seem a curious design choice, but it's way cooler than it sounds. Towering pilaster columns with Corinthian capitals and the building's original blue and gold Italianate ceiling have all been restored. Overlooking the rooftop pool is a large demon sculpture modeled after a similar sculpture found in Italy's Il Parco di Mostri in Lazio.
The interior design is infused with a distinct, chic California contemporary aesthetic. Plush velvet seating, marble surfaces, dark, ornate wood trim, and bold pops of color abound. The atmosphere is equal parts nightclub, smoking lounge, and library. It's the sort of place you might find John Wick if The Continental were sold out for the night.
The Mezzanine, an upscale gourmet restaurant, anchors the dining scene. The Lobby Restaurant and The Giannini Bar (a fitting nod to the bank's founder) offer more casual alternatives for cocktails and dinner. The appropriately named The Rooftop blends a cocktail bar and an outdoor cafe amid a beautifully landscaped pool deck with stunning views.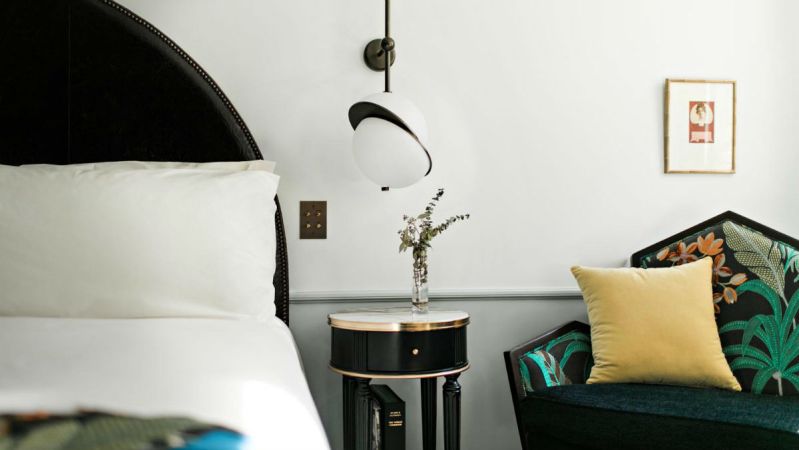 All 241 rooms are appropriately chic with custom-built furniture, freestanding soak tubs, original artwork, and ornate writing desks. Guests who splurge on the flagship RWB Suite can relax in a spacious, 1,250-square-foot residential suite with a large living room, private library, well-stocked minibar, and panoramic views of downtown L.A.
Rates start just north of USD $300 per night for entry-level Superieur rooms. Book your stay now through TheNomadHotel.com.
Editors' Recommendations