Bang Rak is one of the most historic districts in Bangkok. Here, along the water at the Saphan-Taksim sky train stop, you'll find the oldest street in the city — Charoen Krung — along which are a slew of delicious-smelling street food opportunities, jewel, gem, and souvenir shops, the Robinson department store, and a delightful bustle of markets tucked away in the intersecting alleyways. Soaring over it all is the lebua at State Tower, one of the most renowned hotels in Thailand.
In addition to the hotel, a so-called vertical destination, guests have access to a smattering of impressive restaurants, several of which offer magnificent panoramic views of the city from the 68-story building's rooftop. I recently spent several days exploring lebua and the surrounding neighborhood, and I can say with confidence that it is an essential Thailand travel experience.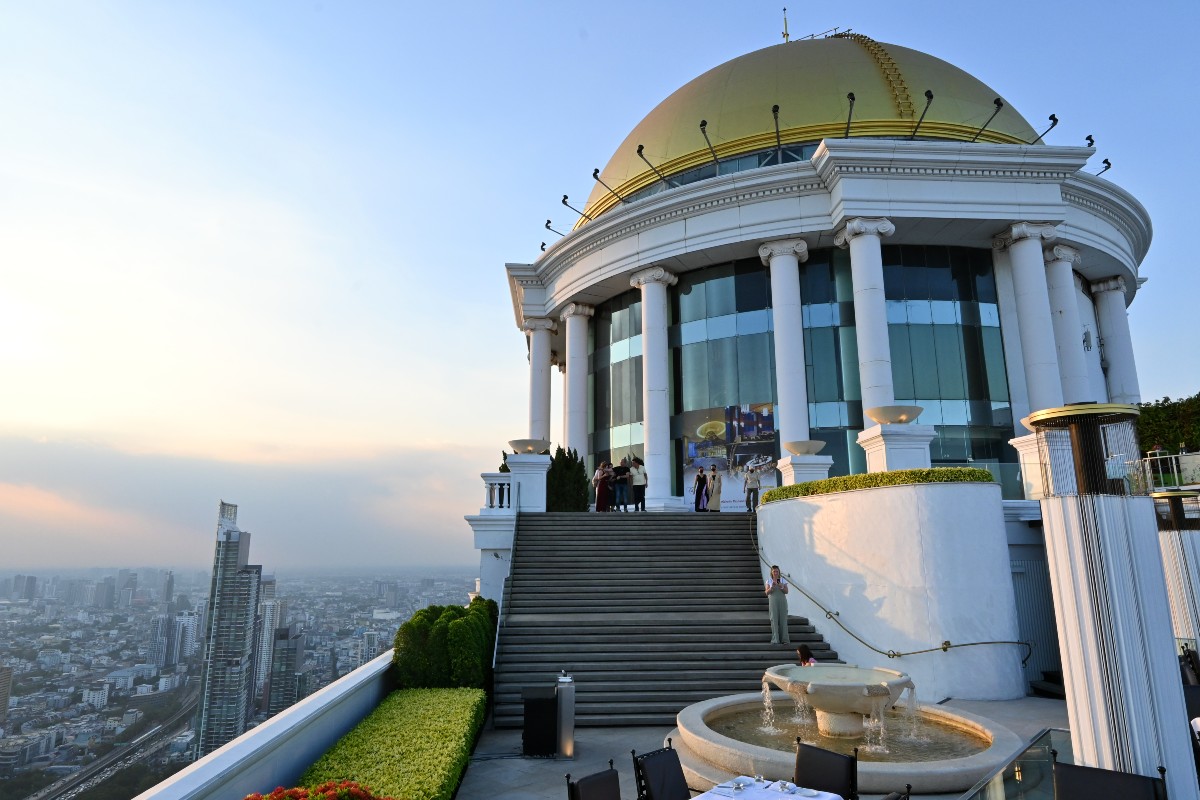 The building and hotel(s)
The State Tower is essentially divided into three segments: One section with offices and condominiums, then two lebua entities— lebua at State Tower and the uber-luxurious Tower Club at lebua. The hotels include access to a pool, fitness room, well-appointed business center, and several top-tier restaurants (more on them in a moment).
The aesthetic of the hotels is kind of all over the place, but in a good way. The lobby has a classic vibe that harkens back to the 1920s, the rooms are modern and somewhat minimalist, and each restaurants has its own unique style. Overall, it's an outright great-looking establishment.
The rooms
My room was in Tower Club on the 58th floor, and its river-facing view from the expansive balcony was splendid. The room itself is well-appointed and rather straightforward, and it was even equipped with a full kitchen, though there was no cookware.
Room rates for both hotels run anywhere from $130–$190, which is an astoundingly affordable price for such a high level of luxury. I absolutely recommend splurging the extra $50 or so to stay in the Tower Club, which offers better views and access to the 51st floor lounge.
The restaurants
The tower boasts an array of stellar restaurant and bar options, including two bearing Michelin stars. These are Mezzaluna, which provides a world-class fine dining experience paired with an equally world-class view, and Chef's Table, which delivers a similarly stunning experience. The rooftop restaurant Sirocco allows you to eat under the stars alongside the building's signature golden dome while surrounded by a panorama of the city. The sumptuously decorated Café Mozu provides a diverse buffet of foods from around the world. From there, you have a variety of classy bars and restaurants to peruse, each of which offers refinement and most of which provide stunning views.
The service
The team at lebua is 100% on top of the luxury game. Everyone is friendly and welcoming, and it never once seemed like guests were lacking in having their needs met. In fact, quite the opposite — it was regularly apparent that the staff went above and beyond to deliver an outstanding experience.
The neighborhood
Bang Rak is arguably my favorite neighborhood in Thailand. The best thing to do here is simply to walk along the street and sample whatever looks or smells tasty. Along the way, you'll pass many places to buy souvenirs, jewelry, and other mementos. Best of all, the location is outstanding. The Bangkok Sky Train will quickly and affordably take you anywhere in the city, and there's also a river ferry terminal from which you can boat up to key attractions for about $0.50.
A few specific standout experiences:
Busaba Banrak Massage offers solid massages at a low price. The street front is also a pleasant little café where you can chat with the owner, Jom, who is an exceedingly friendly woman who speaks English and French fluently in addition to Thai.
Tucked behind the Robinson department store, Bang Rak Bazaaris a fun place to browse all sorts of wares. There are also numerous wide-ranging food options.
About a ten-minute walk up Charoen Krung is River City Bangkok, a community art center with rotating art displays, galleries, antique shops, restaurants, coffee shops, and a riverside boardwalk.
South down Charoen Krung — via a 20-minute walk or 5-minute taxi ride — is Asiatique the Riverfront. Presided over by a Ferris wheel, this somewhat upscale market offers a vast array of handicrafts, clothing, and souvenirs, and dozens of restaurants.
Tips for when you go
The little tuk-tuks are a fun way to get around when you visit Thailand, but they tend to be extremely overpriced, often three times what a normal taxi fare costs. Taxis are abundant, but they also do whatever they can to overcharge. Instead, download the Grab app, which is essentially the same thing as Uber.
The Bangkok Sky Train (BTS) is also useful for getting to several key places in town, but my favorite form of public transport is the aforementioned ferry. It's inexpensive, convenient, fun, and will take you directly to key sites like Wat Arun and the Grand Palace.
Marijuana has been legalized in Thailand, and there are many cannabis shops scattered around. They're pretty obvious, and smoking in public is legal. Enjoy.
Editors' Recommendations