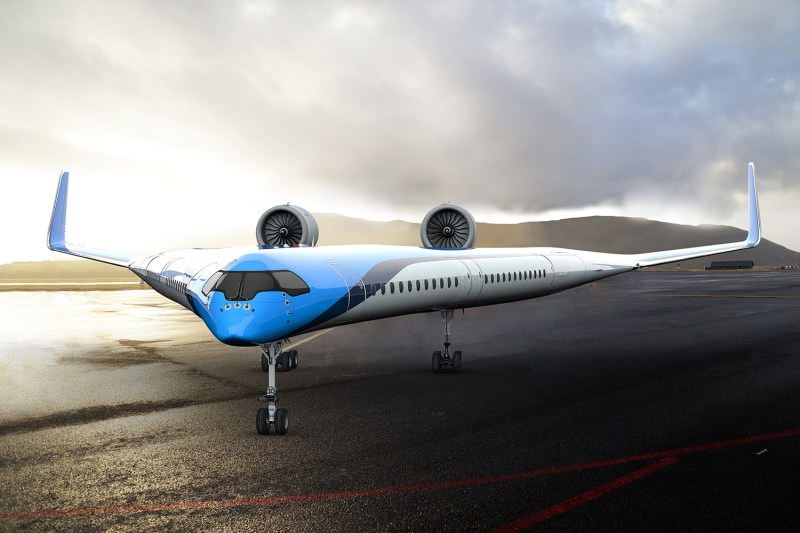 If you're flying on the wing of an airplane, you're likely either a stowaway, a wing walker, or an imaginary gremlin in a Twilight Zone episode. However, a new design concept imagines a future where aircraft carry every passenger and their cargo inside the wings. It sounds crazy, but KLM is investing millions in the revolutionary idea. Here's why.
The Dutch airline is banking on such a design for the future of sustainable air travel. It's working with Delft University of Technology to develop the Flying-V, which will purportedly be lighter and more fuel efficient than traditional aircraft. The design team confirmed that they sidestepped the century-old airplane model from the start. To think as far outside the box as possible, they even pulled inspiration from the iconic Gibson Flying V electric guitar.
Dr. Roelof Vos, project leader at Delft, told CNN, "We've been flying these tube-and-wing airplanes for decades now, but it seems like the configuration is reaching a plateau in terms of energy efficiency. The new configuration we propose realizes some synergy between the fuselage and the wing. The fuselage actively contributes to the lift of the airplane and creates less aerodynamic drag." Anytime a doctor starts talking about "realizing synergy," they mean business.
Because it eliminates the tail and fuselage altogether, the radical design should require 20% less fuel than the Boeing 787 and Airbus A350, two of the most common commercial aircraft in the world. It will, however, still accommodate 314 passengers with ample cargo space. Because it's 17 feet shorter and boasts the same 215-foot wingspan as the Airbus A350, it will be able to use existing runways, hangars, and gates at airports around the world. All of which could fast-track adoption of the new design.
International travel has exploded in the last decade. Airlines and aircraft designers are working harder than ever to build planes that are simultaneously bigger, more luxurious, and more fuel efficient. We may be just a few years away from electric jets, windowless airplanes, and passengers sleeping in the cargo holds. But, traditional designs have run their course, and it's time to start thinking much, much bigger.
The Flying-V is still in the early concept phase, and KLM confirms the design requires much more intensive real-world testing. There's no definite launch date, but it likely won't take to the skies before 2040. For now, KLM has promised to debut a scale model and a life-sized section of the interior and cabin design at Schiphol Airport in Amsterdam this October.
Editors' Recommendations