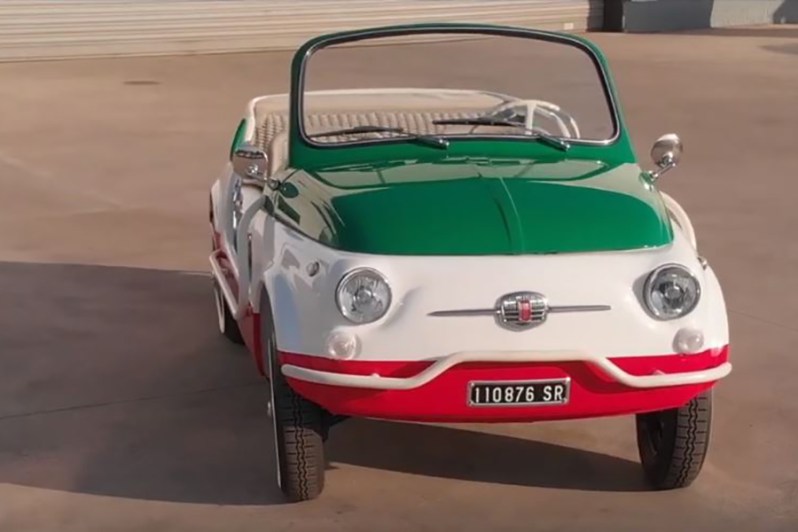 As the home of gelato, Ferrari, Olive Garden (spiritually), and a proud, passionate populace who speak as much with their hands than with their mouths, few countries are as stereotyped — and admired — among Americans as Italy. And few carmakers are as emblematic of the Italian populace as Fiat. Now, travelers to Italy can blend into the crowds of Rome, Milan, and Turin by renting a genuine, rebooted Fiat 500 Jolly.
As part of its new Selezione Italia collection, Hertz is offering customers the opportunity to rent the Italian-made Fiat 500 Jolly "Spiaggina" Icon-e. The car rental giant connected with Milan-based Garage Italia to revive a fleet of the now-iconic cars specifically for this purpose. The original Jolly's were essentially open-air go-karts with wicker seats. Eschewing any semblance of safety, they were used almost exclusively by uber-wealthy Italians as a shuttle between their docked yachts and whatever five-star seaside resort they happened to be spending the month in.
The rebooted convertible Jolly's boast vintage-inspired, hand-woven rope seats and a custom-built RWD electric engine good for around 75 miles of range. Three color combinations are available — classic blue, Hertz-branded yellow and black, and the Italian flag — all with matching rims. Based on the kitsch factor alone, the red, white, and green color scheme of the country's flag is the only sensible choice here.
Hertz's exclusive Selezione Italia initiative is part of a program to provide locally made cars for use in driving in and around specific destinations. In Italy, that translates to sporty Maseratis, Alfa Romeos, and Abarths. They're available to book by phone from most of the country's major airports, including Rome, Venice, Florence, and Sardinia, plus many downtown and rail station outlets. In early 2019, the company debuted a similar program dubbed "The British Collection" for travelers to the United Kingdom. Available rentals there include the Land Rover Discovery Sport and a handful of Jaguar models like the XE, XF, F Pace, and E Pace.
Cruising in Italian style through the country's most iconic destinations doesn't come cheap. Daily rentals in the Selezione Italia collection start at $300 but vary depending on the exact location, model, and term.
Travelers to the U.S. can find similarly unique cars through DriveShare, an Airbnb-esque peer-to-peer service that connects auto enthusiasts with owners of exotic, collectible, and vintage cars for rent.