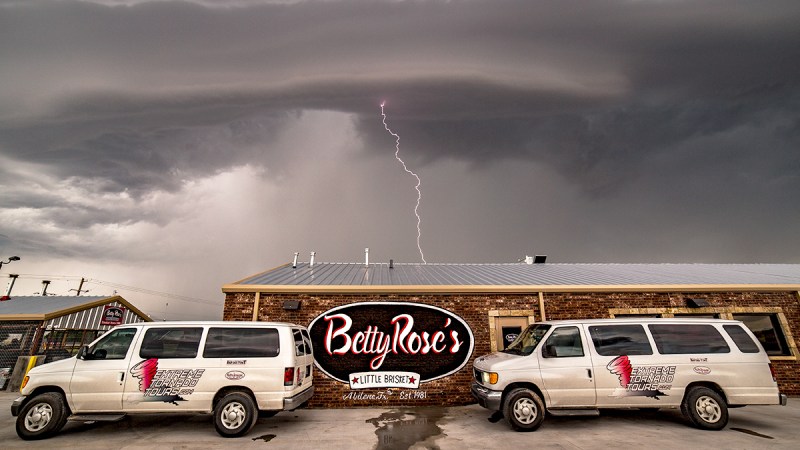 Danger in pursuit of experiencing natural wonder has long been part of the intrepid traveler ethos and in recent years, come April, more and more thrill seekers are heading to the Midwest, drawn not by what is happening in the plains of those states, but rather what is happening in the sky. Storm chasing, be it epic supercells or tornadoes, from Texas clear to North Dakota, has become one of the highest octane and awe-inspiring experiences a true nature freak could ask for and, given the relatively few number of experts, high risk and high demand, it's best to start thinking about your storm chasing experience now.
Extreme Tornado Tours, based in Norman, Oklahoma and founded by Discovery Channel's Reed Timmer, is considered by many to be the top Extreme Weather tour company in the world. Extreme Tornado Tours uses professional meteorologists to lead small groups on seven and ten day adventures across Tornado Alley where visitors from all over the world will likely encounter supercells, lightning strikes, hail storms, sunsets, rainbows, and almost always, the piece de resistance, tornadoes.
Like anything in nature, it is impossible to predict when and where storms will present themselves, but the staff at Extreme Tornadoes will get you as close to as many storms as possible and you'll learn a lot and see a lot of the country along the way. So given nature's unpredictability and the expanse of the entire middle of the US, how does such an adventure work?
"Being in the elements in inclement weather with professionals that chase for a living is a first-hand experience that can be done with relative safety," says Storm Chaser and Owner/Guide of Extreme Tornado Tours Nick Drieschman. "Not only does a tour give you the ability to partake in safer chasing, they will also be able to get you on the right storms, and show you how they go about it."
Each spring, guests on either a seven or ten-day tour, arrive to a host city (Oklahoma City or Denver) where they meet the Extreme Tornado team. The team, helmed currently by Drieschman and meteorologist Kevin Rolfs, alongside guides and prominent storm chasers Blake Brown and Christian Cleary, using state of the art tracking technology, have studied the weather patterns predicted over your stay and you set out immediately in the direction of the nearest storm. The entire group is divided up into two groups of six guests, each assigned to one of three vans along with two storm chaser guides.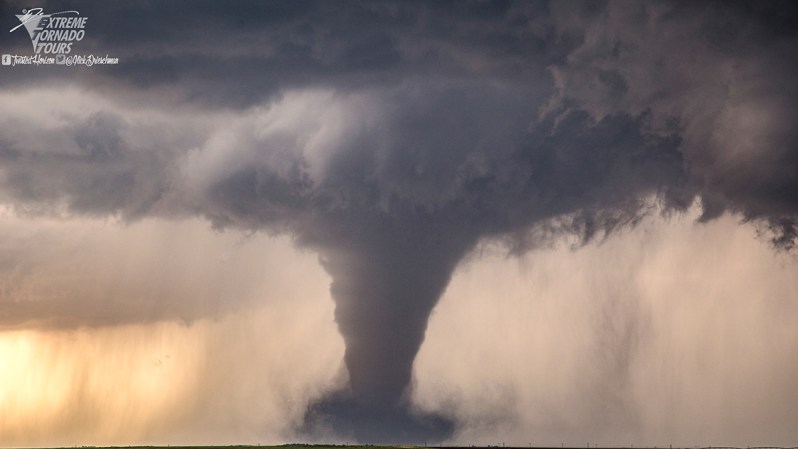 On a good week, the team might put the group on a large storm system and the group might stay with it as it morphs and changes over the course of several states and several days. Each night the group's leader will find lodging and accommodations (think Comfort Inn…) in a town along the route. Other times, one supercell might pop up in Nebraska and another in Texas. No tour will ever be alike. All you can count on is that you will be as close to as many incredible storms as possible in the safest possible manner.
Each spacious and comfortable van has a power station so that guests may charge their camera batteries and smart devices. Each van also has on board computer and radar along with a chaser so that guests may watch as the chasers choose their routes based on weather patterns. The four storm chasers have a combined forty years among them chasing storms and are a wealth of knowledge in transport from weather event to weather event.
And while the thrill of seeing a multi-vortex tornado as lightning fires from one side and a rainbow sprouts from the other can be a thrill, chasing is not without its safety risks, both to participants and those affected by the storms. "It's the bittersweet part of beautiful storms, the damage. Although it is surprisingly rare while chasing with the majority of twisters churning across open country, severe damage can and does happen," says Drieschman.
When weather is not cooperating, there are a variety of weather oriented activities in which guests can participate in the host city. "On 'down days' we have many options and connections for entertainment including tours of The Weather Center, Storm Prediction Center, visiting national parks, amazing museums and famous restaurants featured on TV," says Drieschman. "We hope to not have many down days, and usually they are used to travel- But we have become well prepared in many years doing this to keep your tours exciting!"