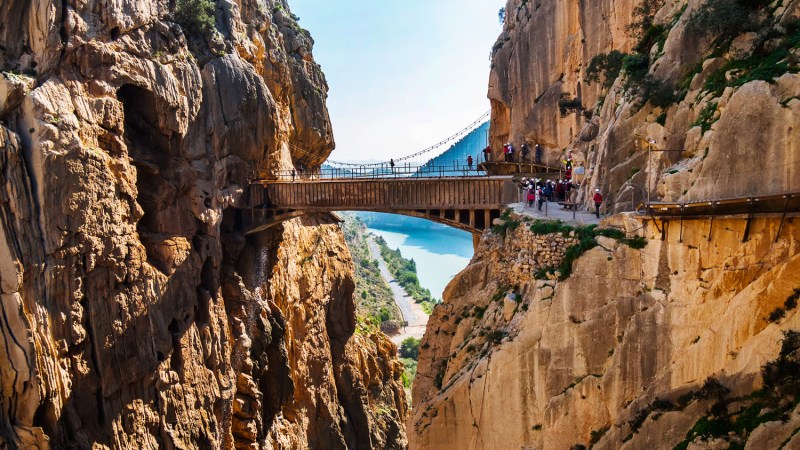 Hiking can be challenging. But, it often requires little more than a bit of mental fortitude and putting one foot in front of the other for miles at a time.
For years, thrill-seeking hikers have sought more, including some of the world's most dangerous paths. However, few can hold a candle to Spain's El Caminito del Rey — often dubbed "the world's most dangerous hiking path."
El Caminito del Rey (literally "Little King's Pathway") opened in 1905 as a way to connect Gaitanejo Falls and Chorro Falls for the area's hydroelectric power plant workers. After years of closure, the path was reopened by King Alfonso XIII in 1921 as a proper hiking path for adrenaline junkies. At the time, it was just a series of narrow concrete and wooden planks clinging to a 300-foot, nearly vertical gorge in the south of Spain. Even when it was "new," the trail was extremely dangerous.
Fast-forward almost 80 years and the path began to fall into serious disrepair. Whole sections of the original wood planking were crumbling, and many of the metal support beams were rusted to the point of failure or were missing entirely. While the local government actively dissuaded visitors from hiking the trail, many saw it as an opportunity to cheat death. Hikers continued to scrape and scramble along the crumbling concrete and metal remains of the original path.
But then five hikers fell to their deaths in just two years. In 2000, after substantial pressure, the Málaga provincial government closed El Caminito del Rey for renovations.
It reopened in 2015 after tighter regulations forced a full reconstruction of the walkway. The tattered remnants of the original Caminito can still be seen clinging to the gorge just below the newly minted path. In two short years, more than half-a-million hikers have completed it. It's recently reopened for a third straight season, so far without incident. While adrenaline junkies may feel like it lacks its original "deadly" cache, it's still not a hike for the faint of heart. A unique, purpose-built glass viewing platform provides some of the best aerial views of the steep vertical drop below. But, anyone who'd rather "walk" the path virtually can instead explore it via Google's Street View.
Take note that tickets for this year are on sale now (about 10 Euros) but must be purchased well in advance.
Editors' Recommendations