Kayak design hasn't seen many serious updates in the last hundred years. Sure, there are folding models and ultra-lightweight sport kayaks designed to get you downriver fast. But, there have been few WOW! innovations which is what makes the concept of a clear kayak really stand out.
Florida's Crystal Kayak Company specializes in just one product: the aptly named kayak/canoe hybrid Crystal Explorer. While the thin frame is slightly visible, the entire shell is 100% crafted from Spanish Lexan. The effect is an almost completely transparent vessel that borders on invisible (a la Wonder Woman's invisible jet) especially in the water. Riders have an unobstructed, crystal (get it?) clear view of what lies in the water beneath them. The shell material is also the same used in airplane windshields for rock solid durability. Eighty percent of scratches that occur on the exterior can be easily removed with a Magic Eraser. The entire affair weights less than 50 pounds, however. For a tandem kayak, that's impressive.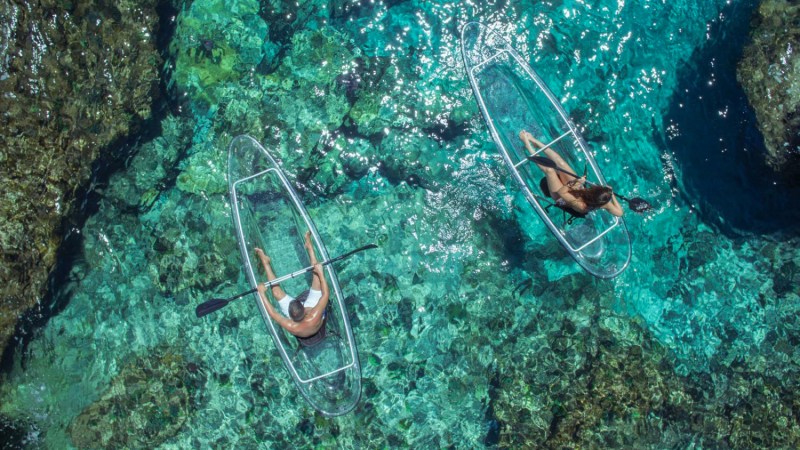 Clear-bottomed kayaks and glass-bottomed boats have been around for years, so the concept isn't new. But, Crystal Kayak flawlessly nails the execution of their product. The design is the result of years of refinement that steals the best elements of canoe (an open cockpit with high sides) and kayak (low, comfortable, ergonomic seats for increased stability) designs. The footprint is spacious enough for two (a friend or maybe an instructor), but the additional seat can be removed in less than 10 seconds to create a single-seat vessel.
The company works primarily with resorts, tour guides, and rental companies around the world to provide their customers with a unique boating experience. But, this beautiful drone video released in 2016 placed them in the eyes of average consumers who quickly lined up to get their hands on an invisible kayak of their own. They have plans to introduce additional invisible marine toys in the future.
The Crystal Explorer kayak retails for $1,499 USD (plus delivery) which includes the kayak, two seats, two paddles, and two flotation pouches with zippered nylon covers.
Hey, no one ever said amazing water views come cheap.
Editors' Recommendations