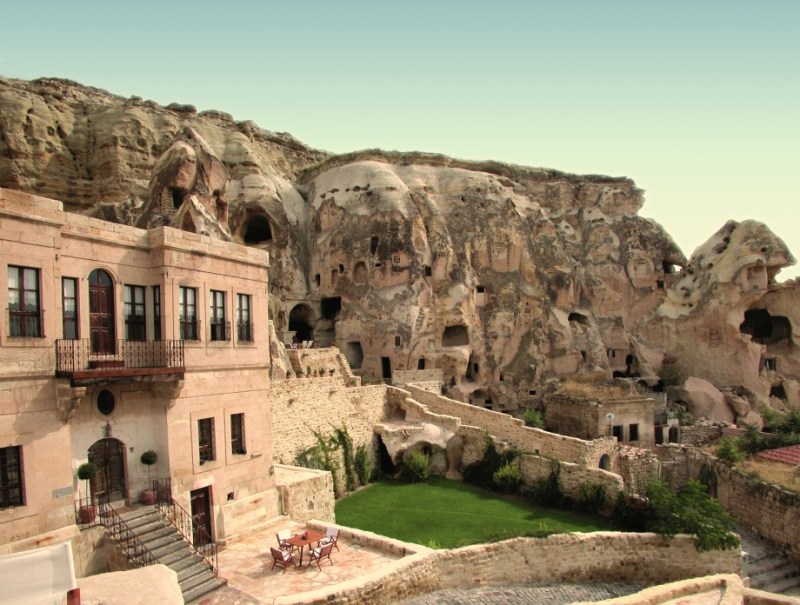 Looking at a map of Turkey, the town of Ürgüp, amusingly pronounced 'Oorgoop,' appears as an irrelevant smidge in the middle of the country. However Ürgüp just happens to be the main hub for Cappadocia; a spectacular region of geological wonders peppered with cave dwellings, underground cities and curious rock formations known as 'fairy chimneys' or hoodoos.
The Yunak Elveri, which has repeatedly been credited by top travel guides as one of the world's most unique hotels, is the place to stay when seeking a full Cappadocian immersion. At first it all looks a bit like an open-pit quarry or a giant ant colony, but you soon notice the intricate labyrinth of narrow passageways and chiseled stairways leading to rooms that have literally been carved out from the valleys volcanic limestone. Essentially the guest rooms are caves – but inside these monastic quarters have been fetchingly decorated with wrought iron beds, wooden fixtures, ottoman rugs and opulent marble bathrooms. The hotel opened in 2000 with only 17 rooms, after a Turkish businessman acquired and refurbished what where effectively local cave-homes dating back to the 5th century. Today the hotel has 35 rooms spread out over 6 different cave structures, with the reception and dining room housed in a 19th century Greek mansion at the base of the complex.
To fully grasp the awesomeness of Cappadocia it's imperative to spend a little extra cash for a hot air balloon ride, specifically the 'deluxe' option, which entails sharing a more comfortable basket with fewer people. These usually depart at sunrise from the nearby village of Göreme, located inside the Göreme National Park; a Unesco Heritage site since 1985. If you prefer keeping feet firmly on the ground, or rather below ground, then venture 12 miles south west of Ürgüp to the underground cities of Kaymakli and Derinkuyu – the latter extends to a depth of some 197 feet below surface. Capable of housing up to 20,000 people, it is estimated they where constructed around the 6th century and used for refuge during times of war. Also not to be missed are the 'whirling dervish' – a religious order whose devotees worship by spinning ceaselessly until they reach an ecstatic trance-like state. One local sect holds nightly ceremonies at the Sarihan Caravanserai, which are beautiful, bizarre and perhaps even a little dizzying to witness.
With daily flights from Istanbul to either Nevershir or Kayersi airport, one can visit Cappadocia year round, although May to October is considered high season since the land resembles a frosted pudding in winter – stunning as ever but far less practical.
Editors' Recommendations