Istanbul is at once vibrant, manic, cosmopolitan, and historic. Not surprisingly, its best hotels run the gamut from centuries-old guesthouses built among crumbling ancient ruins to world-class waterfront resorts with every imaginable luxury amenity. Here are just three of our favorite places to stay in the capital city of Turkey.
Hotel Empress Zoe (Sultanahmet)
From the wisteria-covered exterior to the lobby ruins to the original Ottoman-era architecture, Hotel Empress Zoe oozes classic Turkish charm like no other boutique hotel in Istanbul. Here, it's not about luxury, but historic character, and the hotel has plenty of it. The grounds are actually a series of four buildings encircling a beautiful, 15th-century hammam (Istanbul's oldest bathhouse). All 26 rooms are uniquely decorated and laid out, creating a feel that's more bed-and-breakfast than traditional hotel. Because it's located in the touristic Sultanahmet neighborhood, it's a prime base of operations to explore the city's most popular attractions. The Blue Mosque, Hagia Irene, and Topkapi Palace are all within a short walk. Don't miss: The panoramic views from the rooftop terrace.
The House Hotel Bosphorus (Ortaköy)
The House Hotel Collection includes a portfolio of four designer hotels in some of Turkey's best destinations, including Cappadocia and Nişantaşı. Located in a small, 19th-century waterfront mansion, The House Hotel Bosphorus is no exception. The hotel was once home to Simon Balian, an Ottoman-era Armenian architect who, along with his family, was responsible for many of Istanbul's most iconic structures. Today, the hotel seamlessly blends its historic bones with opulent, contemporary elements. Each of the 23 rooms and suites features petal-shaped headboards, marble-and-glass showers, refinished parquet wood flooring, and some even look out over the Bosphorus (a large strait that connects the Black Sea with the Sea Mamara). A beautiful cafe on the ground floor serves up falafel, fresh calamari, and lovely water views, and a private boat is available exclusively for guest use. A few blocks along the cobblestone streets in any direction takes guests to some of the best shops, cafes, restaurants, and bars in the bustling Ortaköy neighborhood. Don't miss: The Simon Kalfa Suite features a wraparound balcony with stunning strait views.
Çırağan Palace Kempinski (Between Besiktas and Ortaköy)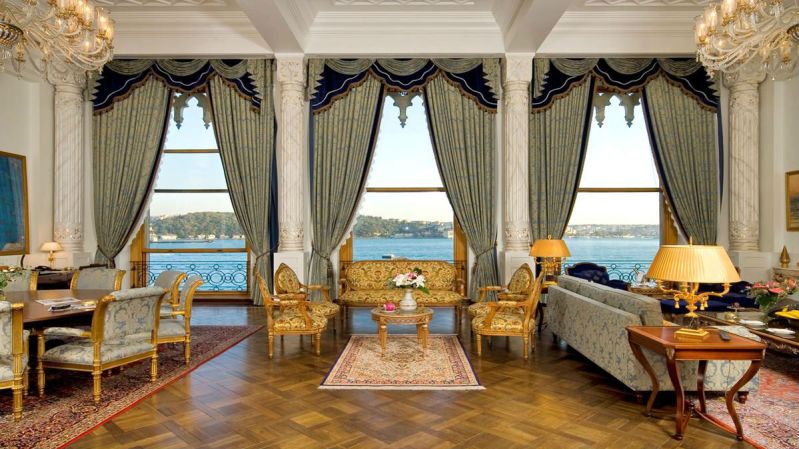 If it's money-is-no-object, five-star luxury you're after, Çırağan Palace Kempinski is the finest hotel in Istanbul. Built on the site of a former Ottoman palace, this opulent waterfront resort is the sort of place that invites guests to arrive by car, yacht, or helicopter. The four on-site restaurants are destinations in their own right, even for non-guests, as all feature world-class dining and balconies/terraces with sweeping views of the Bosphorus. The hotel's centerpiece is a large, heated infinity pool and outdoor bar overlooking the strait; a spa with a hammam adds another relaxation option. Each of the 313 rooms (including 20 suites) seems more extravagant than the last. All boast a decor that's fit for visiting dignitaries, plus large flat-screen TVs, water-view balconies, and (optional) kitchenettes and separate living/dining areas. Don't miss: With a nightly rate north of $35,000, the 5,000-square-foot Sultan Suite consistently ranks among the world's most expensive hotel suites.
Editors' Recommendations