Before succumbing to cool-weather hibernation and weekends on the couch watching football, indulge your inner bear by escaping to this isolated vacation house rental northeast of Toronto in Gooderham, Canada.
They call it Bear Stand.
If iconic poet Henry David Thoreau was alive today, sipping cold brew and tightening his man bun, he might have written these famous lines about Bear Stand:
"I went to the woods because I wished to live deliberately, to front only the essential facts of life, and see if I could not learn what it had to teach, and not, when I came to die, discover that I had not lived … I wanted to live deep and suck out all the marrow of life, to live so sturdily and Spartan-like as to put to rout all that was not life, to cut a broad swath and shave close, to drive life into a corner, and reduce it to its lowest terms …"
Designed by the award-winning firm Bohlin Cywinski Jackson in association with Bohlin Grauman Miller, Bear Stand is an ideal woodland retreat for fall, offering an escape to nature between the shores of Contau Lake and nearly 100 acres of trees blushing red, orange, and yellow with the change of season. To one side of Bear Stand you'll find canoe docks and boardwalks, and, to the other, an expansive private trail network exclusive to the property (no roads exist beyond this point).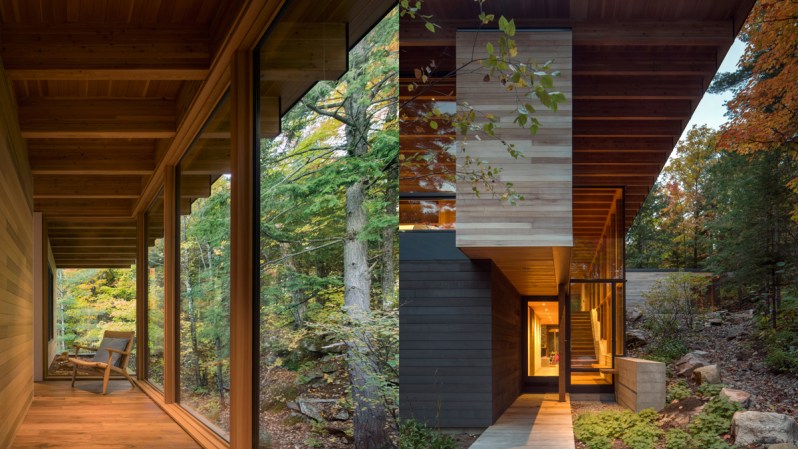 Just between the lake and an epic granite rock-face is Bear Stand itself: a two-story residence that blurs the lines between indoors and outdoors, rustic and modern. Inside, rafts of exposed Douglas fir beams and stained cedar sidings recall the grains and textures of the surrounding forest. Finishing touches — like fir windows, wire brushed walnut flooring, benches and bar tops reclaimed from a nearby barn, and hand-crafted tile — add to this illusion.
Despite its natural influences, Bear Stand growls with high design, noted in its monolithic fireplace clad in locally sourced granite, private sauna, ofuro soaking tub (a Japanese-inspired outdoor bath), hot tub, modern bar, and expansive floor-to-ceiling bedroom windows that showcase the land and lake.
The 3,400-square-footretreat sleeps 12, with five bedrooms and three bathrooms, including one bunk-bed room for kids (or grown-ups who act like kids). In terms of recreation— other than watching the leaves change beside a roaring fire— expect fishing, hiking, sailing, bird watching, horseshoes, and mountain biking.
After a visit to Bear Stand, you'll return to civilization with a renewed calmness and, as Thoreau says, a drive to ""live deliberately". You may also return with a desire to go back to Bear Stand. Lucky for you, this retreat is open all four seasons … although fall takes the cake.