The Amazon Kindle has long been the benchmark for e-readers. It seems that every year, the company finds new, incremental ways to make its already great digital book technology even better. With the launch of the new, new Kindle Oasis (to differentiate from 2016's "new Kindle Oasis"), the company is changing the game yet again.
Just in time for the Kindle's tenth anniversary, Amazon has introduced its best-ever Kindle. The aptly named new Amazon Kindle Oasis boasts the clearest, highest-resolution Paperwhite display yet. The 7-inch screen (up from six inches) provides 300 PPI (pixels per inch) — enough real estate for 30 percent more words on every page. With a couple of additional LED lights, the ultra-crisp screen guarantees uniform lighting across the display and no glare, even in the brightest sunlight. Built-in sensors also detect ambient lighting and automatically adjust the screen's brightness accordingly.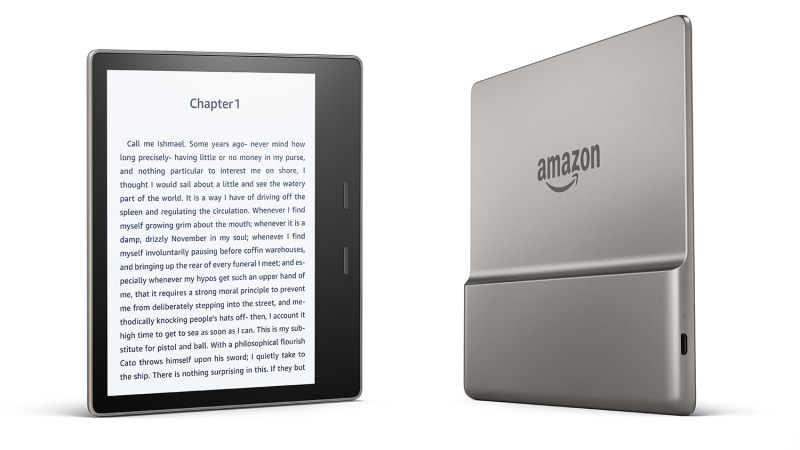 Perhaps the most exciting new feature for the Kindle Oasis, however, is its legit IPX8 waterproof rating (somehow the folks at Amazon never thought the original Oasis should be waterproof). For anyone who's hard on electronics — travelers, in particular — this means the Kindle is could be a go-anywhere device. Tests have confirmed the new Kindle can survive being submerged for up to an hour in six feet of water. Amazon has not confirmed exactly how it achieved this feat, though it has been tested in hot tubs and pools.
Straight out of the box, the device just feels better to the touch. This is largely due to the all-aluminum back, which is a distinct upgrade from the previous soft plastic construction. The shape of the case is similar to earlier Kindles with one thicker side and one tapered side — the ideal form factor for one-handed reading. With an extended battery life, the device provides weeks of reading time.
The new Kindle will feature a built-in app for seamless integration with Audible's massive audiobook library. Sadly, like its predecessors, the Kindle Oasis still doesn't offer integrated speakers. However, Bluetooth allows for streaming directly from the device to wireless speakers or headphones.
The new Amazon Kindle Oasis will begin shipping at the end of October 2017; the 8 GB model available for $250 and the 32GB will retail for $299. Or brother site, Digital Trends, did an in-depth review of the Kindle Oasis, which is definitely worth a read before you drop the big bucks on a new device.