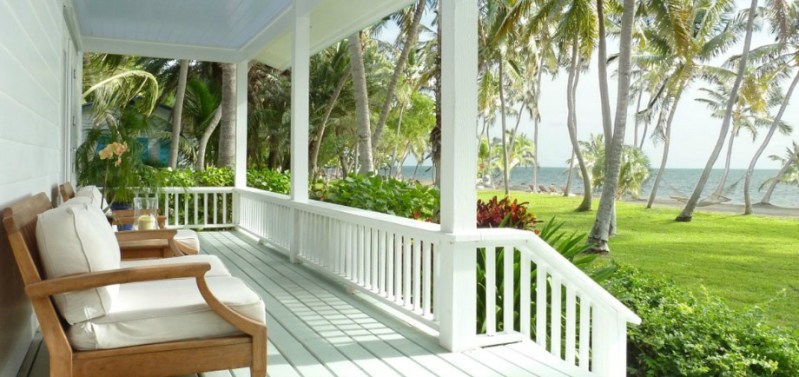 Excluding Hawaii, the Florida Keys is the answer for those seeking a truly tropical escape without leaving the country, offering tourists year-round sunshine and easy access. Islamorada is indeed a far cry from the trollop-fest of South Beach, yet conveniently only a two hour drive south of Miami and half way along the road to Key West. Once on the Key, a sharp turn off US Route 1 suddenly catapults you into a lush and hushed enclave of greenery that is the Moorings Village Resort.
The 18-acre property, purchased years ago and still run today by a welcoming French couple, includes a sexy, 1000-foot, palm-strewn beach and 18 cottages that serve as individual accommodations. With white wooden porches and colored shutters, the cottages evoke colonial Caribbean architecture at its best and range in size from one to three bedrooms, but even the smaller bungalows can fit extra guests on sleeper sofas. Prices fluctuate hugely throughout the year, June to November being Hurricane Season and therefore a bit of a no-go.
For lunch and dinner, hop across the road to the opposite coast of the Isla to either Pierre's restaurant for well made cocktails and a schmoozy dinner or to laid back Morada Bay Beach Café. Whether it's a mahi mahi sandwich with string fries or a grilled grouper with curried rice, here anything fish based is highly advisable. As for breakfast – you can jolly well make it yourself in your room's own kitchen – the only pickle we would have to pick with the hotel is the lack of an on site restaurant, however they do provide complimentary kayaks and bicycles – possibly to better pursue alternate dining options with.
The resort brochure points out that the Moorings Village is a place where 'you can do a lot, or if you choose, nothing at all'. The 'doing a lot' might entail use of the hotels tennis courts, lap pool, fitness center and spa, but if you crave a little more stimulation just scoot over to the Whale Harbor Marina at the tip of Islamorada where water sport haven awaits; from jet ski to kite surfing to hand gliding.
Editors' Recommendations