Spring has sprung, and it's the perfect time of year to dig out your workman gloves and get dirty.
Planting for the summer and cutting the rotten debris from the trees is going to be work, but the enjoyment factor come in having the perfect tools that will perform as well this season as they did last. (Not often the case with cheap shears you bought because of the easy price tag.)
And it's right at this precipice–where the labor of lawn and yard work becomes a meditation with the right tools for the job–that Garrett Wade comes in.
This heritage outdoor tool company, founded in 1975 as a woodworking tool brand, lives and breathes craftsman tools. Co-Owner and Senior Vice President Craig Winer scours the globe attending small regional trade shows for the best, most authentic, small tool-making companies that build equipment that is both timeless and suited for the lawn tasks faced by today's modern man.
And you KNOW Garrett Wade means serious business when its "Really Old Fashioned Fly Swatter" packs a five-star rating. Yeah… for a fly swatter. But that's what Garrett Wade is all about: staying away from less-expensive tools because they're built around the notion that you'll be using that saw or hoe for a fourth, fifth, and sixth season. And better quality means the cuts don't get sloppy and the edges never rust.
"More people are willing to buy one tool that will last than 10 that disintegrate in a season," says Winer. "Ten years ago, we noticed a lack of great gardening tools in the consumer world and looked to solve that problem by sharing the tools that yard professionals use. That means if you've got to dig a hole, do it with something that will be satisfying to use."
We sat down with Winer and kicked up the dirt about his six most coveted tools that every man should own… including a bomb-proof shovel and a Japanese-style hoe you won't find at Home Depot.
Premium Pruning Loppers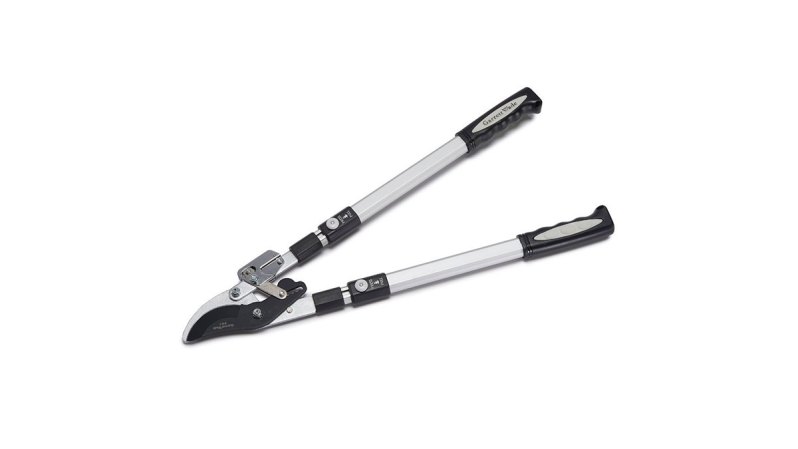 "These are superb for heavy work," Winer says. "The arms are extendable, if you have a branch that is a little further away, and you can open and close the handles to get a bigger reach. When you're pruning, it's always at that annoying height above your eye level (but you don't want to get the ladder); that's where these come in hand. The mechanism of the ratcheting closure of the loppers also gives you extra leverage to cut a branch that is thicker than you normally would. It DOES require some amount of upper body strength, but you do get a mechanical advantage. Plus that super satisfying little click."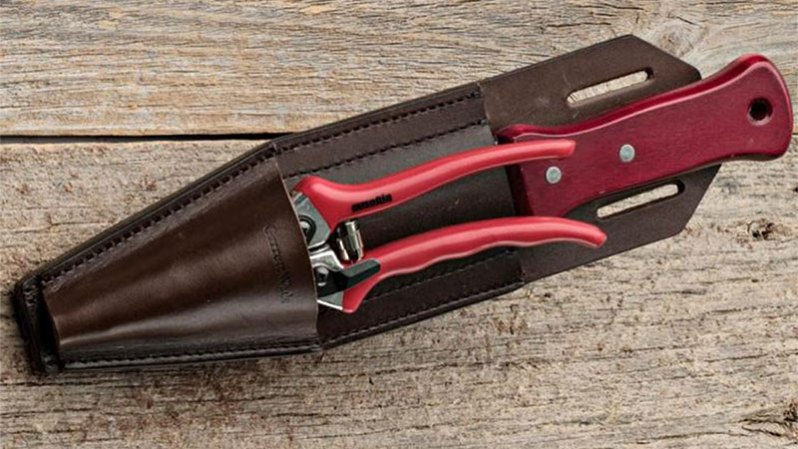 "On the outside, it's a convenient holster for two of the most popular gardening tools. Which alone is useful, because you're not putting these in your pocket and destroying your pants. We include a Japanese digging knife that Garrett Wade has had forever, and of course a hand pruner," Winer says. "A U.S. company that makes handmade leather products just designed this holster. It's simple, but essential."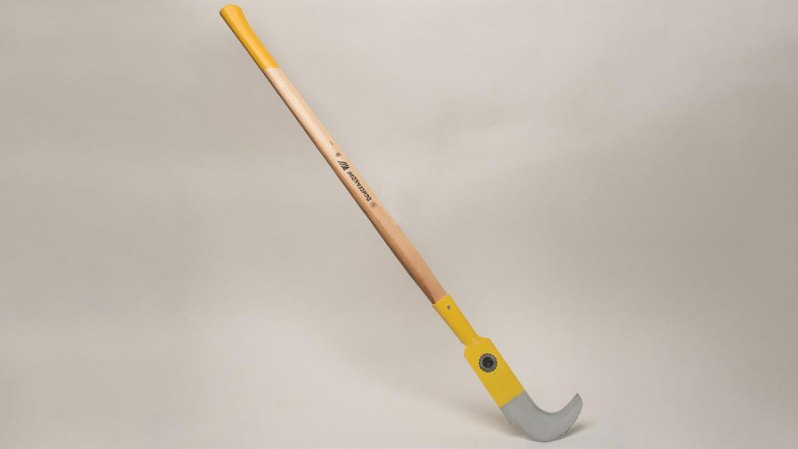 "This should eliminate your need for a weed wacker. It's a powerful hand tool for heavy, dense brush clearing— made by a small company in Germany–and is perfect for brambles. In use, this tool is really satisfying to swing because of the long handle. The hook doubles as a way to pull out the brush, so you don't have to pick up thorny brambles to carry to the compost. Plus you're not crouching down as you would using smaller machetes."
Super-Penetration Shovel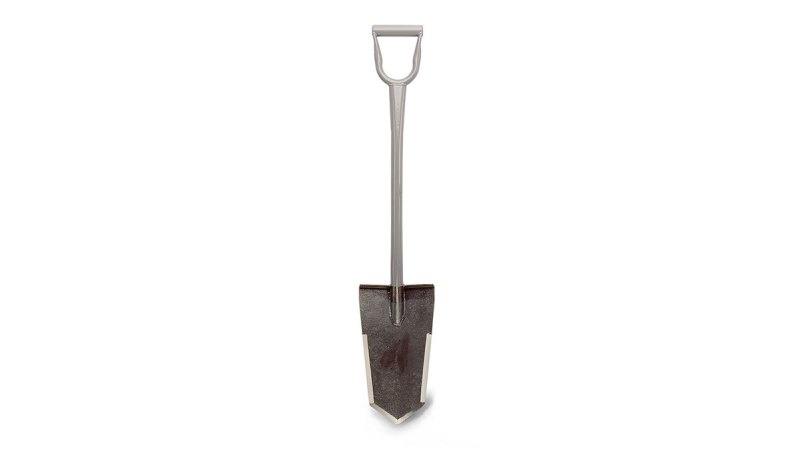 "It's $120, but it's basically bombproof," Winer says (and he's not even joking). "If I'm digging plant shrubs, especially where it's super rocky, I'll use this. A small company in the U.S. makes them traditionally for people in the trade working on farms. I was digging a ditch to put in a fruit tree and there were massive rocks and I was prying them out with this shovel. It's all steel and guaranteed for a lifetime of use."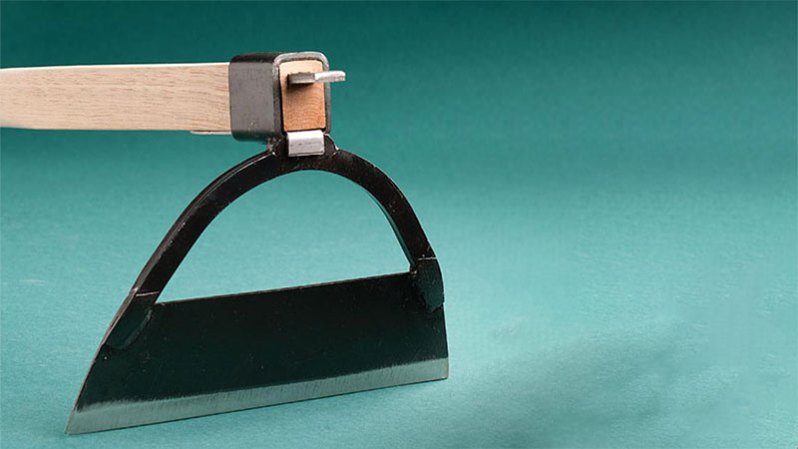 "Home Depot doesn't sell Japanese-style tools. In a big box, they don't have people there who are interested in explaining how these tools are made and should be used. It's a really beautiful, traditional Japanese tool and is really nice for turning the soil when the ground thaws and has compacted over the year," Winer says. "But at its base, it's a really pretty traditional tool with an unusually wide and deep blade, and is super well made. Everything down to the handle."
Folding Pruning Saw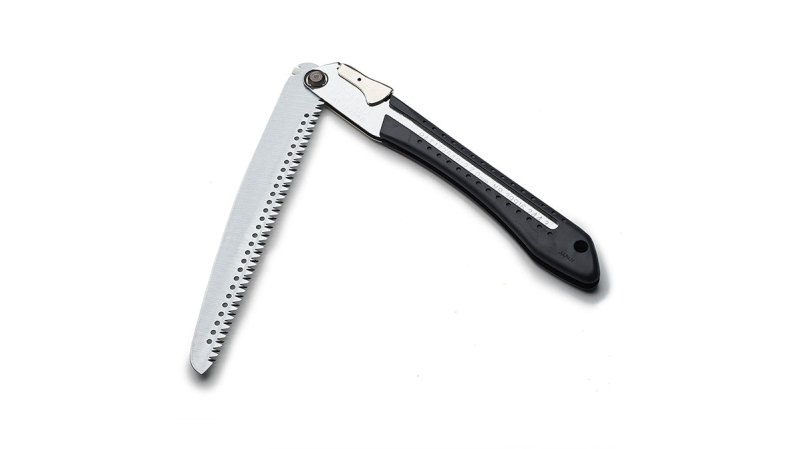 "This is a really tough outdoor tool. I'll keep it in my back pocket every day because it's able to fold, which protects the blade. It cuts as you pull and is super aggressive and nice for cutting small trees. This has become a really popular product and is a gardening/yardwork must because it folds and the blade locks when it's open."