An inflatable kayak is a very practical companion for those looking to explore new waters. It may not be as good as a traditional hard-shell kayak, but the trade-off here is the portable and compact features that can make your adventures more convenient and enjoyable. You can set it up in a matter of minutes and take it pretty much anywhere. Before choosing a kayak for your outdoor expedition, you must first decide exactly what you're doing in it. Do you need it for fishing or whitewater rafting? Or will you be using it to paddle over a lake or head out for a three-day trip across a quiet river?
While most kayaks are designed for one or more of these activities, there are other important considerations, too. Factor in how much storage space you'll need, how many people will be riding with you, and how portable the kayaks are. These questions pertain to the materials and the structure of the kayak as well as convenient extras like adjustability and add-ons. Some models come with a pump, a carrying case, attachments to hold additional gear, and so much more. We did our own research and made a list of some of the best inflatable kayaks on the market, covering different options for different purposes. You may also want to check out our compilations of the best inflatable paddle boards and inflatable hot tubs while you're at it.
At A Glance
Best adjustable:

Aire Lynx II Tandem Inflatable Kayak

Best for standing:

STAR Rival Sit-On-Top Inflatable Kayak

Best for whitewater:

Kokopelli Recon Inflatable Kayak

Best for flatwater:

Intex Challenger Kayak Series

Most versatile:

Aire Outfitter I

Best for fishing:

Sea Eagle PackFish7 Deluxe
Best adjustable: Aire Lynx II Tandem Inflatable Kayak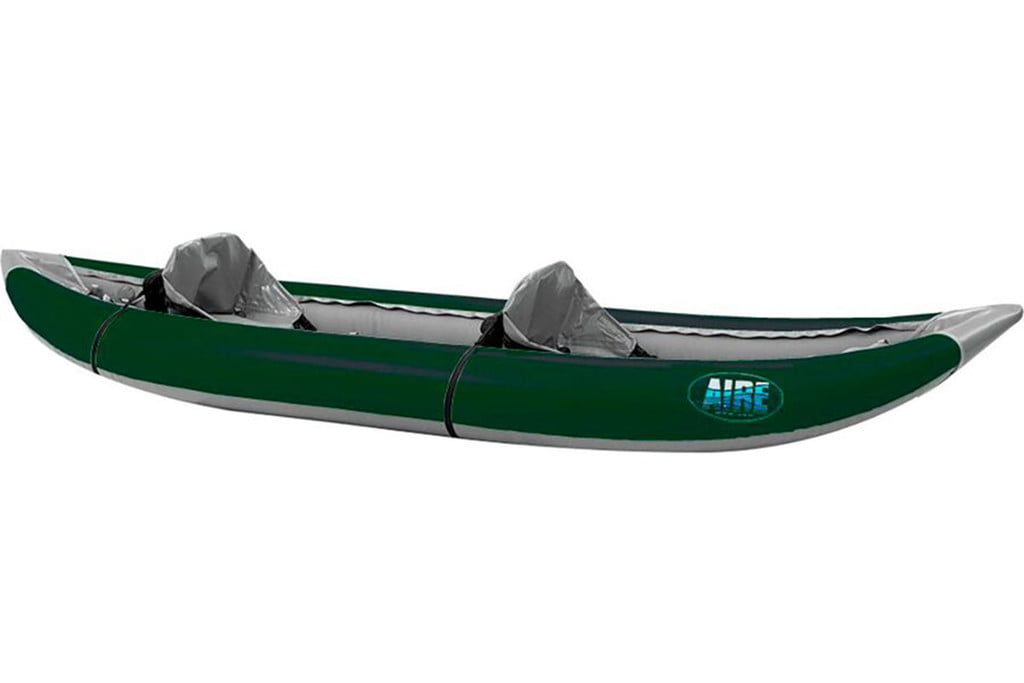 Gently paddle down the river with your partner or go on a solo adventure in this 12-foot, 6-inch long, 39-pound tandem inflatable kayak. The exterior is built strong and highly resistant to punctures, while numerous cargo loops line the edges for attaching any necessary gear. The seats and cargo loops are removable and adjustable so you can customize the craft according to the adventure you plan on embarking on. Its smooth design makes for efficient maneuvering through the water, and three drain holes allow for water to be removed from the cockpit as needed. This kayak holds up to 475 pounds, and comes with two paddles, a repair kit, and a 10-year no-fault manufacturer warranty.
Best for standing: STAR Rival Sit-On-Top Inflatable Kayak
Measuring 12 feet, 6 inches, the STAR Rival kayak is spacious enough for any solo adventure. It has a 6-inch deck that inflates to 8-10 psi, making it stable enough for you to stand, sit, and paddle with ease. It also features a 9-inch inflatable tubes on the side that serve as outriggers to ensure stability and smoother tracking. The aluminum-framed suspended mesh seat quickly attaches to D-rings with included straps for convenient setup and can be removed as well to offer optimal position when you are casting, paddling, or sighting fish. Longevity, air retention, and superior abrasion resistance are guaranteed, thanks to its advanced-formula PVC material and state-of-the-art seam welding technology. The package also includes a 5-inch removable fin, a pump, a repair kit, and a carry bag.
Best for whitewater: Kokopelli Recon Inflatable Kayak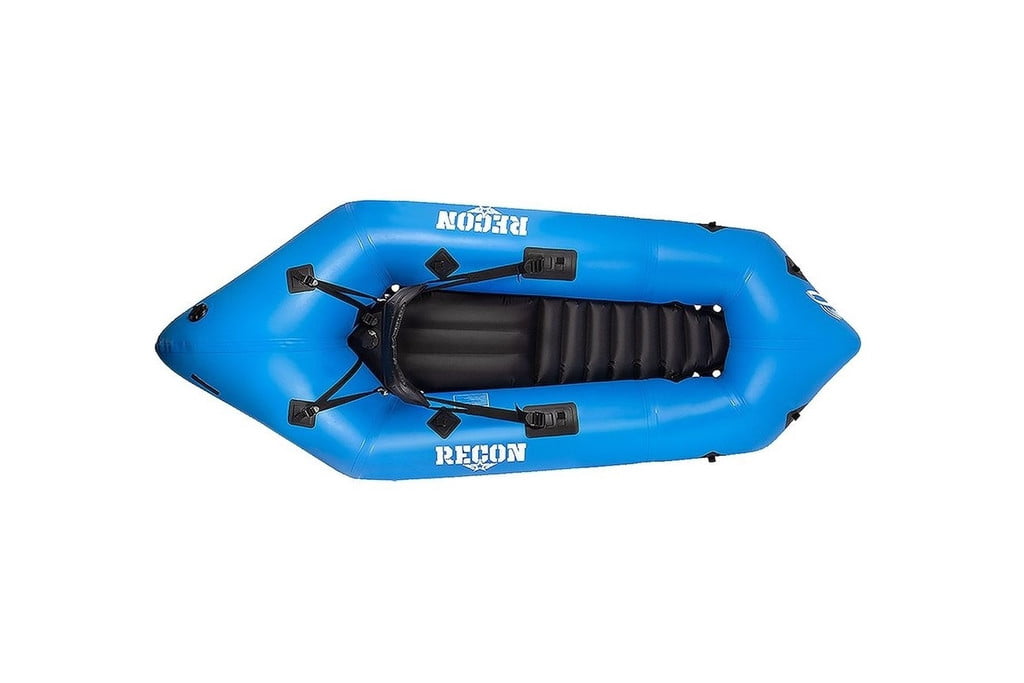 This burly pack raft from Kokopelli is perfect for whitewater action in rocky rivers. It's constructed from reinforced PVC for durable protection both on and off the water, complete with a self-bailing floor for convenient water drainage during whitewater runs. Built to glide through even the roughest waters with smooth handling, this kayak also boasts a narrow trim plus a backband that keeps your back supported and comfortable while you're adventuring. Also included is a foot pump for fast and easy installation on the go and an emergency patch kit so you're always ready.
Best for flatwater: Intex Challenger Kayak Series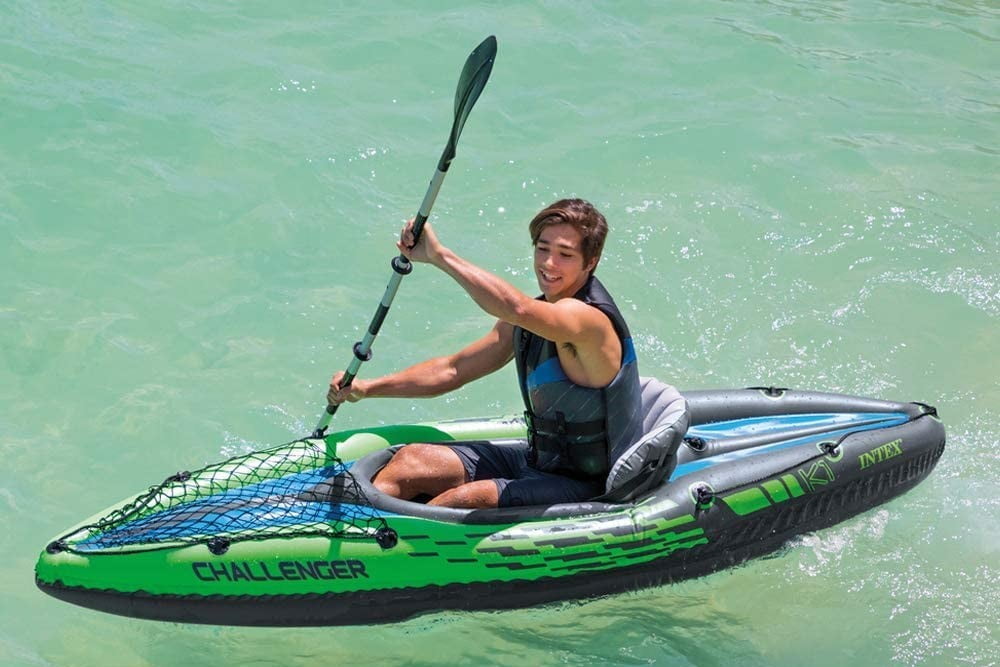 If you want to go touring on the lake or any other slow-moving water, you may want to consider the Intex Challenger. This vinyl kayak is built with a cockpit that has enough legroom to ensure comfort while you explore the waters, complete with an inflatable seat with backrest and inflatable I-beam floors for maximum support and stability. Both ends are also designed for additional convenience: The front end has a cargo net attached so you can store extra gear, while the other end has grab lines so you can easily get hold of the kayak. The package also includes an aluminum oar, a repair patch, and a manual hand pump.
Most versatile: Aire Outfitter I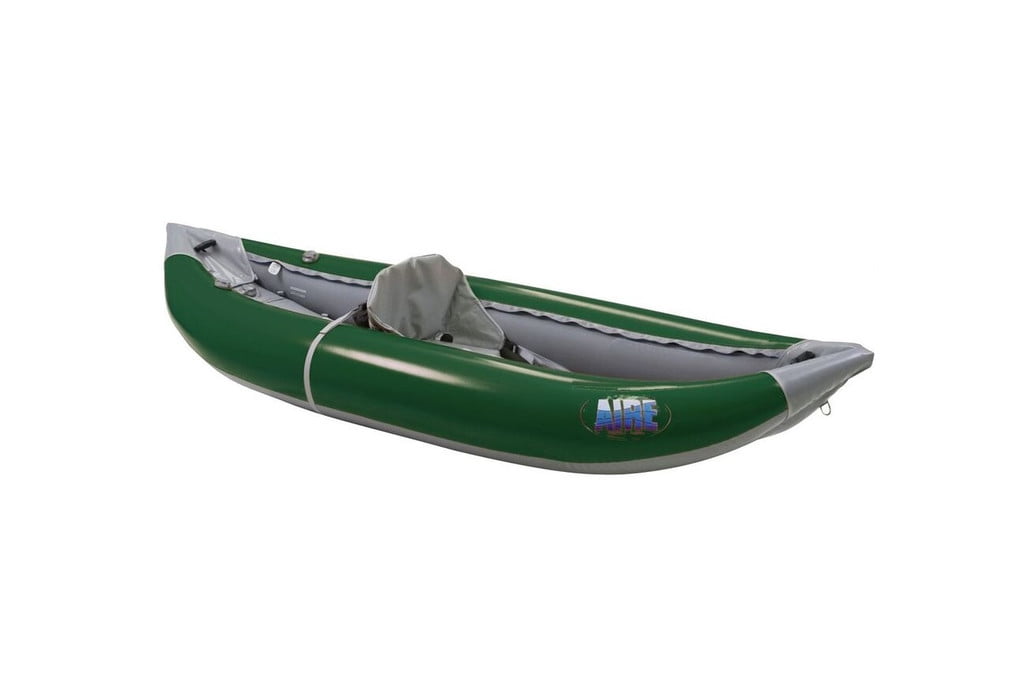 Whether you're a beginner planning to tour across flatwater or a skilled adventurer looking to ride the rapids, you can never go wrong with the Aire Outfitter I. The combination of PVC fabric, urethane Airecells, and a self-bailing floor makes the kayak ready for both mellow floats and rugged whitewater expeditions. The bottom of the boat is fairly flat for smooth maneuverability, while the included seat is positioned low and has back support so you can comfortably paddle all day long. Other convenient features you'll love include a water bottle holder and a large storage compartment at the back, cargo loops to hold your gear, and carrying handles for easy grabbing.
Best for fishing: Sea Eagle PackFish7 Deluxe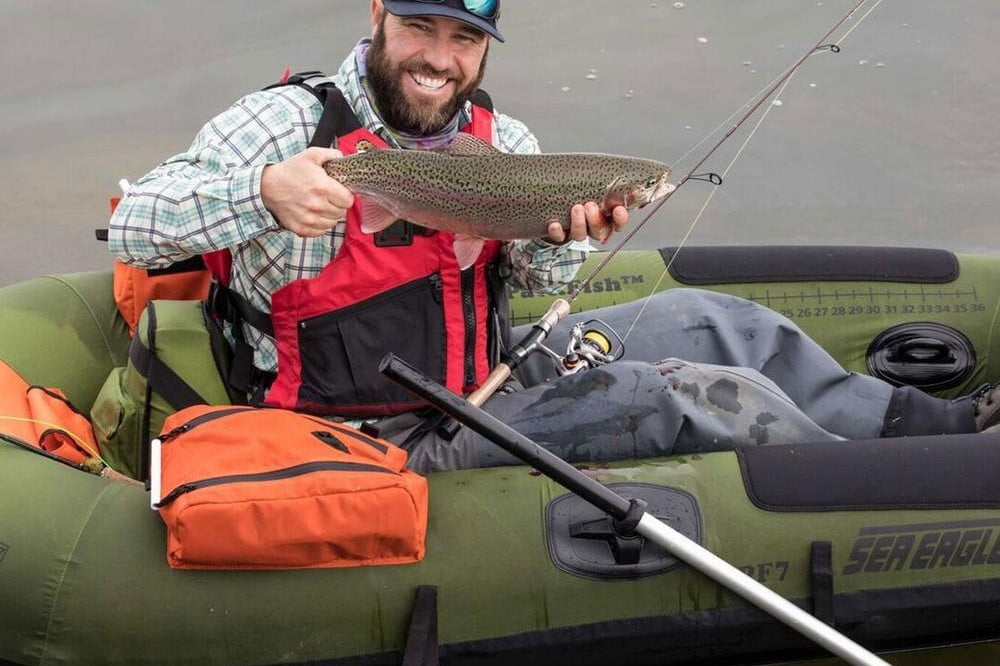 Take the ultra-lightweight Sea Eagle PackFish7 Deluxe with you on your next fishing adventure. This inflatable raft flaunts a hands-free oarlock system so you can focus on fishing, along with rod holders, fish rulers, and compartments for storing your fishing supplies. With a maximum weight capacity of 300 pounds, this heavy-duty boat can withstand the harshest of environments. Its fabric floor is fully sealed as well to prevent water from seeping in.
Editors' Recommendations