A prototype ski jacket promising to make every other ski jacket in the world obsolete via lab-made spider silk protein had it's big debut at Outdoor Retailer Winter Market in January. The project was labeled top-secret by collaborators Goldwin and Spiber — many of their employees did not know of its existence until the day of the show.
Sealed in a glass case out of reach from us mere mortals, the Goldwin Ski Jacket might look like any other winter-wear layer to those passing by. Goldwin might also sound like small potatoes to those familiar with U.S. winter favorites Patagonia, The North Face, and Mountain Hardwear, but it is definitely an Eastern giant. Owning both The North Face and Helly Hansen licenses in Japan, Goldwin is known for its minimalist and high-style ski wear, motorcycle gear, and technical everyday designs. Although it started out as a small knit manufacturing company in 1950, it wouldn't be a surprise to find Goldwin's name stitched into every ski jacket made from 2020 and beyond.
Again, thanks to that prototype "spider silk" Goldwin Ski Jacket.
Why attempt to genetically engineer spider silk? "For decades now, many scientists have been drawn to the amazing mechanical properties of natural spider silk," Daniel Meyer, Marketing and Communications with Spiber, the Japanese company that engineers the synthetic spider silk fabric, tells The Manual. "It is the toughest known material, natural or otherwise. Toughness is a combination of both strength and extensibility, meaning that it can absorb an incredible amount of energy before breaking."
Spiber previously worked on a spider silk jacket, the Moon Parka Prototype, for The North Face in 2015, but the jacket was more of an art piece at the time, since the fabric still needed to undergo various quality verification procedures to say for certainty that it could function as a winter coat. Spiber thought of that collab as more of a proof of concept that lab-made spider silk could be woven into a fabric, sewn, etc, than an official coat. Spiber also used its spider silk material for the Lexus Kinetic Seat Concept at the Paris Motor Show in October of 2016. So it's been crawling onto the scene slowly for a while.
The new Goldwin jacket features the same QMONOS (pronounced pretty much how it sounds) material Spiber used in the earlier TNF jacket and Lexus seat, but with styling from Goldwin and a futuristic emphasis on seeing the product through from the lab to the racks. After all, we expect actual products to follow exciting prototypes, otherwise it's just steam.
"The Moon Parka is a prototype based upon The North Face's Antarctica Parka model," says Meyer. "Goldwin's ski jacket is a sportswear jacket designed with heavy movement in mind. We have included Spiber's QMONOS fibers in this prototype in order to evaluate its properties and performance under various conditions. This prototype also shows Goldwin's intention to include the QMONOS material in its own brand as it strengthens its international presence."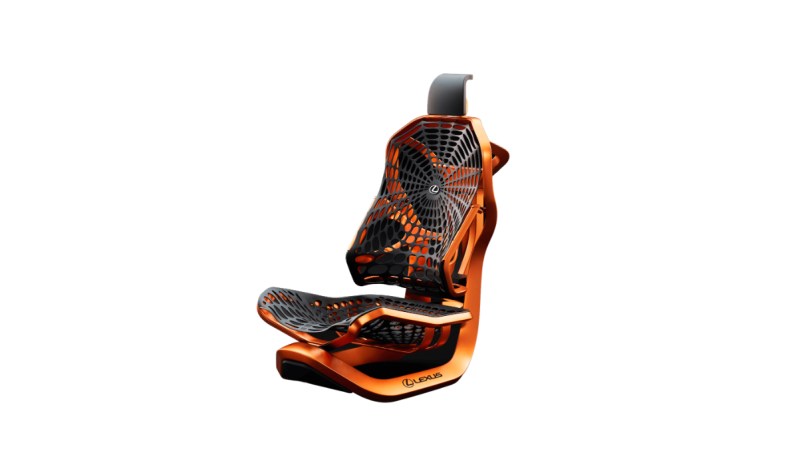 QMONOS is a protein material based on spider silk, touted as being four times stronger than steel but more flexible than nylon. Meyer broke down the process of creating the silk into four phases:
Design Stage: First, we look at the DNA within a spider that is responsible for the creation of its silk. We then take this base design and tweak it on a computer, optimizing it for our process and end applications.

DNA Synthesis Stage: Once we have a final design that we like, we synthesize that DNA in the lab and incorporate it into microbes.
Microbial Fermentation Stage: Once these "host" microbes are prepared, we ferment them, in a process similar to fermenting beer. They are placed in a tank and provided oxygen, a temperate environment, and nutrients such as sugars which allow them to multiply and create lots of spider silk proteins (or whatever protein it is we have coded for in the DNA).
Materialization Stage: We harvest the proteins and then spin them into fibers in a synthetic spinning process much like with polyester or nylon. Basically, the proteins are in a liquid solution and pushed out of small pores. They then harden into fibers. It is also worth noting that fibers are not the only material that we can make out of our protein polymers. We have created fibers, films, sponges, plastics, and more.
Both companies see this protein fabric as the key to "a revolution in manufacturing" due to its non-reliance on petrochemicals (a chemical obtained from petroleum and natural gas). And FYI, your ski jacket and most of your apparel is packed with petrochemicals. That's because the most commonly manufactured fibers are petroleum-based, like polyester and nylon. Meyer says not only are they a non-renewable resource, petrochemicals remain in the ecosystem after end of use (like microplastics) and are ingested by fish, then eventually by humans.
"We're highly motivated by the renewable, ecologically friendly aspect of our protein materials, such as QMONOS," Meyer adds. "Through raising awareness and pursuing initial adoption in the outdoor industry, where consumers are already highly conscious of environmental issues, we hope to eventually contribute to a solution for some of society's great global issues."
Goldwin and Spiber aren't promising to correct this chemical habit today or even 2019, but it's clear they have sights on its achievement. In hand with this collaboration, Goldwin opened its new R&D Facility, Goldwin Tech Lab in Oyabe City last November. One of the first objectives of the Lab was to tests the Goldwin prototype jacket on an actual manufacturing line.
Because although a jacket has been made before using the silk protein (emphasis: one jacket), you won't change the industry unless you can make hundreds of thousands.