There's an undeniable beauty in disconnecting and dropping way off-grid, but even the most experienced outdoorsmen know that things can go sideways in an instant. While backcountry skiers, hikers, and explorers are wise to pack a smartphone just in case, they're unreliable in remote locations. A new breed of satellite hotspots allows anyone to keep in touch from anywhere in the world, with the option to pull the ripcord on their current outing if they find themselves in a sticky situation.
The Somewear Global Hotspot is the perfect lifeline for off-grid connectivity, promising text messaging, location sharing, weather updates, and access to emergency services. We tested Somewear around Boston and in the Israeli desert for a few days, and we can confirm the device works exactly as advertised.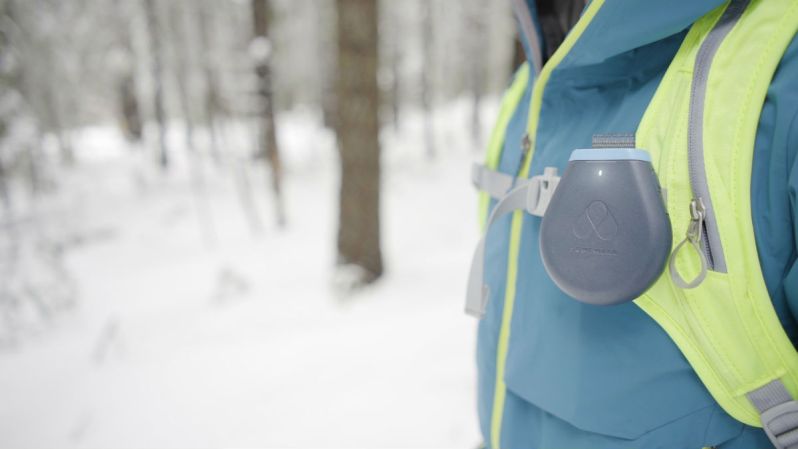 Design
Straight out of the box, there's a lot to like about Somewear Global Hotspot. The case feels sturdy with a raindrop-esque shape that's curvy, easy to hold, and unlikely to snag on loose bits and branches in the wild. The streamlined exterior features only two buttons — one for power and a second SOS button hidden beneath a pop-off cap. Unlike many of its self-contained competitors, most of Somewear's functionality is handled from your iOS or Android smartphone.
At roughly the size of a deck of cards and weighing about four ounces, the ultraportable design makes it easy to activate and forget about it (a good thing). According to the specs, it's engineered with an IPX7 waterproof rating (it'll survive one meter underwater for up to 30 minutes) and a MIL-STD-810 shockproof rating. Plus, the manufacturer promises it'll function between -4 and 140 degrees Fahrenheit. In our tests, it survived a few hours in a hard desert rain with no issue.
Setup
Setup was quick, painless, and intuitive. It requires creating a free account on the Somewear website, then downloading the free app, and finally pairing a phone to the device via Bluetooth LE. From opening the box to connecting to a satellite took less than ten minutes without the need for an instruction manual or a complicated setup process.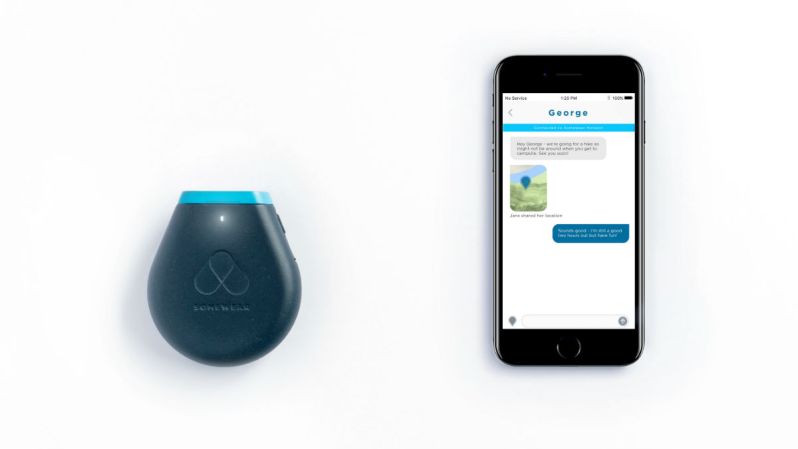 Features
Most users will no doubt want Somewear for its messaging and location tracking capability. Both allow for keeping loved ones apprised of your current situation and whereabouts. The Somewear app features built-in messaging that works intuitively like any standard SMS text messaging app. It uses your phone's existing contacts list, which makes the whole affair even easier. Connecting to a satellite typically takes a few minutes once the device is powered on. After that, we found minimal lag (from a few seconds to three minutes) in both outgoing and incoming messages, although this depends on the position of the nearest satellite. For short, to-the-point update conversations, it works great.
Once activated, the tracking functionality uses GPS to drop pins of your current location on a shareable map. Your family, friends, or S.O. can literally follow your movements and know precisely where you are along the way. New pins are dropped every 30 minutes which helps maximize battery life.
The app also offers unlimited weather forecasting updates that relay basic information like high/low temperatures, wind speed, and the chance of precipitation. Although, especially for day and weekend hikers likely to check the forecast before they head out, this seems more like a "nice-to-have" than an essential feature.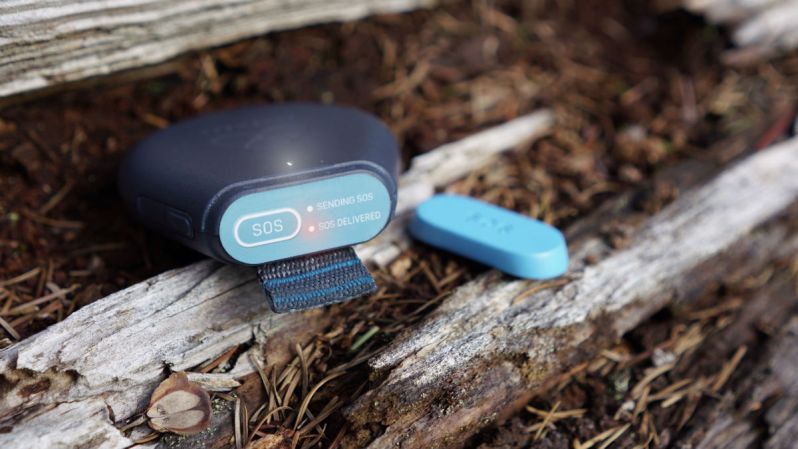 Of course, the most critical feature — and the one you hope you never need to "test" — is the SOS button. In an emergency, the user can pop the blue cap on the top of the device, then hold the SOS button for six seconds. An LED unit on the device will confirm the transmission, and it can also be canceled through the app. Every Somewear monthly subscription plan includes a staffed monitoring service that will deploy a local search and rescue team in the event you need help.
Battery Life
We found battery life to be solid. Somewear estimates roughly 10 days on a full charge and, after a week of desert testing, that seems accurate. It, of course, depends on the intensity and frequency of use. The unit is easily rechargeable in under an hour with any portable USB battery pack.
Pricing
At USD $350, Somewear is priced in line with similar satellite messengers and hotspots. It's a sizable investment for a piece of outdoor equipment you hope you (mostly) won't have to use. But, the insurance of the SOS feature alone makes it worthwhile.
There are four monthly subscription plan options. For occasional weekend hikers, the Ultralight $100-per-year plan (payable annually) provides 10 messages per month and 150 location tracking pins. More active outdoorsmen can choose between three upgraded plans which each include one month free for prepaying annual customers:
Plan 1

: 20 messages or 300 pin drops per month — $15/month

Plan 2

: 75 messages or 1,200 pin drops per month — $30/month

Plan 3

: Unlimited messages or pin drops per month — $50/month
It's worth noting that every plan includes 24/7 SOS monitoring so, no matter which you choose, you're covered in an emergency situation. Monthly plans can be temporarily paused in the event you won't be using your device for a few months.
Editors' Recommendations