We aren't much of a hunting bunch here at The Manual, but that doesn't mean we don't enjoy a clay shoot. We spent the day at Brays Island Plantation and got to know the laid-back (this guy really loves his job) yet skilled director of shooting sports and NSCA Level II instructor Justin Rhoten.
Rhoten met us at the Island's shooting clubhouse and gave us a basic introduction to shooting sports. First off, there are four disciplines when shooting clays:
Skeet shooting: This is a specific type of shooting, not a catch-all for any type of clay shooting. For the record, it is a recreational and competitive activity where participants, using shotguns, attempt to break clay targets mechanically flung into the air from two fixed stations at high speed from a variety of angles.
Trap shooting: The targets are launched from a single "house" or machine, generally away from the shooter.
Sporting clays: Often described as "golf with a shotgun" because a typical course includes from 10 to 15 different shooting stations laid out over natural terrain.
5-stand: There are five stations, or stands, and six to 18 strategically placed clay target throwers called traps. You shoot in turn at various combinations of clay birds.
While we have shot before, it was great to get some pro tips from Rhoten. As he explained, "From novice to advanced shooters, our goal is to emphasize friendly competition centered around fun and safety. By utilizing these tips, we typically see our owners hit more targets while developing a lifelong passion for the sport."
1) Pack a Bag
Essentials include a towel, bug spray, sunscreen, hat, and even a snack to keep the blood sugar up during your round. Don't be afraid to leave the scorecard out and just work on a few troubling targets when out shooting with friends.
2) Dress Comfortably
"As I try to emphasize with all new shooters, getting comfortable is critical to success. Just being comfortable while carrying the gun, loading and unloading, mounting, and calling for the target will allow the shooter to see better results. The same can be said to some extent with attire. Being comfortable with what you wear when shooting can help you shoot better, if for no other reason than its just one less thing to worry about. Numerous companies in the shooting sports industry produce attire specifically for shooters. Shirts, gloves, hats, jackets, and even pants are made for the casual to avid shooter. Probably, the most important piece of attire a shooter needs is a shooting vest that fits well. With pockets designed to hold shells, accessories, and a shooters towel, a vest that fits properly (enough room to move freely but not baggy) is essential. You can spend all the money you want on shooting apparel and accessories, but at the end of the day I believe the most important thing is comfort. If you are comfortable with the fit of your clothing and it's appropriate for the weather, it is really just one less thing to worry about. And when you don't have to worry about your attire, you spend that energy focusing harder on targets!"
3) Develop a Pre-Shot Routine.
Practice a ritual every time you shoot, not just when keeping score or during a registered shoot. Consistency before you say "pull" will lead to greater consistency after you say "pull."
4) Vary Your Glasses
Two colors of shooting glasses can help increase your score. With some stations at Brays Island in open fields and others in hardwood bottoms, the light changes drastically. To see all the presentations, have sunglasses for the bright stations and a light amber, orange, or yellow pair for those with lots of shadows.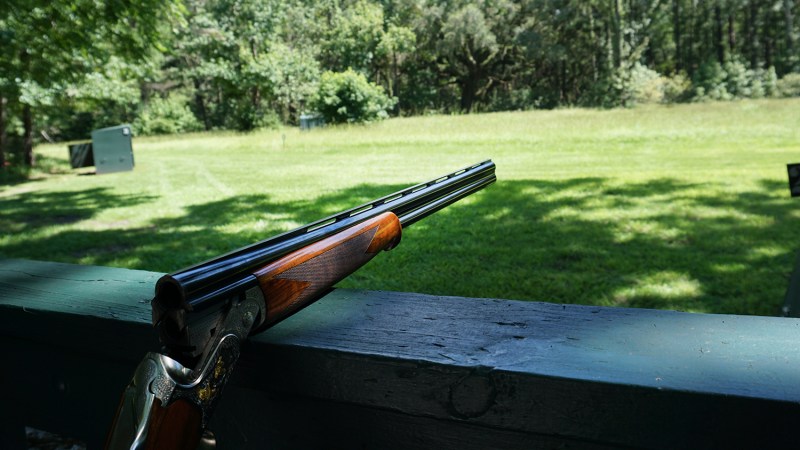 5) Change Your Chokes
When shooting, ensure you have the right equipment to be successful on the challenging targets at distance. While not all shooters change chokes frequently, it can help your results at end of the day.
6) Breathe
This is one of our most frequently used phrases during a lesson. Shooters usually improve their scores by simply taking a deep breath, relaxing, and having fun.
Article originally published August 4, 2017. Last updated July 27, 2018.