I'm no stranger to Quiksilver brand snowboard jackets. I remember as a teenager standing in a store and staring longingly at the most recent jacket, all color and in your face. It was a product of a time when standing out was the most important thing, and vibrant colors were the way to do it. It was all I had ever wanted in a jacket, but there was no way of justifying my jacket lust for a first-time college trip that was already breaking the bank. I left, tail between my legs, and headed back to my plain, could-be-anyone jacket.
I am acutely aware that I'm no longer a teenager, and my wardrobe has toned itself down a whole lot. This might be viewed as a fashion choice, but it's not. It's more the reality that shell jackets — I swear by layering in the snow, rather than one big jacket — are often block colors. The ski hill is now a sea of muted blues, classy latté-colored getups, and riders all in black. Where's the color? Where's the fun?
Well, Quiksilver, for one, is determined to bring back a bit of fun to the mountain, and the High Altitude jacket is designed to blur lines and stand out. I packed it in for a month of riding in Hakuba, Japan, to see how it held up.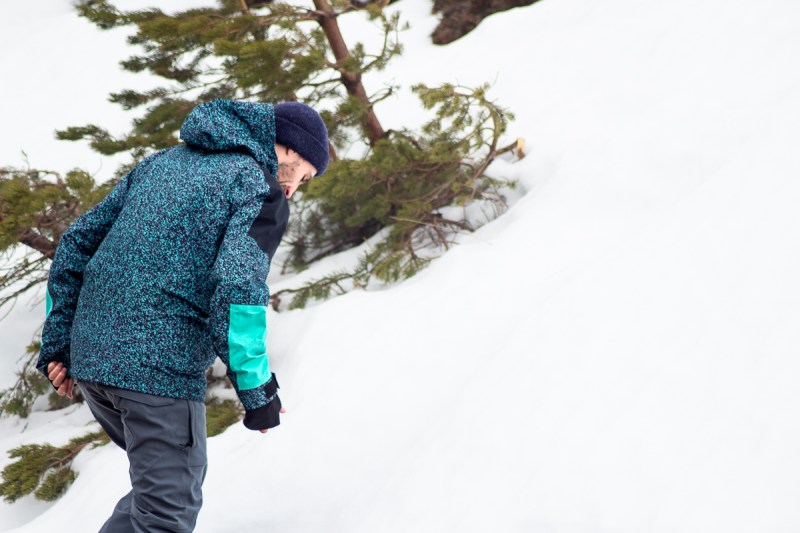 What does Quiksilver say about this jacket?
Before we get into what I think about this jacket, what does the manufacturer itself say about the High Altitude? Well, it's a two-layer GORE-TEX design featuring what Quiksilver refers to as a strategic body-mapping of diamond-brushed tricot and lightweight, breathable ripstop lining. Two-layer GORE-TEX relies on a free-hanging inner layer to protect the membrane: This provides insulation while keeping the jacket relatively lightweight and breathable. Even better, the whole polyester outer is fully recycled, so you're doing a good thing for the planet as well as for your wardrobe.
Then there are a few of those features you look for in a ski jacket. Those make-or-break features transform it from a waterproof shell into a quality ski jacket. These include an elasticated powder skirt, internal stretchy wrist gaiters with thumb loops — great for keeping your jacket down when you're riding — a pass pocket on your left arm, mesh-lined pit zips, and a lens cleaner clipped into one pocket. That's a lot of thought put into one jacket.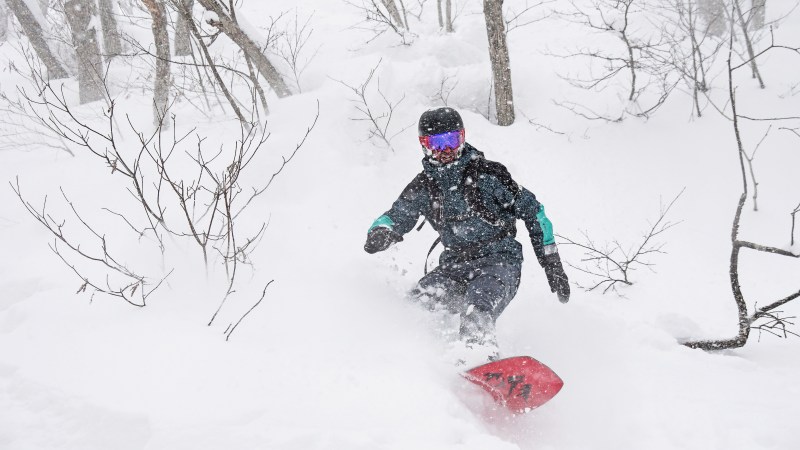 The test conditions for the High Altitude GORE-TEX jacket
This jacket saw a bit of everything. The month we spent in Hakuba was, by that area's standards, not the best snow. That means there were only 16.5 feet rather than the usual 36, but I wasn't complaining. I wore this jacket from start to finish every day on the mountain, with a range of different layers underneath it.
We had groomer days during which we were hitting side hucks and carving deep turns, and then we had the tree days. Oh, the tree days — the waist-deep powder, the endless face shots, the absolute carnage as we all rode up trees left, right, and center.
I crashed a lot in this jacket. I got whipped with branches, slid out in slush, and even — shocker — wiped out on the ice a few times. We got rained on. We had days where it was topping 60-degree heat. I carried my snowboard against it, I went to the bar in it, and I walked across town in it for an hour to get to the bus. I put this jacket through everything I could to see how it would hold up, and let me tell you something.
How did the High-Altitude jacket perform?
It withstood everything. I wasn't sure what to expect. This jacket was lighter weight than I usually wear, and the outer doesn't have that robust shell-like feel to it, but that's because it's designed to move. It's unrestrictive. I'm not sure how that mapped inner works, but it definitely lived up to Quiksilver's claim that it gives you a relaxed fit that moves with you on the mountain. Extra features like the elasticated cuffs stopped the sleeves from riding up when I was digging myself out of deep powder, too, which is always a bonus. If I'm being super picky, I'd have wanted the jacket to be a little longer in the body, but that's a personal preference; I can't hold that against Quiksilver at all.
Then there's how well this jacket protected me. When I say we had every condition, I mean it. We had a day on the mountain during which it rained so much that my boots were leaking, but underneath this GORE-TEX jacket, I was perfectly dry. It breathed well enough that I could ride in it on the warmer days, and the liner meant I didn't have to worry if I was just riding in a T-shirt base layer. I didn't get that clammy feeling of a waterproof jacket against my skin. It withstood all the whips from thin branches, all the bails in any condition, and all the rides up rough trees. The jacket has a few marks on it, but they're all superficial, even after my best attempts to give it that "worn" look.
Whether the style suits me, well, that's for you to decide. But Quiksilver is right when it says this jacket is built for sending, not for blending. There's no doubt you'll stand out on the mountain, and there's no hiding from the crowds when you've got neon turquoise flashes on your wrists. Quiksilver has taken my teenage dream of color and vibrance and implanted it in a jacket that performs in all conditions and stands up to anything you can throw at it.
Editors' Recommendations