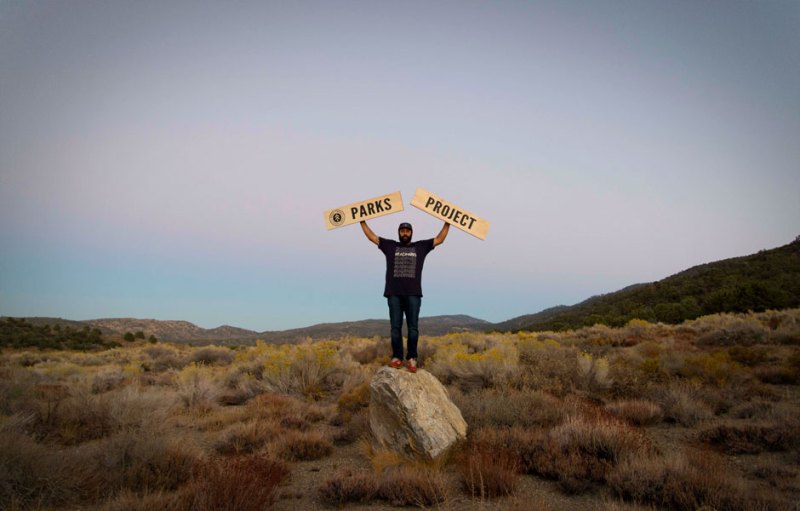 What if you could buy a bitchin' t-shirt or leather key chain or baseball cap, made in limited runs and designed by amazing artists that helped the national parks? You can! Thanks to Parks Project. Granted, the co-founders are hoping you'll also get out and volunteer, but thanks to them, at the very least you can be a fashionable lazy person and still benefit nature.
It all started in 2013 when Keith Eshelman and Sevag Kazanci were good citizens. They volunteered to help restore a habitat ravaged by fire in the Santa Monica Mountains. The duo enjoyed the work so much, they were inspired to try to get others involved. "The original vision was to get friends…volunteering in our parks so we could make a difference and support our favorite places." Says Eshelman. "We got out as a group, did work, felt good about it, and would celebrate after a day's hard work with a cold one or two."
But then it occurred to them, what if they could wear their good deeds on their sleeve? "We thought it would be cool if people could wear this cause, so the idea evolved into products that interpreted various projects in the parks," explains Eshelman. Between the two of them, Eshelman and Kazanci had 11 years of experience at TOMS, the socially conscious brand that championed the idea of get a pair of shoes and they give a pair to someone in need, so the idea of helpful apparel felt right. "We started reaching out to park conservancies and really learned how much support was needed, and how we could really contribute. Now, we think it has come full circle because we are still driving volunteer events but using apparel as a way to tell stories that need support across all our favorite national parks."
Surprisingly, the National Parks Service didn't jump at the idea of someone handing them money. "At first it was a bit of a struggle to become an official partner, but we were able to prove ourselves and turn an aspirational relationship into a great business partnership. I think National Parks team appreciates the new approach, it speaks to a new consumer, and helps conservancies connect with more people!"
The shirts and accessories they sell all tell a story, forming a connection between the wearer and the cause. Eshelman's favorite is the Muir Woods collection, partly because it's close to where he grew up, and partly because it's the story of the reforestation work it's supporting in the park. For every item in the Muir Woods collection sold, Parks Project makes a donation that will cultivate one native plant in one of the Conservancy nurseries. $36 for a limited edition t-shirt, made in the United States that helps reforest Muir Woods? That's a bargain.
All the designs are unique and a lot are stylistically vintage. Pick based on design or parks: the Rockies, Yellowstone, Yosemite, Rainier, Zion, Santa Monica Mountains, Joshua Tree, Big Sur, the list goes on and on. Each product page lists exactly what the item is supporting. For example the Grand Teton National Park tee supports wildlife conservation in partnership with the Wildlife Brigade, a group of dedicated volunteers who roam the park dealing with unsecured food, helping with "wildlife jams," and acting as educators for visitors.
As of now, thanks to Parks Project, "…a few thousand meters of trail in Yosemite have been fixed up, a thousand native plants have been cultivated and planted in Muir Woods at their nursery and Joshua trees are now being planted back in the park daily with the success of our Joshua Tree tee!"
The designs are constantly changing as Parks Project keeps updating their artists. According to Eshelman: "We happily host a revolving door of designers to keep it fresh and new. We work with ten different creatives all who have a similar interest in supporting the parks."
Accessories tend to benefit trail cleanups and restoration, wildlife conservation, and invasive plant removal: leather key chains, water bottles, hats, basically anything you'd need to look cool volunteering in a park, or in a bar, just looking like you volunteer in parks.
For those looking to get their hands dirty, Eshelman says it's actually quite difficult to find ways to volunteer since a lot of volunteer coordinator positions are gone. However he's got suggestions: "Organizations like the Sierra Club and local friends of groups are a great resource to check out getting involved. https://www.volunteer.gov for some light work and http://21csc.org if you want to get serious with it!"
"At the end of the day," Eshelman reveals, "we hope to look back in ten years at some serious impact, we will be able to say through people supporting our business, Parks Project built native plant nurseries in parks, funded animal conservation efforts, engaged countless first time volunteers who look at their relationship with the parks differently now, and that we have made a lot of friends along the way." And made them look damn cool doing it.
August 25th was the 100th anniversary of the National Parks Service, so if you're looking for a birthday present for them, Parks Project has got it covered.