Since the boom in the mid-2000s, paddleboarding has established itself on the US paddleboard scene, enjoying a sustained period of growth. Initially, paddleboards were an extension of the surfing fraternity, and paddlers rode rigid fiberglass boards. But then there was a change that saw SUP go from a fringe niche to probably the fastest-growing paddle sport in the US: the introduction of inflatable paddleboards.
These fold-up, roll-up, portable paddleboards made the sport accessible to a whole new market. No longer were you bound by having a roof rack to transport your board or a garage to store it in at home. Drop-stitching was used to inflate boards to a higher pressure and give them better stability, and different styles were created for touring, recreation, fishing, families, and even SUP yoga. The evolution was complete; the SUP was designed. Or was it? Because Isle has other ideas. Their new inflatable paddleboards promise to be stiffer, more responsive, and eliminate every 'con' that was plaguing the SUP market.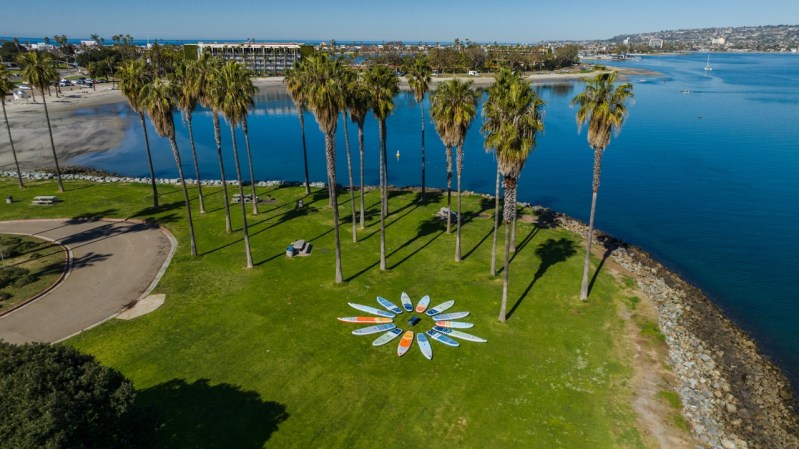 The lowdown on the new tech from the Isle Pro range
Don't be put off by the term Pro. Isle has created this new range of paddleboards to be suited to every user, whether you're stepping onboard for the first time or a seasoned SUP pro. Pro is used here to describe the features, not the paddler — though who am I to say whether you're a pro or not? So what has Isle added to this new pro range that makes them so good?
Well, adding to their Airtech Prolite construction — Isle's industry-leading, lightweight build material — Isle has added PowerFuse seals to the sidewalls. Without getting too techy, SUPs are made from a top and bottom sheet which are connected internally with drop-stitching. Sidewalls are then glued around the edges of these to form a single sealed paddleboard. Isle has taken this one step further with machine-welded seams at the top and bottom of these sidewalls. Why is this important? Well, firstly, it eliminates glue failure and air leakage, creating a better seal. Not enough? Well, it's been the transformation that has allowed Isle to up their already-industry-leading 2-year warranty to a 4-year warranty, keeping you on the water.
But the real change is the addition of InfinityFiber into the design. This material works a little like slap bands — remember those wristbands you had as a kid? In one direction, it rolls up easily, keeping the SUP portable and easy to store, but in the other direction, a slight curvature makes them highly rigid. The addition of InfinityFiber has increased the rigidity of the Pro range by 200 – 300% when compared with normal drop-stitch inflatable paddleboards so that every paddle stroke is more efficient, you feel more stable and secure on the water, and you won't get that taco effect from your board that plagues paddlers — especially those toward the upper weight limit of their SUP. The Pro series is a true inflatable hardboard SUP that is as close as you can get to paddling a hardboard.
What else do these Pro SUPs have onboard?
If you're not familiar with the Isle SUP range, you've been missing out. These inflatable paddleboards are more than just your ordinary SUP. Thanks to the Isle Link system — a series of bonded D-loops that run the length of the SUP — you can fully customize your setup, even adding a kayak seat and footrest system to totally transform your board. The Isle Link system also means you can add lay-flat gear bungees, fishing crates, and even a shoulder carry-strap for dry land hauling.
Because nothing important happens without being caught on camera, Isle has added a bow accessory mount — a 1/4-20 screw mount — for action cameras, phone mounts, drinks holders, or even a fishing rod holder. When you're out testing your yoga skills or chilling out enjoying the sunset, you can clip your paddle into the onboard paddle holder — great so you know it's still there when you're finished — and you'll always be able to get the best 'grammable photos from your SUP.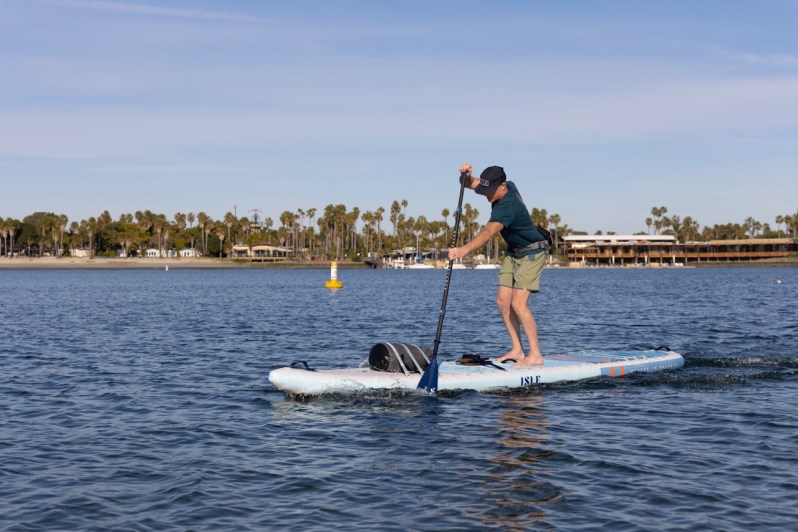 A board for everyone in the Isle Pro range
The Isle Pro range features two models of paddleboard; the Pioneer and the Explorer. Recreational paddleboarding is one of the most popular watersports in the US, and the Pioneer board may just be the best recreational paddleboard to hit the market in 2023. The Explorer series is all about touring and exploration. The narrower profile and hardboard style glide are designed to make journeying faster and easier and for you to go further. The Pro Range Package includes the SUP itself, an oversized wheeled backpack for all your SUP gear, a low-profile leash, and the clip-in fin — either touring or standard, depending on your model.
Here's a rundown of the boards in the range:
9'6″ Pioneer — Perfect for groms, smaller adults, or anyone wanting an easily maneuverable board.
10′ 6″ Pioneer — Described by Isle as 'the Goldilocks model for most adults,' this board fits the needs of most recreational paddleboarders.
11'6″ Pioneer — The most stable recreational board of the range, great for beginners, anyone feeling uneasy on the water, and larger paddlers. The 11'6″ can also be used as a family tandem SUP or set up as a tandem kayak with the kayak seats and footrests.
12′ Explorer — Longer, sleeker, faster, and designed for touring, this board glides through journeys with ease.
14′ Explorer — Great as a tandem kayak or for anyone who wants the fastest SUP they can get their hands on
Editors' Recommendations