When it comes to autumn leaf peeping, two words usually cross everyone's mind: New England. With their dense hardwood forests, meandering back roads, picture-perfect small towns and quaint covered bridges, this portion of the country outshines all the other states.
Don't get us wrong, New England's famous fall foliage is truly stunning, but there is autumnal beauty in places you wouldn't expect. We've sought out fall foliage destinations around the country, and we are confident you'll be pleased with our roundup. These are the best places to visit this fall. Along with breathtaking displays of changing leaves, some of these out-of-the-way destinations have the added advantage of being far less crowded by other camera-wielding travelers.
This year, it behooves us all to find alternative destinations to indulge our seasonal travel plans. So as you're planning your fall color tour, tree-t yourself (get it?!) to the opportunity for exploring a brand-new side of the season in one of these destinations for fall foliage.
Related Guides
West Virginia

The Wyoming Department of Tourism
Tucked away along the Appalachian Mountains lies the third most forested state in the country, West Virginia. With 75% of the state covered in tress, West Virginia comes alive when the leaves go ablaze in warm shades of autumnal bliss. In the fall 27 species of trees turn a shade of yellow, nine a shade of red, four a shade of brown and 15 multiple colors. Can you imagine the vast array of colors you'd see?!
America's newest national park, New River Gorge, is a must-see for hiking and leaf peeping. While at the New River Gorge National Park and Preserve, take a self-guided driving tour of Fayette Station Road. This 100-year-old road of hairpin turns winds down to the bottom of the gorge, across a narrow bridge and up the other side. Visible along the way are vistas of the river, bridges, and a hardwood forest.
Visit the Canyon Rim Visitors Center for a leisurely catwalk tour with Bridge Walk. From your vantage point you'll see the vast New River Gorge sprawled 876 feet below you, distant rapids, sandstone cliffs, and forests as they disappear into the horizon. The Potomac Eagle Scenic Railroad at Wappocomo Station is probably the most exciting and unique way to see the state's fall foliage. The Potomac Eagle travels through a nesting area for the American bald eagle, and passengers on nearly every trip report numerous eagle sightings. The three-hour Trough Trip boards in Romney and travels through the scenic Trough of the South Branch Potomac River to Sycamore Creek and back.
Michigan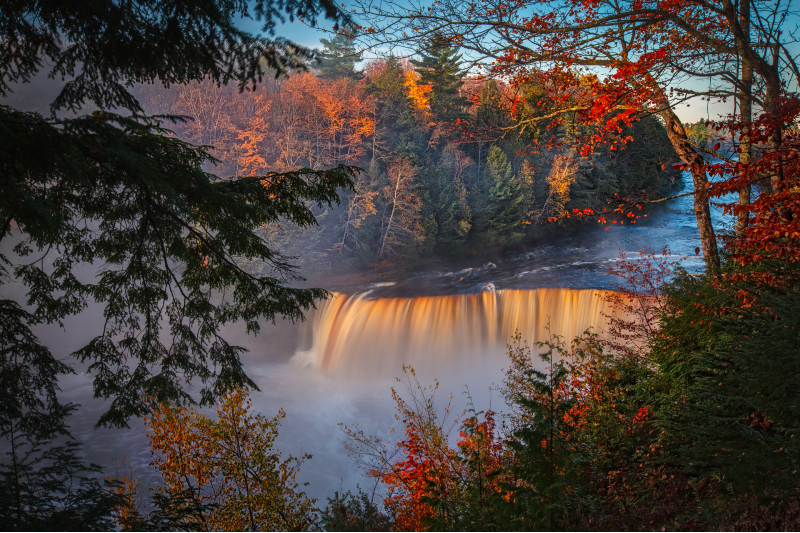 The forests of northern Michigan are one of the best-kept fall foliage secrets in the country. The lush colors of golden birch, red maple, and bronze oak leaves are extra striking when set against the deep indigo of Lake Superior.
A trip to Marquette, the Upper Peninsula's only major city, offers endless autumn vistas from quaint downtown strolls to coasting along the lakefront bike path to hikes up Sugarloaf Mountain. Tahquamenon Falls State Park in Paradise, stretches over 13 miles and is home to 50,000 acres of undeveloped woodland…this means absolutely no roads or power lines! Hike the park for colorful views and stop by the Tahquamenon Falls for a magnificent waterfall sight.
At Porcupine Mountains State Park in Ontonagon, hiking trails zigzag through this untouched forest. The route ends overlooking Lake of the Clouds where fall colors reflect beautifully onto the water. One of the most iconic road trips to view fall foliage in Michigan is via the Tunnel of Trees Scenic Heritage Route. The historic route goes for about 30 miles along Lake Michigan. Along the way, there are places to stop and hike, take a picture and even shop.
Virginia
The Blue Ridge Parkway's fabled drive through the beating heart of Appalachia is an autumn mood unto itself. It's a rare and wonderful sight. The parkway is 469 miles of scenic, windy roads connecting Waynesboro, Virginia, with Cherokee, North Carolina. Mabry Mill, spotted at milepost 176, is one of the most photographed spots along the parkway. The wooden mill from the early 1900s still has a spinning waterwheel and millers grinding flour. In October, the trees that surround the mill change color, making for a spectacular photo photo op.
Rough Ridge, a one-and-a-half-mile trail at milepost 302.8, leads to a captivating rock that gives off all the Lion King vibes. At the summit lies a rock that protrudes from the mountainside at 4,700 feet above ground. At milepost 364.1 lies Craggy Pinnacle, a little less than a two-mile hike through what seems like a storybook forest. Although the trail isn't scenic itself, you'll climb stone steps and pass by rhododendrons to a final set of stairs that leads to a 360-degree view of the Blue Ridge Mountains.
New Mexico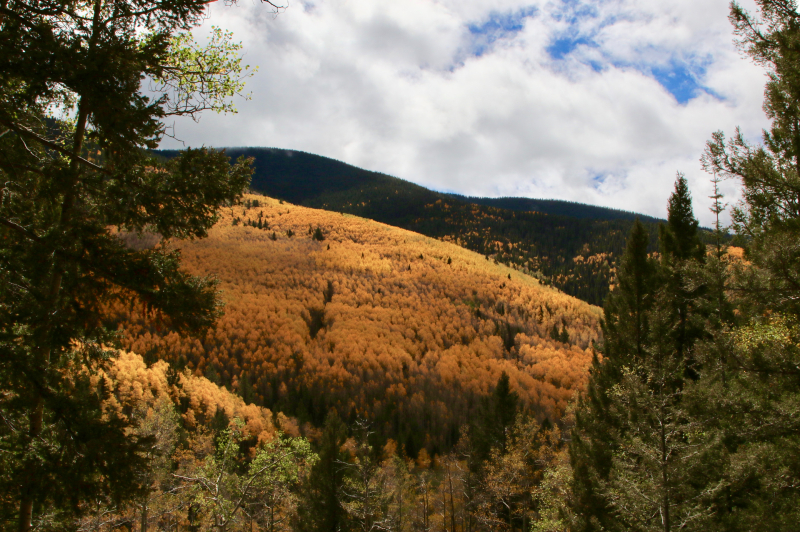 Autumn in the Sangre de Cristo Mountains gives a whole new meaning to the phrase "fields of gold." Rather than a variegated mix of hardwood trees, you'll lose yourself in layer upon layer of deep yellow aspen leaves, trembling in the brisk wind of the high desert.
The 12-mile round-trip hike along Santa Fe's Aspen Vista Trail will put you up close and personal with this unforgettable fall foliage display, or you can drive the High Road from Sangre de Cristo to the Rocky Mountains to explore the landscape more fully, along with the tiny historic towns along the way. The 105-mile High Road route from Santa Fe to Taos delivers one photo-op after another: ancient pueblos, deserts, forests, wildflower meadows, and artists' colonies in 17th-century adobe towns.
Be sure to stop and check out the canyon views over Truchas Park at 13,102 feet. The Carson National Forest is home to the Enchanted Circle Scenic Byway, an 80-mile loop that starts and ends in Taos and is easily the most beautiful location to see fall colors in New Mexico.
New Hampshire
Serious leaf-peepers can see maples, alder, and birch in blazing reds and oranges on New Hampshire's 36-mile Kancamagus Highway. The breathtaking drive cuts through the White Mountain National Forest, and you're not going to want to miss a single pull-off.
Lake Winnipesaukee loop is a 65- to 100-mile loop around New Hampshire's largest lake. The lake offers stunning photo ops but be sure to also stop in the villages along the way for artist crafts, pumpkin patches, apple cider and more fall festivities! Why not see autumnal colors and moose at the same time?
The 75-mile stretch of road called Moose Alley is a place where you can almost be certain to see some of the state's moose … and there are estimated to be 6,000 of them! The best time to see moose are early morning and at dusk.
Mount Monadnock State Park is located around the 3,165-foot Mount Monadnock, an excellent place to hike and mountain bike to see the changing colors of the leaves.
Editors' Recommendations