Are you tired of running the same old streets, paths, and parks? Yearning to get in touch with nature and get out into the woods for some peace and quiet while putting in the miles? Trail running is just what the doctor ordered. If you're an avid road runner, so you already own all of the essential running gear like shorts, shirts, a headlamp for early morning or late-night runs, a sport watch, earbuds to listen to your favorite running podcast, and most importantly the best footwear for running.
If you're considering making trails part of your running routine, unfortunately, even the best running shoes for men just aren't going to cut the mustard on the more unforgiving trails. Below are the best trail-running shoes for men. We also discuss why you need sneakers specifically for contrasting terrain and what to look for when buying a trail-running shoe.
Related Guides
Inov-8 Trailfly Ultra G 300 Max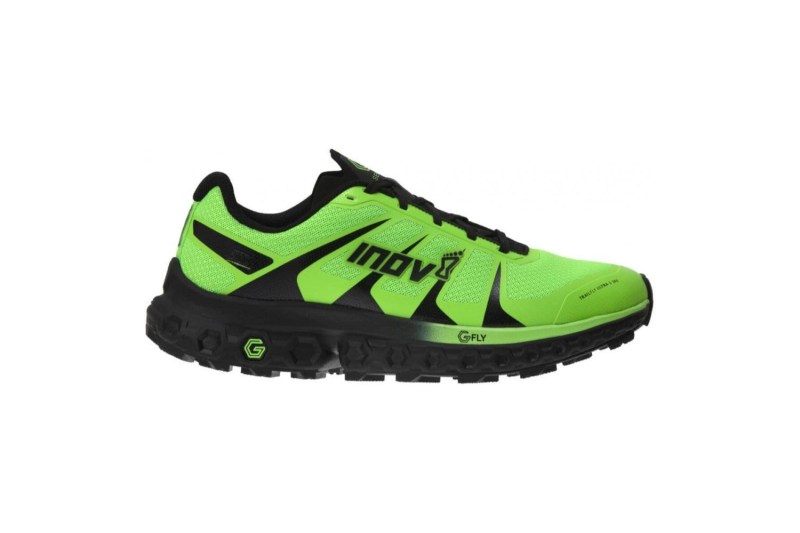 Let's kick off the list of the best trail-running shoes with the four-time winner of the "Trail Running Shoe of the Year." There are so many reasons this shoe has so many awards from the most prominent running publications in the world. The improved durability, comfort, and grip make the Terraultra G 270 the perfect trail-running sneakers for long-distance runs. The ultra-thin Graphene-enhanced outsole offers exceptional grip across all terrains and conditions.
Hoka One Torrent 2
The lightweight performance of the Hoka One Torrent 2 is made possible thanks to the PRO FLY midsole. This innovation provides a more forgiving landing and responsive toe-off. The Torrent 2 boasts a streamlined silhouette that incorporates a combination of cushioning and agility.
Adidas Terrex Speed Ultra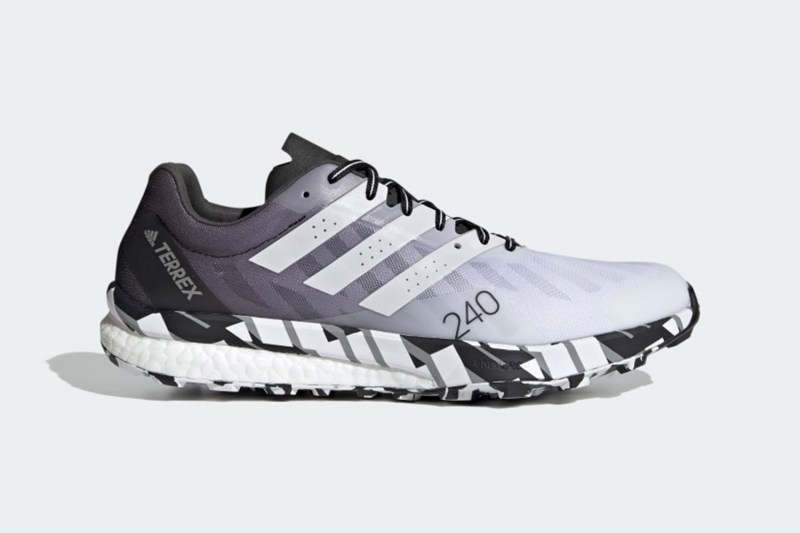 Inspired by gravel bikes, the Terrex Speed Ultra is packed with innovations like the lug pattern of the outsole, which offers incredible traction. The tongue and heel tabs are padded for extra comfort, and the trail sneaker is breathable and drainage-ready for those super sloppy runs.
Hoka One Challenger ATR 6
The Challenger ATR 6 is one of the most versatile trail-running shoes available. This sneaker works on all-terrain thanks to its midsole geometry and outsole construction. The Challenger ATR 6's delivers smooth transitions from one surface to another, and the shoe is breathable and lightweight. Best of all, this trail-running shoe uses yarn derived from post-consumer waste plastic.
La Sportiva Karacal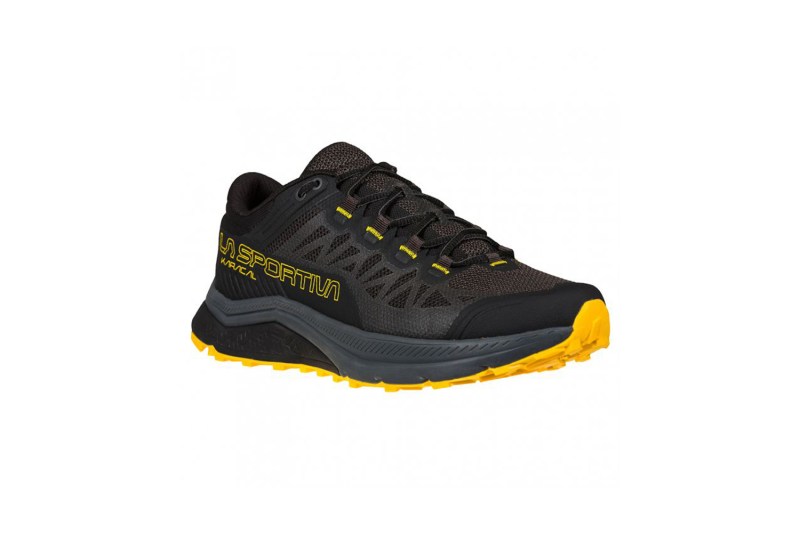 With a high volume fit and exceptional cushioning, the Caracal will deliver even on the most technical of trails. The fit is incredibly secure and comfortable — especially around the heel and Achilles — and the toe cap is lightweight and offers high-impact protection.
Brooks Cascadia 15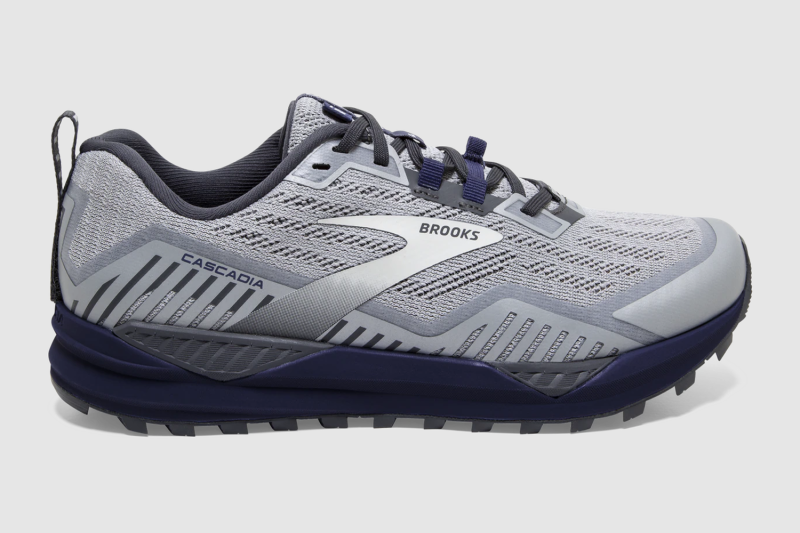 The Cascadia 15 is designed for runners who want to feel protected, no matter the terrain, while still feeling comfortable and cushioned. The Ballistic Rock Shield undersold protects your foot from rocks and roots, while the mono loop mesh and 3D Fit Print in the upper help increase breathability and improve drainage.
The North Face Flight Vectiv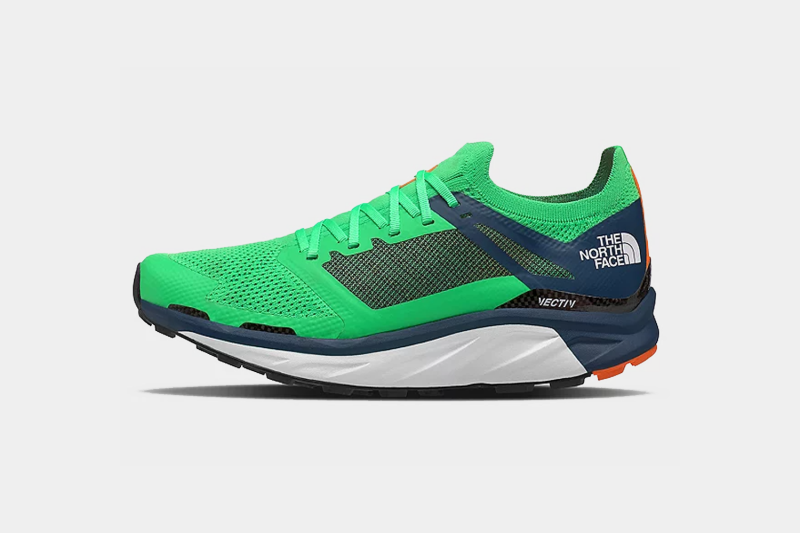 The Flight Vectiv are light and responsive trail shoes specifically designed for high performances over long distances. Using input from North Face's in-house athletes, the Flight Vector reduces impact by 10% to propel any runner toward their goals. The Rocker midsole is engineered to create long-lasting forward propulsion, and every pair is fitted with a 3D-molded heel counter for a precise fit.
Brooks Caldera 5
The Caldera 5 features trail-adapting cushioning for exceptional traction, and the BioMoGo DNA midsole works with the outsole to adapt to changing terrain. This innovation provides runners with more stability when they need it most. The Caldera 5 offers a raised tread pattern and Brooks's unique TrailTack rubber, making it easier to grip the ground when running uphill or downhill.
Altra Lone Peak 5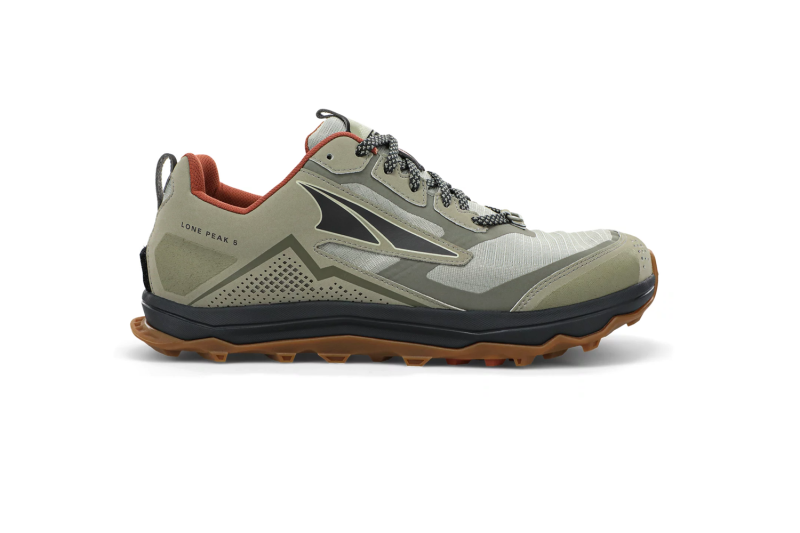 Thanks to the TrailClaw and MaxTrac outsole, the Lone Peak 5 is one of the grippiest trail shoes on the market. The outsoles are optimized for even the most rugged and unpredictable surfaces. The Lone Peak 5 is a super responsive shoe, and the updated StoneGuard brings an extra layer of rock protection.
Saucony Peregrine 11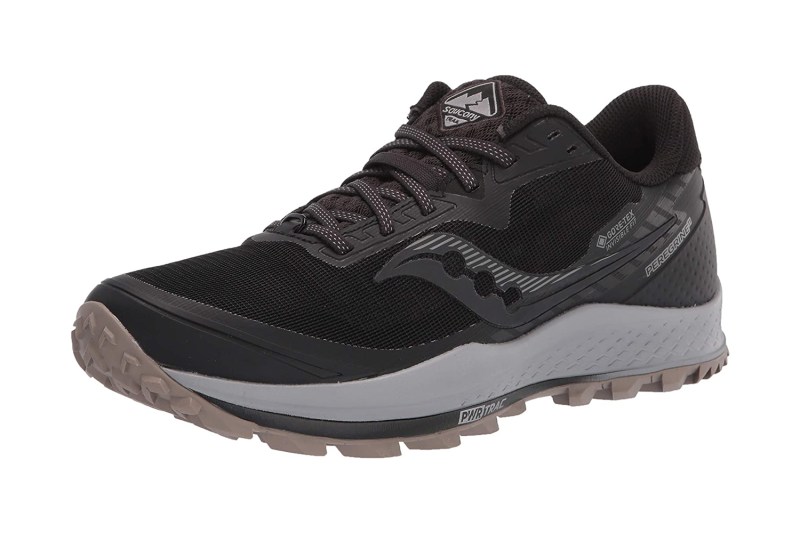 The Peregrine 11 is built for speed. Built on a trusted foundation of rubber lugs and cushioning, this trail running sneaker delivers an aggressive and responsive ride every time, plus the most protective upper to date. The Peregrine 11 is packed with everything a runner needs to traverse any terrain level and ensures additional protection for trudging uphill and or motoring downhill.
Salomon Sense Ride 4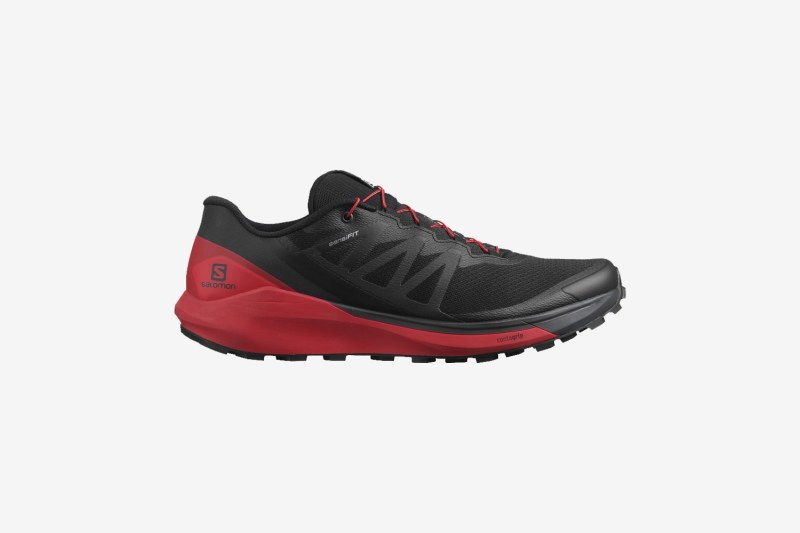 Salomon promises that runners will be ready to "take off on new adventures, near and far," with the latest version of the Sense Ride 4. This updated version of the versatile trail running shoe is just as comfortable and reactive as the earlier versions and is equipped with soft Optivibe cushioning. The upper effortlessly optimizes foothold, especially around the heel, and features incredibly resistant anti-debris mesh.
New Balance Fresh Foam Hierro v6
The final entry on our list of the best trail-running sneakers is the Fresh Foam Hierro v6. This men's running shoe will help any runner rack up the miles and features a lightweight Fresh Foam midsole that provides a soft landing on any rough topography. The proven Vibram outsole provides durability and traction and comes with extra toe protection and insane breathability.
Why You Need Trail Running Shoes
The first question any new trail runner will ask is, "Do I need a sneaker specifically for trail running?" The easy answer is "eh, it depends." Some of the best athletic sneakers for men will work if you're only going to trail run on occasion. However, once the trails get a little rougher, and the terrain becomes tougher to manage, a strong trail running shoe will make life much easier on your feet and legs.
Trail-running sneakers typically offer three distinct advantages over the typical road running shoes: stability, traction, and protection. While road-runners provide stability, trail-running shoes usually have thinner, denser midsoles. This means you're running lower to the ground and decreases your chances of twisting an ankle, or worse, during a trial run.
Trail shoes provide more traction than road running shoes because the typical running shoe has a flatter bottom with more surface area. That larger surface area means more chances of slipping and falling on muddy terrain or being unable to stop and turn with as much precision. Trail-running shoes offer more protection, especially underfoot, and toe bumpers to prevent broken toes when smashing into rocks and tree roots.
What to Look For in a Trail-Running Shoe
When choosing a trail running shoe, it's essential to consider the types of trails you'll typically be running. If you're traversing gravel roads, man-made paths through your local park, or trails with minimal roots and rocks, a light trail sneaker will work.
If your paths have a slight elevation and steep declines, rugged trail shoes designed for running on hiking trails are the way to go. If your plans include running on intense terrain and basically running places where few racers dare to venture, consider an off-trail running shoe to keep your feet and ankles safe. Whether you're a trail-running beginner or seasoned vet, these are some excellent choices for trail-running shoes that will work no matter how challenging or uncharted your next trail run.
Editors' Recommendations