Author's note: Without the permission and the assistance of the Kogi, a tribe that has maintained its culture and way of life for centuries even as the world around their isolated mountain range has changed dramatically over the past few centuries, the trek herein discussed would have been impossible. However, as the Kogi wish to remain largely untouched by, and uninvolved with the outside world, to respect their privacy, I will largely omit their mention from this piece and will give no specifics on the locations of their villages, their sacred sites, nor even on the starting point of this multiple day hike. Instead, I will focus on the actual trek and its varied challenges and moments of celebration. My heartfelt thanks go to the Kogi, to the unnamed guides and handlers who helped this journey become a reality, and to Columbia Sportswear, who financed the trek and provided much of the gear upon which I and the other members of the team relied.
The first day was going well, overall, despite the heat and humidity that are to be expected when one is hiking through a rain forest located a few dozen miles from the Caribbean coast of South America. There was one consistent cause for frustration, though: the steep, rutted, dirt trail spent as much time going down as it did up, and as any mountaineer knows, every step you take down now means a step up farther along the path. Granted, the fact that there were many upward steps to take was no surprise: we were trekking toward a number of sacred lakes that perch beneath Pico Cristobal Colón and Pico Simón Bolívar, the tallest mountains in the nation of Colombia (at about 18,700 feet of elevation each — in fact, it remains unclear which mountain is actually taller).
There were ten of us in the group, including Mark and Faith, the Directors of Toughness from Columbia Sportswear, the three-man video/photography crew (that's Tyler, Cam, and Nate, FYI), Gregg and Julian, our ex-pat and native Colombian producers, respectively, and two other gentlemen that, for the discretion of the native Kogi and to protect the relationships a few members of their tribe have forged with outsiders, will remain unnamed. (One of said men is a native, the other a pale European who stands at around 6'6″ and towered over the stocky natives in almost comical tableau.) We also had several natives who travelled near us, though not with us, while leading a team of mules that carried a decent portion of our gear. (Mules are the unsung heroes of the mountains, easily making short work of steep, treacherous trails even when laden with a hundred pounds or more of supplies. In our case, they saved us from toting everything from spare batteries to tents to multiple days of rations, though most of us still carried most of our gear on our backs.)
As for what I was doing in this particular stretch of the Sierra Nevada de Santa Marta, an isolated mountain range near the northern coast of Colombia, I was there to record and write about it. And while I wish that my notes about and recollections of the first day of the trek focused on the many sparkling streams we crossed, the glimpses of distant peaks spotted through openings in the dense forest, or on the fresh bananas, fragrant coffee blossoms, or wild berries growing all along the trail, it was the rain that would define the day.
When the rainfall commences in the Colombian rainforest, it is unrelenting. The skies remained clear for most of the day's eight-hour trek, but in the mid afternoon, clouds moved in. A drizzle began to permeate the dense canopy, and at first I welcomed the light rainfall, as it helped to cool me down and even clean some of the sweat covering every inch of my body. Unwilling to stop my forward progress as I knew the day's hike was rather near its end, I made the mistake of not putting on the excellent rain gear I had right there in my pack even as the precipitation progressed from drizzle to downpour. I was already essentially soaked with sweat and light rain anyway, and honestly couldn't have gotten much wetter, so what was the point? What I didn't realize until much too late, however, was how much water was sluicing down my legs and into my boots. My trusty Asolo hiking boots have borne me over boulders, across glaciers, through streams and slush, and along endless miles of trail. They are reliably waterproof, and here that proved a problem: once filled with water, there was nowhere for the water to go.
So I spent the last hour or so of the first day soaked, sloshing about in heavy, sodden boots, and stumbling up and down steep trails now flowing freely with mud. As noted in my journal, "I was in low spirits."
In sensitivity to our hosts, I must omit most of the details of the subsequent evening and of the next day, during which we were hosted by the Kogi in their village (and fed far too well). I will say a few things, though: their homes are fantastically well-made; no mere primitive huts, these are sturdy, circular homes. The dwellings shed torrential rainwater as well as any slate, tile, or shingled roof on earth, and the woven walls stop the blowing wind in its tracks. In a Kogi village, as on the paths winding through the jungles and up and down the mountains, you will regularly see children carrying machetes (often with blades that match their height) and leading around livestock or full-grown mules. The women are usually barefoot, while some of the men wear black rain boots. The Kogi regularly smile to one another, and smile with a bit less frequency at outsiders. They are largely inscrutable, but exude a certain reluctant sense of welcome — yes, that is an apparent contradiction, but anyone who has spent time with these people will nod knowingly at this description and may softly mutter "Mmmmmm," the noncommittal sound the Kogi make in response to almost anything and everything said by one from outside their tribe.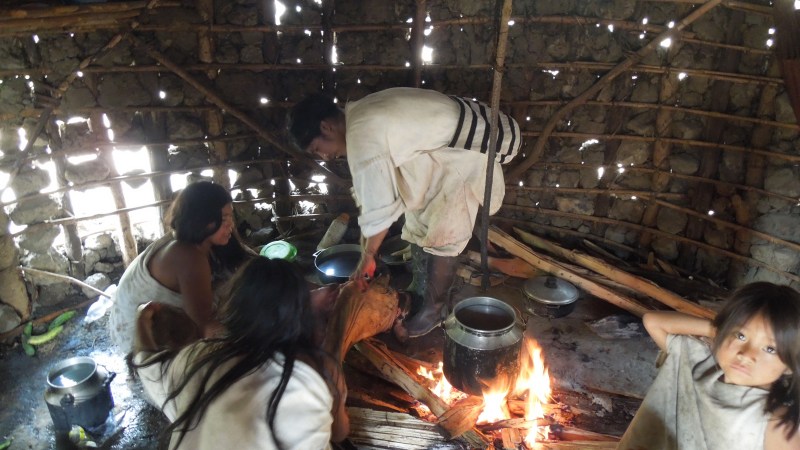 Also, they make the most amazing rice I or anyone else on the team had ever eaten. I have no idea how they do it; it's just white rice prepared in a massive metal pot and cooked over an open flame, but damned if it was not the most perfectly cooked, flavorful rice I've ever tasted. (Gnawing hunger established after hours of hiking may have played a role, but only a supporting one.)
One other thing the day off the trail provided was just enough time for me to fully dry my boots, so when we set out shortly after dawn — a clear, crisp dawn at that — I was again in a fine mood and in dry gear. As evidence by the tenor of the morning, I'll again quote directly from my journal:
"Taking a break in paradise. Clear, cascading waterfall, tangerine and guava trees heavy with fruit, shade from the hills and cotton puff clouds, and in the distance what are apparently the tallest palm trees in the world."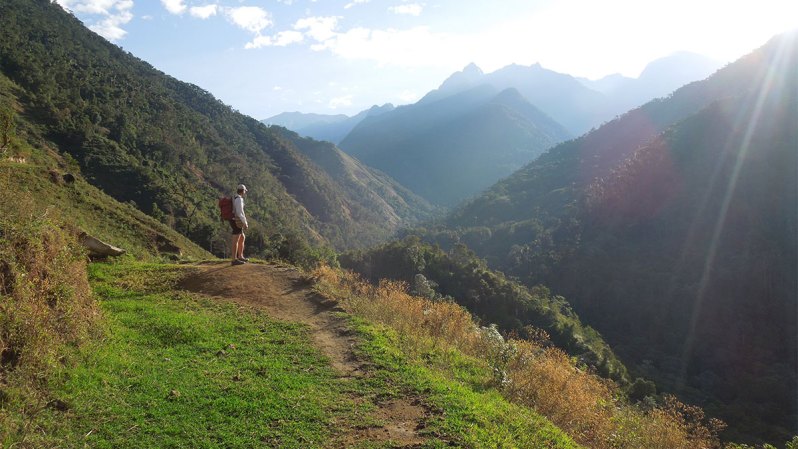 Our second day was a long, hard slog, with an elevation gain of more than 5,600 feet and well over twenty kilometers of distance logged, but the rain held out during the hike and the group was treated to many broad, open vistas of nearby forested mountains; we also got our first glimpses of the distant rocky peaks toward which we journeyed. The trouble on Day Three didn't start until after our tents were pitched and we were all comfortably seated and enjoying a meal. Into the native hut where many of the team had gathered came Mark with expletives flying about his tent being soaked through by the rain that had just commenced. It dawned on me that I was using the same brand of tent, and I ran from the hut through the rain to find that, sure enough, my tent was actively filling with water, and much of the gear within was already soaked. With help from Julian, I flung my clothing, sleeping bag, pack, and other sundries into the tent. My sound recorder was ruined, my camera was spared, and about half of my clothing and other gear was damp. There is a longer review coming that will focus on this calamity, so for now suffice it to say I was nonplussed. Fortunately the Kogi hut near our campsite was better made than my tent, so it was there that I and several others would camp for the night.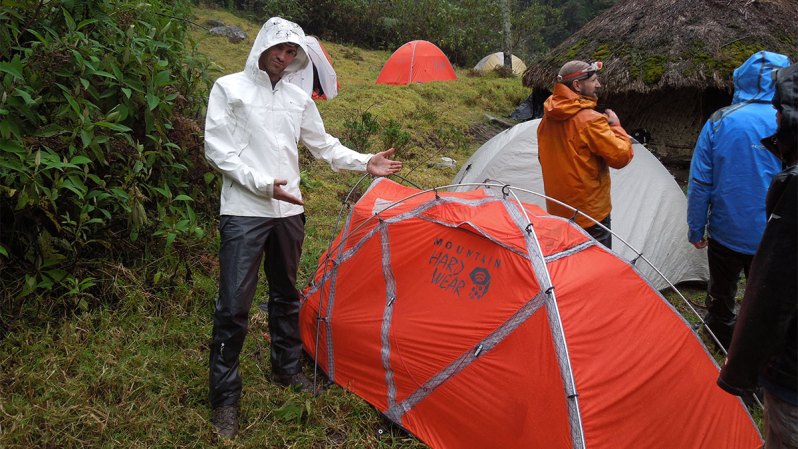 The next day saw the trail finally leave the forest and enter the higher reaches of the Sierra Nevada de Santa Marta mountains. Lush green foliage gave way to twisted, sparse trees, low-growing yellowed grasses, and revealed boulders and stones that, at lower altitudes, were invariably covered by flora. Our trek was shorter that day, though as it ended above 12,000 feet in altitude, we were all worn out and ready for rest when we entered the small compound that would be our home for the next two days. This redoubt consisted of a pair of small huts encircled by a stone wall intended to prevent the wandering cattle from consuming the small garden tended within. The scent of woodsmoke was ever present, and high above the stone walls of the alpine valley, Andean condors soared lazily about, their immense wingspan only appreciable when one realized that the birds were easily five hundred feet above, if not more. Fog and clouds filled the valley near dusk, but no rain fell that night.
The next day, our final day of upward/forward progress, commenced with an alpine start: we were under way hours before the sun rose, the path lit thanks to the confluence of clear skies and a full moon–and, when needed, headlamps. With as little gear as possible (spare socks, layers for warmth, big knife, etc.) in my pack, I felt light and nimble despite the altitude and frigid air. The upper reaches of the mountains tend to have an exhilarating effect on me and on many, and hiking through the sunrise only magnified this sensation. In the hour following the sunrise, I reached the first of a series of high altitude lakes that are sacred to the native tribes and rarely seen by outsiders. The team gathered at the second lake — elevation 14,600+ feet — for lunch and to relax and reflect.
At around noon, Mark and I began discussing the idea of heading for 15,000 feet, which would be a new personal altitude record for both of us. I think I can safely say that as soon as this topic had been breached, it was a forgone conclusion we were headed higher still. As the rest of the group (AKA the sensible ones) headed back down to the walled outpost, Mark, our unnamed European gentleman, and a young Kogi set out for some hand-over-hand rock climbing. We reached the 15,000 foot mark with relative ease (a wristwatch with a built-in altimeter was handy here, FYI) and soon decided that instead 15,500 feet sounded better.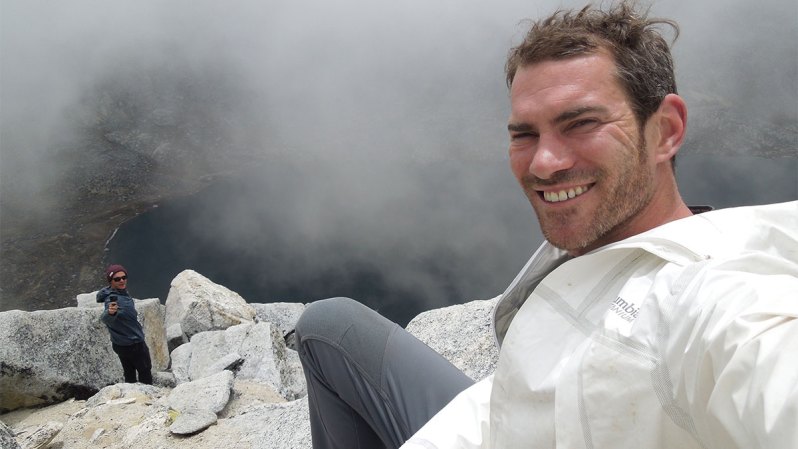 Our climb finally stopped at 15,568 feet, when fatigue partnered with a thickening cloud bank convinced the four of us that we'd climbed high enough. After a few pictures and a few minutes spent catching our breath and taking in the majestic but rapidly diminishing view, we started down again.
The descent back to sea level would occupy the next three days, and it came with many more moments of joy, frustration, headaches, laughter, and everything in between. But this is the story of the journey up; I'll tell the rest of the tale another time.