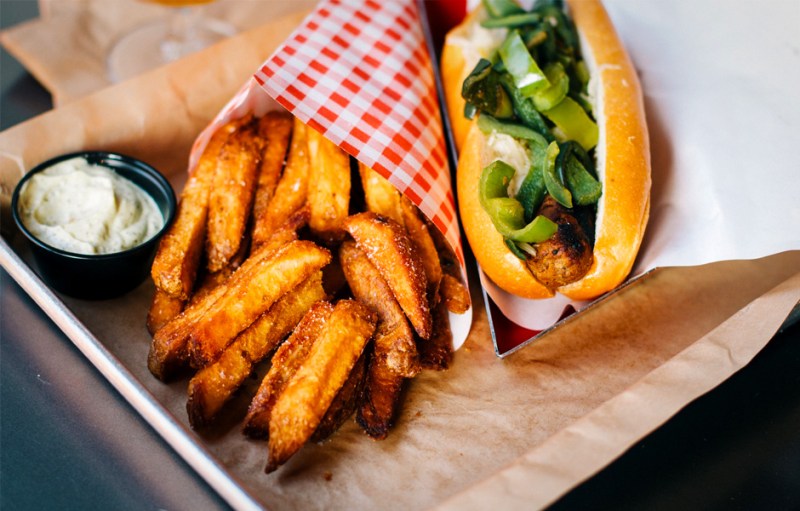 The beer garden or German beer hall has long been a favorite urban watering hole. Yet, that hasn't always been in the case in Los Angeles. But, if you Google "beer hall Los Angeles" the first result is Wurstküche, the completely gourmet, high-end German beer hall in the Los Angeles Arts District. Since opening in 2008, Wurstküche has been one of Los Angeles' hippest restaurants.
We had a chance to talk to co-owner Tyler Wilson about the story behind Wurstküche, their vision, as well as their plans for opening a Denver location.
When did the idea for Wurstküche start?
While I was at USC, my business partner Joseph (Pitruzzelli) and I, wanted (like most college students) to open up a bar. And we looked around L.A. and saw a city with not many people living in the downtown area, but that the area was ready to explode.
How could you guys tell that?
Well, it was just noticing migration patterns. You could see that people were starting to move to Los Angeles. You know, like people from San Francisco were beginning to talk about L.A. again as a place to live. And we started seeing more people from New York moving to Los Angeles as well. Plus the city had been positioning the downtown area for growth. They had been redoing a lot, improving the metro and transportation, cleaning up the streets. So things were underway, but the results weren't happening. And in 2008 there was kind of a halt on large-scale development.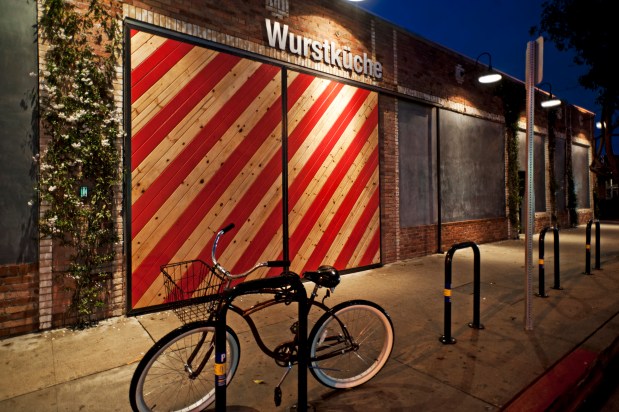 So how did the restaurant come about?
The city basically told us that they didn't want to open many bars, so they kind of strong-armed us into opening a restaurant. We tried to think of a type of food that hadn't been done at a high level and we thought of sausages. We wanted to create an entire experience around sausages and beer—so we decided to do a German beer hall.
Sausages are a uniting food—everybody loves a good sausage. So we saw our restaurant as a communal place where people could come together.
How has the business developed over the past six years?
When we opened back in 2008, our first day we had a goal to sell 100 sausages. We met that goal, so the second day we said we wanted to sell 150 sausages and we did that too—people were loving it. But on that second day, unbeknownst to us, the food writer for the Los Angeles Times came to check out the sausage and she wrote a great review. That was the beginning of the craziness for us over the next few years, and for the food scene in the city overall. At the end of 2008, no one was opening restaurants, but that has definitely changed.
In 2011, we were able to open our second location in Venice and now in January we'll be opening our Denver beer garden. We don't have a lunch rush and insane three-hour lines anymore, we're just kind of constantly busy.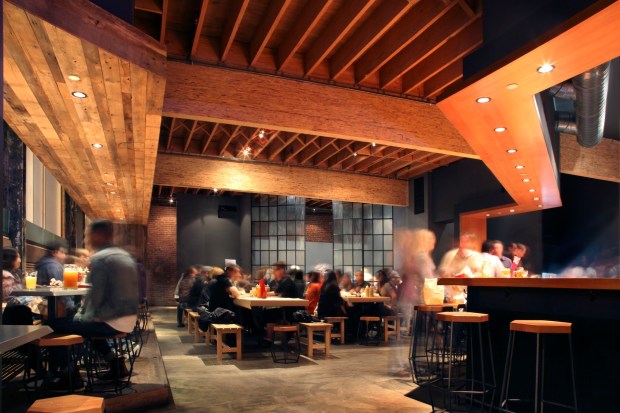 How many sausage varieties did you start with?
We wanted to find the best sausage in each category of sausage. When we started we came up with a list of different sausage flavors and undertook a "best in breed" kind of testing and decided to feature the best of each variety.
Today, we manufacture five or six of our sausages and source the rest. In the products we make, we use the finest ingredients we can get and the sausage is made in L.A. and ultimately we'll be rolling out our very own sausage line.
Where is the sausage made? How do you come up with the recipes?
We built a test kitchen so we could constantly be doing research. We'll make 20 different versions of the same type of sausage until we get the recipe right. I mean, we tried out 50 different bratwurst recipes just to get that savory, but also sweet butteriness down. Our bratwurst is fantastic.
Where did you come up with some of the sausage varieties? Like the rattlesnake and rabbit?
Initially, when we were researching the different sausages people were making our goal wasn't yet to be sausage makers—we wanted to be more like curators of the best sausages. We started making phone calls and meeting the sausage makers and we would come across sausage varieties that you'd never heard of before like the rattlesnake and rabbit, which has become our top-selling sausage.
We want to make sure that our quality is consistent. We've had to take the alligator sausage off the menu because we couldn't consistently source a quality product for our customers. But as we continue to grow, we have more employees that can handle aspects of the business so we can continue to stay on top of the market and deliver the best and most diverse sausage varieties.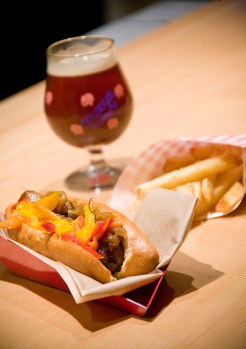 Was your approach to beer the same?
The beer culture in America has just exploded. There are just so many beers out there. We decided to stick to Belgian and German beers. A lot of bars constantly rotate their beers so that it's nearly impossible to keep up with all the beers that are available. We wanted to keep it simple so we could show our customers that these are the styles and recipes of beers that have been around for years. We don't change our beers; they are consistent pretty much year round. Our goal is to have our customers come in and find a beer that they have never had before. We have 50 bottled beers and 24 draft beers.
What are the plans for opening the Denver location? What is the vision there?
Like I said, we're opening in January. We visited Denver back in 2010 and we loved the city and wondered why there wasn't more going on. So we bought a building in downtown Denver in 2011 that resembled the shape and layout of our other two locations—our locations are all triangle, brick buildings.
The Denver location has far more space than our other two locations. There is a garden that is two levels and can hold up to about 200 people and looks towards the city. In Denver where the weather is great about seven months out of the year, that is crucial. The whole restaurant can open up to the street so it will hopefully become a social focal point.
Overall, though, the feel will be the same as our other locations, so the people from Denver who have been to our downtown L.A. location and enjoyed it will soon have the same experience in their home city.
Editors' Recommendations