Because warm summer weather often leads to a more active lifestyle, meals and snacks that provide solid sustenance and energy-boosting benefits without overloading the digestive system have particular appeal during this season. Whether you're looking to cut back on animal products or simply want an easy and versatile protein that won't weigh you down, beans make a worthy addition to any summertime shopping list. White beans, a legume category that includes cannellini beans, Navy beans, Great Northern beans, and some lima beans, are especially conducive to this style of eating (after all, there's a reason why they show up in so many summer BBQ side dishes, from baked beans to succotash). In the interest of variety, we decided to ask 10 pro chefs to offer up their favorite warm-weather dishes that utilize white beans, resulting in this collection of flavorful and easy-to-follow recipes.
Jalapeño Cannellini Hummus
(By Scarleth Aguilar, chef, Siete Family Foods, Austin, Texas)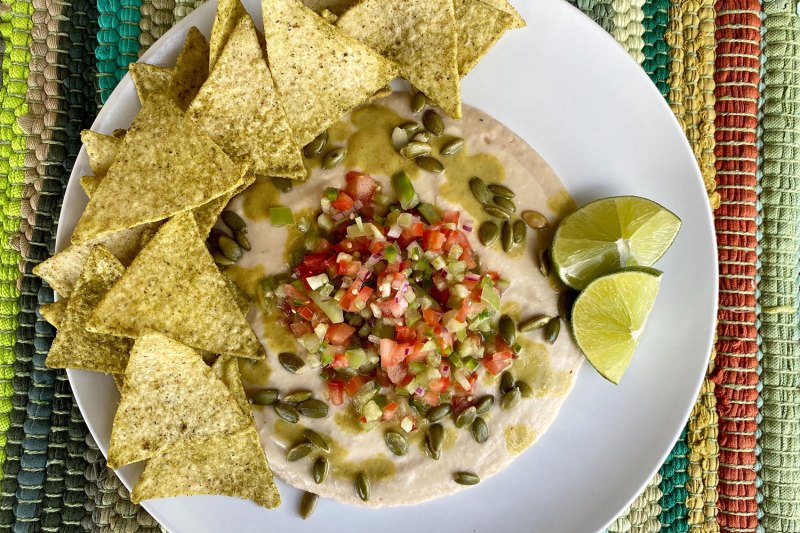 A staple of Middle Eastern cuisine, hummus traditionally uses chickpeas as its base ingredient, but chef Scarleth Aguilar thinks that cannellini beans work just as well. "The cannellini beans in this recipe perfectly substitute [for] chickpeas and add an extra layer of creaminess to the hummus. This dish is a great option for a refreshing summer appetizer paired with our chips or even with grilled vegetables!" says Aguilar of her hummus recipe, which includes a fiery punch from jalapeño hot sauce and a Mexican-inspired twist courtesy of tomatillo pico de gallo and toasted pepitas.
Ingredients:
12 oz cannellini beans

2 tbsp tahini

1 lemon, juiced

1 garlic clove, minced

1 tbsp extra virgin olive oil

1 tbsp jalapeño hot sauce (Aguilar uses Siete Jalapeño Hot Sauce)

Tomatillo pico de gallo*

Roasted pumpkin seeds (pepitas), for garnish

Tortilla chips for serving (Aguilar uses Siete Jalapeño Lime Chips)
Method:
Combine beans, tahini, lemon, garlic, oil, and hot sauce in a blender and blend until smooth. Season with salt and pepper to taste. 

Plate hummus and make a well for the pico in the center. Garnish with pepitas and serve alongside tortilla chips.
*Tomatillo Pico De Gallo:
Dice 3 tomatillos, 1 Roma tomato, and 1 red onion. Mince ½ of a seeded jalapeño.

Add to a small bowl and mix with the juice of 1 lime and salt & pepper to taste. 
Tuscan White Bean Bruschetta
(By Marcos Gonzalez, executive chef, Antico Noè, New York City)
"Fancy toasts" can be found just about everywhere these days, but Italian chefs see nothing new about this phenomenon, since they've been creating the veggie-and-grilled-bread masterpieces known as bruschetta for generations. While the most classic version of bruschetta consists of tomato, garlic, and basil, there's plenty of leeway to play around with different toppings. Executive chef Marcos Gonzalez runs a kitchen specializing in Tuscan sandwiches, so he uses signature flavors and ingredients from that region of Italy to create his bruschetta, which prominently features white beans.
Ingredients:
3 cups cooked cannellini beans

.5 cup, plus 1 tbsp, water

1.25 cups diced red onions

3 tbsp olive oil

.5 cup cherry tomatoes, halved

.25 cup diced red bell pepper

1 tbsp lemon juice

1 tsp chopped parsley leaves

1 cup white vinegar

1 tbsp sugar

Arugula, to taste (optional)

Salt and pepper

Crusty bread (Gonzalez recommends Florentine bread), cut into 9" pieces
Method:
Make a white bean salad by putting 2 cups cannellini beans, ¼ cup red onion, cherry tomatoes, diced red pepper, and parsley in a mixing bowl and drizzling with 2 tbsps olive oil. Add lemon juice and mix until fully combined, seasoning with salt and pepper to taste. 

Make a white bean smash by adding 1 cup cannellini beans, 1 tbsp olive oil, and 1 tbsp water to a small mixing bowl and using a fork to smash the beans into a pureed consistency. Season with salt and pepper to taste.

Make pickled red onions by adding white vinegar, sugar, ½ cup water, and 1 tbsp salt to a pot and bringing it to a quick boil. Turn off the heat and allow the mixture to cool, then put the red onions in a Mason jar (or another similarly-sized container) and pour the pickling liquid over the onions. Ideally, you'll do this a day before making the bruschetta to give the pickled onions time to develop their flavor. 

To make the bruschetta, slice the 9-inch piece of bread in half and toast both halves. Spread the white bean smash on the toasted bread, then top with the cannellini beans. Add pickled red onions and arugula to taste.
Smoked Clams & White Beans On Toast
(By Stephanie Harris-Uyidi, chef/blogger/host, Posh Pescatarian and Appetite For Adventure)
If, like many people, you've discovered a new appreciation for non-perishable foods during quarantine, then this savory toast with white beans and tinned smoked clams may be right up your alley. "In some parts of the world, tinned seafood is not considered an emergency pantry item, but rather a delectable part of everyday life. This simple Mediterranean-inspired dish combines tinned smoked clams and white beans, [and it] works great for brunch or a light supper.This recipe also incorporates summer flavors like lemon and smoky seafood," explains chef and recipe developer Stephanie Harris-Uyidi.
Ingredients:
2 (4-oz) tins smoked clams in oil

1 15-oz can cooked cannellini beans, rinsed

1 cup arugula or baby spinach

2 garlic cloves, chopped

2 tbsp olive oil

2 tsp dried herbs of choice

1 tsp red pepper flakes

1 tsp lemon juice

3-4 slices rustic or sourdough bread, toasted

Sea salt and black pepper, to taste
Method:
Sauté the garlic in olive oil for 30 seconds.

Add the cannellini beans to the pan and cook for 1 minute, stirring occasionally, until warmed through.

Stir in the smoked clams, red pepper flakes, dried herbs, salt, pepper, and the lemon juice and cook for another 20 seconds.

Add the arugula or baby spinach and cook until wilted. Meanwhile, toast the bread.

To serve, add a scoop of the clam mixture to the toast.
Cannellini Bean Muffaletta Salad
(By Camellia Beans)
New Orleans-based bean company Camellia Beans has provided legumes to both pro chefs and home cooks since the early 1920s, so one can assume that they know a few things about both white beans and NOLA cuisine. One of Camellia's favorite white bean recipes riffs off of a New Orleans classic: the muffaletta, a sandwich loaded with ham, salami, provolone, and olive salad. "Cannellini beans cook up creamy and smooth with a nutty flavor. This white bean is especially popular in Italian cuisine, which makes it a natural fit for our muffaletta salad. A little background — the muffaletta is a popular sandwich that originated among Italian immigrants in New Orleans. [We] eliminate the bread, [making] this a lighter take on the classic sandwich with summer in mind!" Camellia CEO Vince Hayward says of this white bean-centric muffuletta interpretation.
Ingredients:
1 lb dried cannellini beans 

1 32-oz jar Italian olive salad

.25 lb Genoa salami, thinly sliced

.25 lb prosciutto, thinly sliced

.25 lb mortadella, thinly sliced

1 cup Provolone cheese, diced
Method:
Rinse and soak the cannellini beans. After soaking, add the beans to a large or medium saucepot and cook until tender. Drain, rinse, and reserve the cooked beans.

Add beans to a large mixing bowl along with the additional ingredients. Mix to combine and refrigerate for at least one hour before serving.
Summer Tomato and White Bean Salad
(By Maxcel Hardy, chef/owner, COOP Detroit)
When it comes to summer produce, few items inspire the level of anticipation and devotion attached to the tomato. Shoppers eagerly seek out in-season tomatoes for any number of salads, salsas, chilled soups, no-cook pasta sauces … the list goes on. Chef Maxcel Hardy likes to let summer tomatoes shine by pairing them with a trifecta of white beans and a bright vinaigrette starring Champagne vinegar: "This recipe is great because it can be used in so many ways. It can be eaten as just a salad, or it can complement your favorite fish or grilled poultry dish. This is one of those recipes you can have in the fridge and pull out whenever you are ready; it holds well in the fridge."
Ingredients:
.5 cup Navy beans, canned or fresh

.5 cup Great Northern beans, canned or fresh

.5 cup cannellini beans, canned or fresh

.5 cup tiny tomatoes (like cherry tomatoes)

2 cloves fresh garlic, minced

.5 small fennel bulb, sliced

.5 bunch cilantro

2 cups arugula

.25 cup shallots

.25 cup olive oil

4 tbsp Champagne vinegar

1 tsp lemon juice

1 tsp spice blend of choice (Hardy uses

Chef Max Every Day Love

)

.25 tsp salt

.25 tsp black pepper
Method:
If you are using canned beans, open and strain excess liquid. If you are using fresh beans, follow cooking directions for the beans. Allow them to cool before starting this recipe.  

In a large mixing bowl or salad bowl, toss together the beans, tomatoes, fresh garlic, fennel, cilantro, and arugula until fully combined.

To make the dressing, add shallots, olive oil, Champagne vinegar, lemon juice, spice blend, salt, and pepper to a Mason jar, screw on the lid, and shake to combine. 

Pour the dressing over the salad and store in the fridge until you're ready to serve.
Tuna & White Bean Salad
(By Kathy Fang, chef/owner, Fang, San Francisco)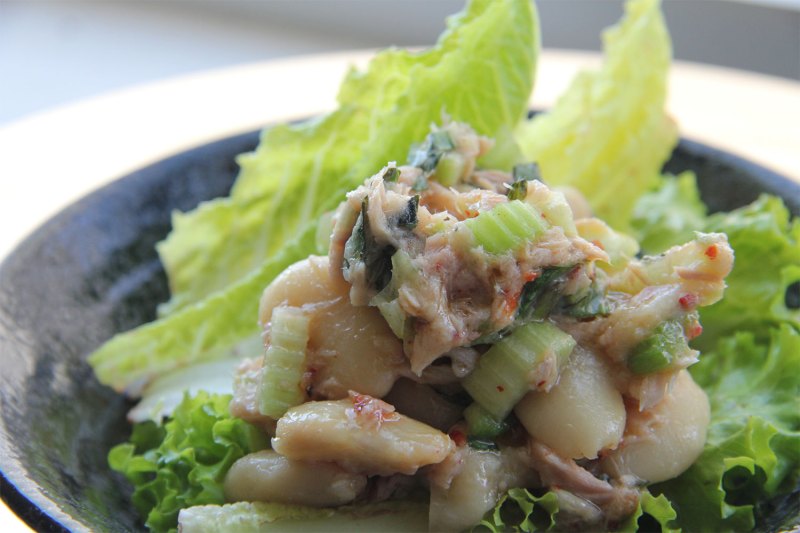 If you prefer to keep your meals on the light side during the summer season without sacrificing flavor, then chef (and Chopped champion) Kathy Fang has a clever tuna salad hack for you. "I love tuna salad, but I'm always trying to make classic dishes healthier. This tuna salad has the same great flavor, but I've swapped out the mayonnaise and [instead] packed it with proteins! White beans are both filling and have a nice buttery flavor. This makes the perfect summer meal, whether you want the traditional salad, a dip for crackers, or a sandwich," Fang tells The Manual. 
Ingredients:
1 can tuna

.25 cup diced celery

.5 cup white beans of choice

2 tbsp olive oil

2 cups baby romaine

2 tbsp minced basil

2 tbsp minced parsley

1 tsp chili flakes

Juice of 1 lemon

Salt and pepper, to taste
Method:
Put tuna, celery, white beans, olive oil, basil, parsley, chili flakes, and lemon juice in a small bowl and stir to combine. Season with salt and pepper.

Chop romaine lettuce and add to a plate. Top the lettuce with the tuna and white bean salad.
Summer White Bean & Sausage Soup
(By the Institute of Culinary Education)
Soups with beans and dark greens (like Italian minestra) seem like winter-appropriate dishes, thanks to their hearty nature. However, the Institute of Culinary Education views bean soups as all-season options, and this particular recipe utilizes summery produce like tomatoes, Swiss chard, and eggplant to excellent effect. "This Summer White Bean and Sausage Soup is a summer twist on Tuscan Bean and Sausage Soup. In addition to cannellini beans, it also uses some of summer's best vegetables – tomatoes, eggplant, and Swiss chard. This recipe is easy to make and is a great way to utilize that overabundance of vegetables in your summer CSA!" insists ICE director of recreational programming Kate McCue.
Ingredients:
4 tbsp olive oil

.5 cup yellow onion, finely diced

2 links sweet Italian sausage, removed from casings

1 pinch crushed red pepper flakes

1 quart chicken stock

2 cups white beans, drained and rinsed

1 eggplant, diced

2 cups Swiss chard, roughly chopped

1 pint cherry tomatoes, halved

.5 cup grated Pecorino cheese

Salt and freshly ground black pepper, to taste
Method:
Heat 2 tbsp of olive oil in a medium pot over medium heat.

Add eggplant and season with salt and pepper. Cook gently, stirring often, until the eggplant is caramelized. Once cooked, remove the eggplant from the pot.

Add 2 tbsp olive oil to the pot, then add onion and a pinch of salt and pepper. Cook gently, stirring often, until the onion is softened (about 8 minutes).

Add the sausage and use a wooden spoon to break it into bits. Add red pepper flakes and cook until no pink remains on the sausage (about 5 minutes).

Add chicken stock and beans and bring to a simmer. Add the Swiss chard and cook until wilted. Add the cherry tomatoes and eggplant. Taste and add more salt and/or pepper if necessary.

Once fully warmed through, divide the soup into serving bowls and top with Pecorino cheese and a drizzle of extra virgin olive oil.
Borlotti Beans With Walnuts & Spices
(By Carla Capalbo, chef/cookbook author, Tasting Georgia: A Food & Wine Journey In The Caucasus)
Once a major stop on the transcontinental trading route known as the Silk Road,  the nation of Georgia claims a compelling and multifaceted culinary tradition. Chef and cookbook author Carla Capalbo uses the significant time she spent in Georgia as a point of inspiration for her Borlotti bean dish, incorporating ingredients and aromatics traditionally found in Georgian cuisine. "This wonderfully complex bean recipe includes pounded walnuts and the dried petals and fresh leaves of the French marigold, Tagetes patula, that is so abundant in summer [in Georgia]. The mild-flavored petals are known as Georgian 'saffron,' and produce a pale yellow-orange color. The leaves are more pungent, with a distinct, vegetal note that gives these beans an extra dimension. Fresh herbs give the dish vibrancy, so add as many as you like!" says Capalbo.
Ingredients:
2 cups dried Borlotti or other fine-skinned

white

beans

.5 tsp dry

kondari

(summer savory) or delicate thyme

.25 tsp cayenne

pepper

.75

 cup chopped fresh cilantro

1.5 cups chopped

white or yellow

onion

2

t

bsp butter

1

t

bsp

dried

marigold petals

.5 tsp coriander seed, crushed

3 garlic cloves 

2

t

bsp chopped parsley

2

t

bsp finely chopped celery or celeriac leaf

5 or 6 fresh French marigold leaves

1 cup ground walnuts

(measure after grinding)

.5 tsp ground blue fenugreek (optional)

1 tsp salt

3

t

bsp sour plum sauce (

tkemali

) or lemon juice

Fresh

French marigold leaves, to garnish
Method:
Soak the beans overnight in good clean water (filtered, if possible). Drain, rinse well

,

and turn the beans into a large saucepan. 

Cover the beans with two fingers of

fresh

water and bring to

a

boil. After about 15 minutes, when the beans start producing foam, pour the beans and water into a colander and rinse the beans again. Cover them with fresh water and boil for 45

more

minutes, skimming off any foam that appears. 

Stir in the kondari or thyme,

cayenne

, half of the chopped cilantro

,

and half of the onions. Continue cooking until the beans are tender, anything from 30 to 60 minutes more. Add more water as necessary to keep the beans covered by two fingers. Meanwhile, sauté the remaining onion in the butter until light gold.

Using a mortar and pestle, pound the marigold petals with the coriander seed. Add the garlic and pound again. Add the parsley, celery leaf, marigold leaves and remaining

cilantro

, pounding until the mixture is like a paste. Add the ground walnuts, optional blue fenugreek

,

and salt. (Alternatively, place all the ingredients in the bowl of a food processor and process to a rough paste.) 

Stir the paste into the beans with the sautéed onions and the sour plum sauce or lemon juice. Cook for 10 minutes more, mixing well. Taste for seasoning. Serve hot or at room temperature, garnished with marigold leaves.
Pork and Navy Beans
(By Daniel England, corporate chef, OMG Hospitality Group, San Diego)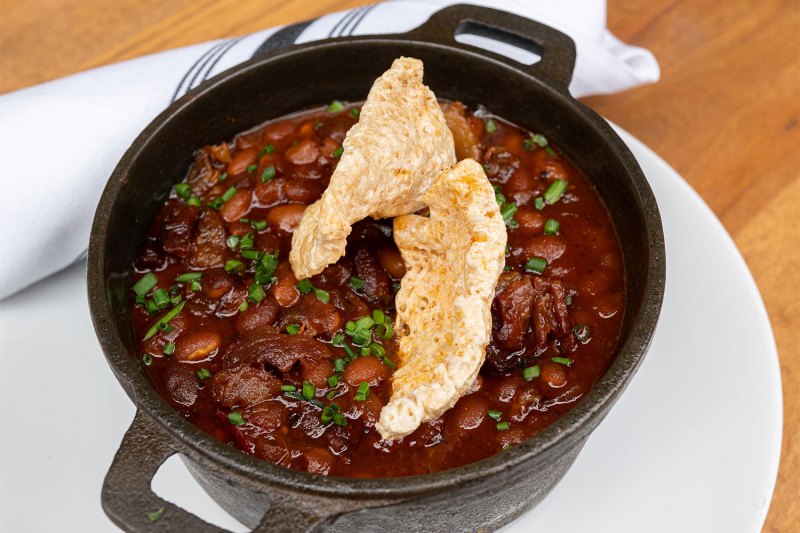 Baked beans are a popular side dish at backyard summer barbecues, and corporate chef Daniel England uses smoky slab bacon and Navy beans in his recipe, resulting in a richly flavored version with great texture. "We serve a really flavorful pork and beans recipe at Union Kitchen & Tap. I use Navy beans in the recipe because I like how they have a milky flavor and soak up everything you cook with them – in this case, the spices and the sweetness. They also have a firmer texture that can hold up to the long cooking process of baked beans. This particular recipe is unique and a total crowd-pleasing side for summer cookouts and leftovers," England tells us.
Ingredients:
2.5 lb white beans

1.25 lb slab bacon, lardons

1 qt yellow onion, medium dice

.5 cup garlic, sliced

.5 gal chicken stock

.25 qt ketchup

.25 qt molasses

.25 qt cherry barbecue sauce

.5 cup canned chipotles, pureed

.25 qt brown sugar

.25 qt maple syrup

.25 qt scallions, thinly sliced

.25 cup fresh thyme, minced

.5 cup Louisiana-style hot sauce (England prefers Crystal)

.25 cup blackening spice

2.5 bay leaves

2 tbsp kosher salt

1 tbsp black pepper, ground

Water, as needed
Method:
Soak white beans for 24 hours at a 1:2 bean to water ratio.

Sauté bacon lardons in a rondeau pan or Dutch oven until crispy. Remove the lardons from the pan and reserve.

Add onions, peppers, jalapeños and garlic to the bacon fat and cook until translucent.

Add beans, the soaking water and all remaining ingredients and bring to a simmer. Simmer on low heat for 30 minutes.

Place lid on rondeau pan or Dutch oven and place in the oven. Cook at 350 degrees for 2.5 hours. Check to see if beans are fully cooked. More chicken stock may be needed if liquid reduces too much.
Navy Bean Cheesecake
(By Shashi Charles, blogger/recipe developer, Savory Spin)
"Navy bean cheesecake" may sound like a dessert project doomed to failure (or a stroke of stoner genius, depending on your mindset at the time). But blogger Shashi Charles believes in the versatility of these white beans so strongly that she took the time to develop a "cheesecake" recipe that takes full advantage of Navy beans' naturally creamy texture, resulting in a satisfying treat with welcome health benefits.
Ingredients:
1.5 cups Navy beans, canned or dried (if using dried beans, soak overnight, rinse, and boil with water for 1 hours)

2 eggs

.5 cup brown sugar

1.25 containers of vanilla yogurt (6 oz containers)

1 tsp vanilla extract

.25 tsp cinnamon

A dash of salt

Berry topping*
Method:
Preheat the oven to 325 degrees Fahrenheit. Using an electric mixer, combine the Navy beans, brown sugar, vanilla yogurt, cinnamon, salt, and eggs (one at a time).

Pour the mixture into 4 oven-safe bowls and bake for 30 minutes.

Top the "cheesecakes" with the berry topping and whipped cream.
*Berry Topping:
Add a handful of blueberries, a handful of raspberries, ¼ tsp lime juice, and 1 tbsp brown sugar to a pan over low heat. Cook for five minutes and allow to fully cool.
Editors' Recommendations