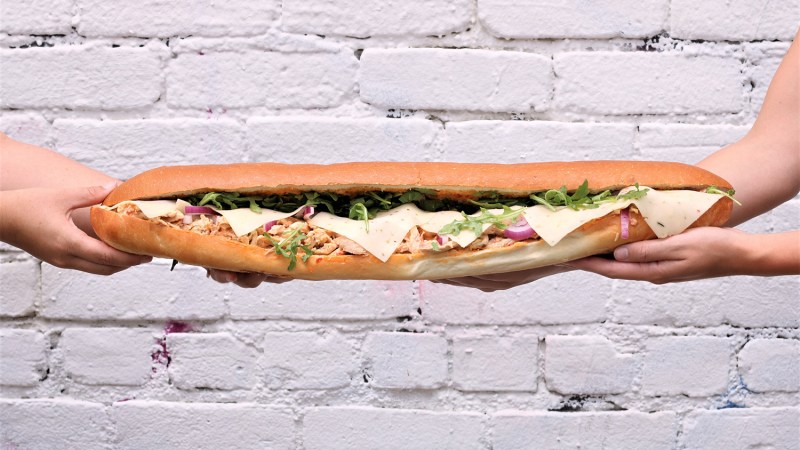 If you're hungry or thirsty in Los Angeles, you're in luck. You can't swing a dead cat without hitting a phenomenal spot with an imaginative chef or a talented bartender who, yes, might have a screenplay he wrote in his back pocket, but can also whip up a mind-blowing custom cocktail designed just for you. The choices can be overwhelming, so we've highlighted a few of the weirdest restaurants in Los Angeles that you may have otherwise missed.
Terpene (Cannabis Oil) Cocktails
Looking for a high-end locale with a sense of humor? Head straight to Prank. The floor-to-ceiling windows showcase downtown LA, giving the space a sophisticated feel. It's also the perfect place to cut loose. Between the karaoke, the secret photo booth, the city's first walk-up sidewalk bar, and a patio perfect for hanging with your best two-legged and four-legged friends, it's impossible to not have a great time here. Prank's unorthodox vibes bleed into its happy hour, which spans from 2:40 pm to 7:02 pm, so feel free to lose track of time while you're here.
The all organic, non-GMO food is miles above your average pub grub. Each dish has a suggested pairing for the perfect cocktail, beer, wine, or, if you're the designated driver, a non-alcoholic drink. Sink your teeth into the Jalapeño Burger with a short rib, chuck, and brisket patty topped with garlic aioli, candied jalapeños, Gruyere, roasted tomatoes, and fried onions. The tacos are tough to beat: a trio of filet mignon, seasonal fish, and vegetable creations.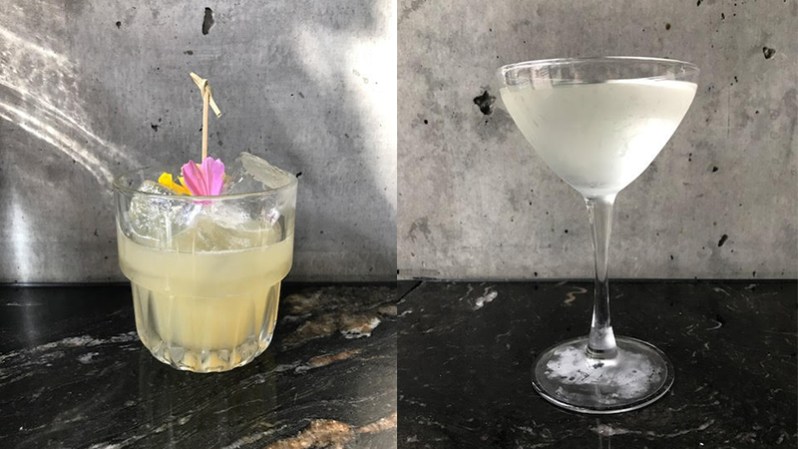 Prank really stands apart due to a cocktail menu courtesy of Dave Whitton, who has lent his skills to some of the town's best spots: Villains Tavern, Seven Grand, even Dodger Stadium, just to name a few. Whitton's use of terpene — oils derived from cannabis — makes for some of the most inventive and delicious cocktails around. Terpene doesn't contain THC, so you won't be getting high off the drinks, but the oils do have medicinal properties.
Take, for instance, the Blue Hilaria cocktail with Johnnie Walker Black, fresh ginger root, honey, citrus myrcene terpene, and a float of Johnnie Blue. Myrcene terpene is said to be quite the miracle oil, offering anti-inflammatory, anti-mutagenic, and antibiotic properties. The limonene terpene used in the Mon Frere cocktail, which is made with Plymouth Gin and Regan's Orange Bitters, is in clinical trials to help treat breast cancer. When was the last time you had a scrumptious cocktail that may be a cancer buster? Pretty soon you'll also be able to buy bottles of terpene oil from Prank for your home bar.
1970s Vibes and Kid Cuisine
Adulting is hard. Taxes, jobs, the fact that pizza doesn't have the health benefits of kale — sometimes it would be great to feel kid like again. Thanks to the same genius who brought us Perch, we have Hot Hot Food, where the best of your adult world and childhood collide. The restaurant is unabashedly retro in its decor and fully embraces a 1970s vibe, offering up a jukebox, housemade slushies, and a killer patio.
Food wise, you're looking at some really tasty and creative offerings, such as the customizable LA Fried Rice. Avocado, pickled onions and jalapeños, avocado salsa verde, and a fried egg serve as the base; add on toppings like carnitas, kale and wild mushrooms, or a burger and gravy. This is LA, so you can make these plates vegan and gluten-free.
Where Hot Hot Food really shines is the selection of childhood-inspired dishes your inner kid will love, like the bowl of creamy mac and cheese topped with crunchy Goldfish crackers. Have dessert for dinner and get the Fluffernutter sandwich with peanut butter, banana, marshmallow fluff, and a drizzle of dark chocolate ganache. Who's going to tell you no?
Spiked Cereal Milk
Anyone who tries to tell you breakfast is not the best meal of the day is lying and you should unfriend them. Some things are just not open for debate. Plus, eating breakfast late at night — or extraordinarily early in the morning — is the practice of LA's coolest. Nighthawk Breakfast Bar is continuing the city's tradition of serving up boozy, made-from-scratch breakfast with its fried chicken and biscuits; Duck, Duck Goose, a decadent dish of foie gras and scrambled duck eggs; and the famous Nighthawk Breakfast Sandwich with bacon sausage, scrambled eggs, Gruyere, arugula, peppercorn aioli, and a Champagne vinaigrette on a pretzel bun.
Save room for cocktails, because you can't miss the Spiked Cereal Milk. Choose from Cinnamon Toast Crunch and spiced rum, Honey Nut Cheerios and bourbon, or Cocoa Puffs and vanilla vodka. Try the Cocoa Fashioned, which uses Cocoa Puff-infused bourbon, and you'll never look at cereal the same way again. You've also got plenty of other options to complement your breakfast, like the Tang Mimosa with housemade Tang syrup or the Slushy Mary (think frozen Bloody Mary).
Secret Deli Counter
If only the world had more Tinfoils — this place is the embodiment of all that is great about neighborhood corner stores. At Tinfoil you can get grocery items and booze, including top-shelf and reasonably priced wines, liquor, and craft beer. Tinfoil actually makes food shopping fun.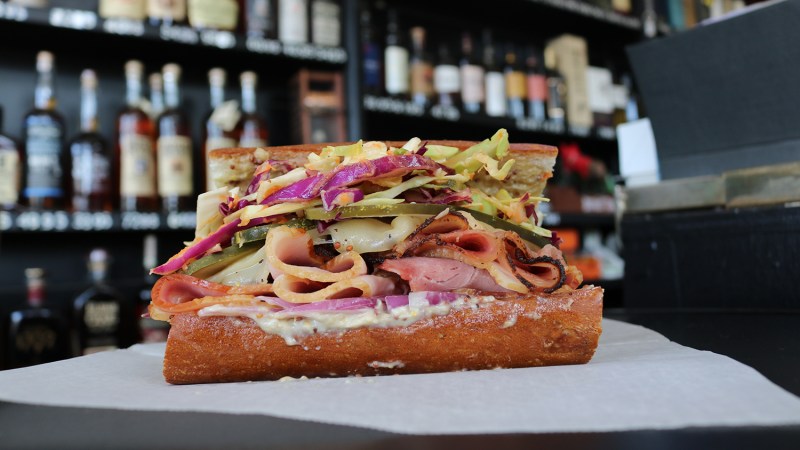 Tucked in the back with a tinfoil ceiling and a floor of laminated nickels is the deli of your dreams. The team creates sandwiches you will savor, then dream of that night, then crave enough to go back day after day until you're remembered by name. All of the sandwiches use local, fresh ingredients and put a delicious spin on deli favorites, like the Cuban Reuben with its pastrami, ham, Swiss cheese, pickles, mustard butter, and slaw. The suggested beer pairing from Tinfoil would be the Boulevard Tank 7.
Want to get crazy? Order the RIP Elvis — we're talking thick slices of bacon, Sriracha peanut butter, bananas, and a spicy honey drizzle that will have you shaking your hips. You've got your choice of six, 12, or 24 inches of sandwich. Might we suggest springing for the biggest one and saving some for later?
Editors' Recommendations