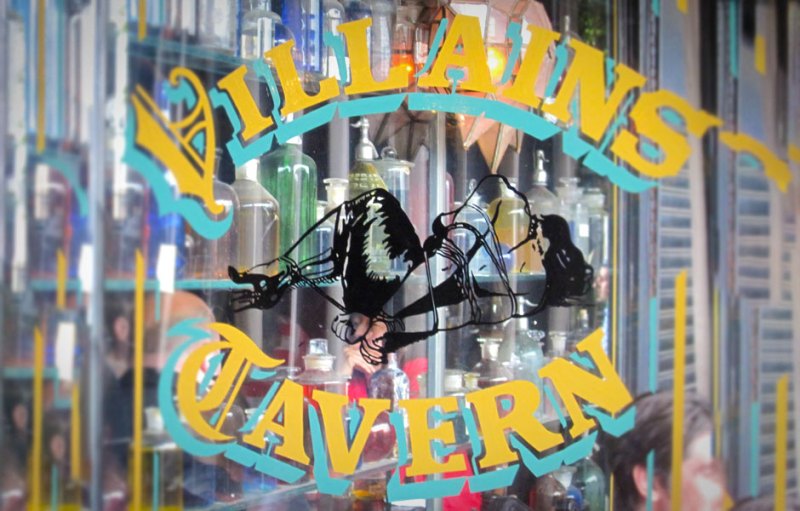 Imagine if a Sherlock Holmes villain, an evil English wizard, and a Wild West American outlaw joined forces to open a bar. They would surely open Villains Tavern, one of LA's best bars for atmosphere, live music, and your favorite poison. It also set the scene for an episode of "American Horror Story."
Related: LA's No Vacancy Speakeasy
In keeping with its theme, from the outside it's not exactly a welcoming-looking place. Situated in the Arts District on a street with a miraculous amount of available parking, the tavern looks dark and shut off. But once you get inside, it's a riot of color and eclectic detail that looks carefully collected by an evil mastermind. A huge gothic mirror takes up one wall, while another wall is covered with colorful bottles, no doubt containing concoctions and ingredients for spells. Chandeliers, a dark stout bar, forlorn, creepy statues, and ruby red walls round out the malevolent motif. It's on the small side, but there are tables upstairs (get there early to snag one) and an outdoor patio.
Villains Tavern is one of the best bars for live music, fostering outlaw-like artists who don't want the glossy life of a label band. You'll get to hear the likes of We The Folk, The Vignes Rooftop Revival, Moonlight Graham (the band, not the baseball player), Urban Grass, and The Rayford Brothers. Never heard of these guys? It's time you did and there's no better venue: Villains offers up bluesy, dark, soulful, sometimes country-ish music perfect for the decor and even better for getting up to no good. Did we mention there's never a cover? They may be villains, but they're not picking your pockets.
Since it's a bar, we should probably talk about their booze. Great beer list (Three Weavers is a must if you like IPAs), but it's their cocktails that take center stage. Generally named after dark things, like the Poison Apple (vodka, Granny Smith apple juice, citrus, and Aztec chocolate bitters), the Fatal Hour (rye, bitters, and Luxardo cherry), and the absolutely delicious Belladonna: Makers Mark, citrus blackberry bramble and shaved ice, topped with a luscious, bleeding blackberry that soaks the ice. Even the mischievous god Loki gets a cocktail, which is the perfect hot summer night choice: vodka, sage, honey peach syrup, citrus, and soda. The cocktail menu rotates and you should be prepared for a little bit of a wait (nothing egregious) for your drink: they use all homemade syrups and juices. You can order cocktail classics if you like, but their menu is definitely worth branching out for. The prices are pretty standard for LA craft cocktails, about $12-14 per cocktail, but go at happy hour and they're only $8!
The food is certainly criminal as far as your waistline is concerned, but it's worth it. Good luck picking between the Thick Cut Onion Rings, Deep Fried Mac n' Cheese Bites (20 to an order), and the nachos: just go ahead order all three. If you want a full on meal, the Angus Beef Chili Cheeseburger shouldn't be missed, but be prepared for a messy meal.
If you love live music, good booze, and indulging your inner-Steampunk villain, you've found your haunt.