If you live in or have ever visited, the South, then you are already familiar with the late-night (or hungover-morning) institution that is Waffle House. The chain, which was founded in Georgia in 1955, is a staple amongst everyone from truckers to drunk college kids because of its affordable, grease-soaked delights (and the memories made or forgotten in the restaurants' booths). If you need a quick visual on just how great it is? Check out this video of the late Anthony Bourdain drunkenly indulging in Waffle House for the first time.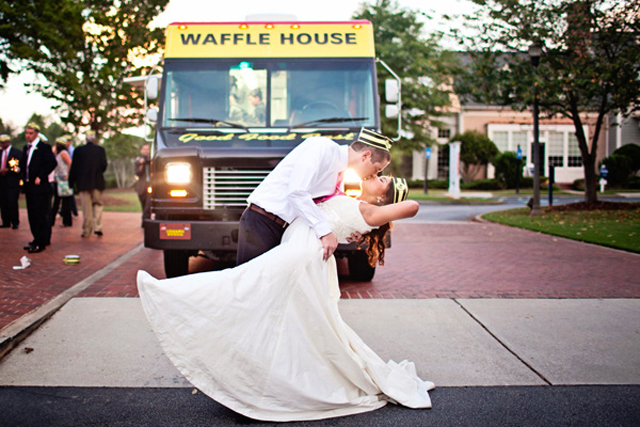 Now, Waffle House is taking its greatness to even grander heights by catering weddings. They're not just catering though — Waffle House is doing it in its very own food truck.
Since August, the Waffle House Food Truck has been rolling around weddings across the country, doling out chocolate chip-topped waffles and more to what we can only assume to be thousands of (satisfied, maybe intoxicated) individuals.
While we don't normally write about too many marriage-related things here at The Manual, we couldn't pass this one up. Having spent many-a-night trying to soak up the booze in booths in Waffle Houses across the country, we have a special place in our hearts for the chain.
More than the novelty of having Waffle House cater your wedding, we think it provides a very real and useful service. After a long night of drinking and dancing, your guests are going to want something to sober up before heading home. Enter a Waffle House biscuit. Need we say more?
So what does the Waffle House Food Truck provide? Basically, if you've had it at Waffle House, you're more than likely to be able to have it catered.
For starters, they have some standard Waffle House options: the All-Star Special, the Cheesesteak Melt Hashbrown Bowl, and the Sirloin Steak Dinner are all options if you're looking for more of a sit-down type of meal.
Where it gets more fun, though, are the bars that Waffle House offers (no, not booze bars, unfortunately). You can have a Bert's Chili bar, a waffle bar, a dessert waffle bar, or — the crème de la crème, if you ask us — a Waffle House hash brown bar. Now, you and your bride-to-be can be smothered, covered, and chunked in front of all of your friends and family!
In addition, Waffle House's catering team offers up biscuits, burgers, and various a la carte items to round out what is sure to be the best damn wedding dinner ever.
The Waffle House Food Truck is able to travel nationally, but the price increases exponentially depending on where you are in the country. After the rental fee ($90), you will pay a fee of $50 per hour, based on total mileage to and from the event (plus the cost of the food, et cetera). While you still have to pay that regardless of your location, it certainly works out if you're in the Atlanta area. You can find more information about Waffle House catering and the Waffle House Food Truck here.
Now, who wants to get diced, topped, and peppered with us?