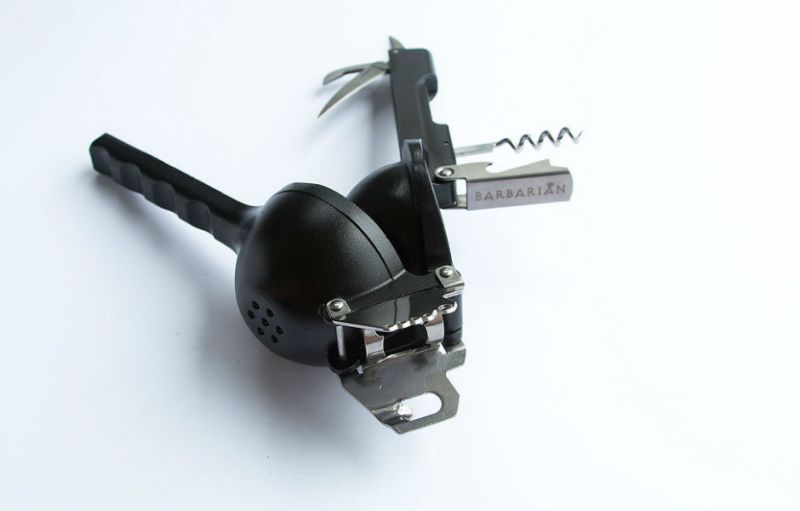 We know that many of you are secret at-home mixologists, and that having a cadre of bar tools can be a bit of a nuisance, and take up a lot of space in your kitchen drawers. Now there's a tool that's like the Swiss Army Knife of bar tools. It's called the Barbarian. The 9-in-1 tool includes everything you need to make just about every cocktail on earth, from an Old Fashioned to a martini. It contains a citrus press for squeezing limes, lemons and oranges, a jigger, so you can get that perfect shot, a corkscrew and lever for opening  bottles of wine, a channel knife for cutting citrus rind and for creating the perfect garnish, a bottle opener for beer and soda, a can lance so that you can puncture cans, a one-inch knife to remove labels, and citrus knife so that you can get that perfect slice.
Now, you'll always be fully prepared when you have a cocktail party at home. Old Fashioned? You can use the Barbarian to measure the bourbon and rye, and the channel knife for getting the rind. Get that perfect ratio of tequila, fresh lime juice and orange liqueur with the jiggers when you want to make a margarita, and you can also use the citrus press to get freshly squeezed lime juice. The Barbarian also makes a great gift for that cocktail enthusiast in your life, and you'll benefit from it too next time you go to that person's house and they make you a fresh cocktail.
The Barbarian, $59.95 at barbariantools.com.
Editors' Recommendations