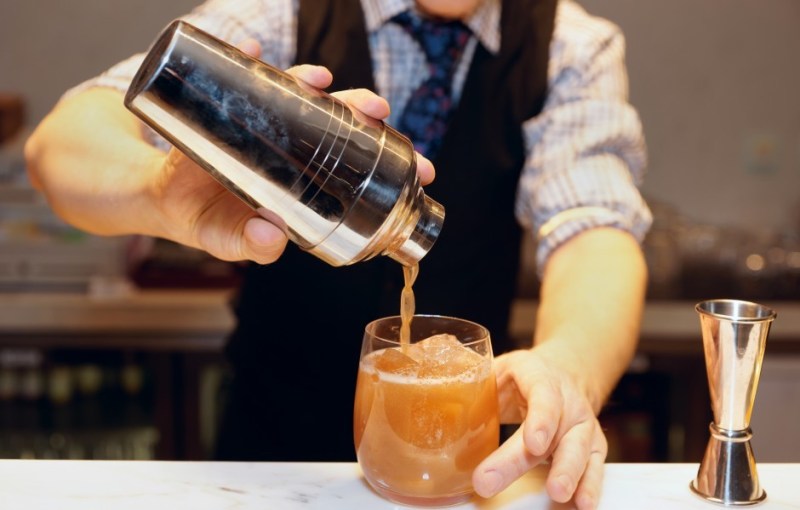 It's easy to reach a zen-like trance when you have a truly tasty drink in your hand. The feeling is further amplified when you're in the comfort of your own home, surrounded by friends and family members, and not shelling out $10 per cocktail. Sadly, the prospect of setting up a home bar is daunting to many aspiring home drinkers. For help setting up and stocking a home bar, we've turned to Tim Heuisler, former bar manager and current general manager of Time, a bar/restaurant/club/music venue in Philadelphia, PA. As it turns out, setting up a home bar really isn't that hard.
Spirits
A bar isn't a bar without booze. Of course, you could set up a home juice bar or frozen yogurt bar, but that's not what this guide is about. When it comes to spirits, Tim Heuisler suggests that you stay in the $20-$35 range. "When you're first getting into it and you're messing around at home, you don't need the 40-50-60-70-dollar bottles. You just don't," he says. "If you've got fresh citrus and other good ingredients, then, it's not necessary to be pouring a 40-70 dollar bottle of aged rum into your drink." Still, you want something that is well made and won't make you cringe. Here's a brief look at the basic spirits. Don't feel compelled to get them all right away — when you're starting out, just stick with the ones you actually like.
Single-Malt Scotch: The only exception to the $20-$35 rule is single-malt Scotch whisky, which is definitely worth splurging on. "I always keep one or two single malts at home that I don't typically mix with anything, except maybe a dash of water," says Heuisler.
Bourbon Whiskey: "I like anything done by the Buffalo Trace Distillery," says Heuisler, "So Buffalo Trace, obviously, and the Eagle Rare 10-year, in Pennsylvania, is under 30 bucks. It's an awesome 10 year old."
Rye Whiskey: "The newly-packed Jim Beam Rye — it's a 90-proof, green label rye — is awesome," says Heuisler. "I usually go with that, or Old Overholt. Both are under 30 bucks a bottle."
Gin: "Gin is a must — especially moving into the spring and summer months," says Heuisler. "I've been pouring a lot of Aviation Gin lately. That's what I have in my house right now — it's an awesome American gin."
Rum: "I typically like to mess around with dark rums, just because there's a lot more flavor involved and they're a lot sweeter," says Heuisler. "You can get a really really nice aged dark rum for 25 bucks, and you can also get a pretty awesome clear rum for under 20 bucks if you're making daiquiris."
Tequila: "There are a lot of companies out there that are really putting in the time, the money, and the effort to make a proper 100% agave tequila," says Heuisler. "Siempre Azul is one of my favorites. Cazadores Reposado, that's another bottle that's under $30, it's awesome."
Vodka: Heuisler doesn't keep vodka in his home. It doesn't really do it for him. If you are partial to this clear potato spirit, however, just remember the $20-$35 range.
Related: The Manual's Liquor-Laden Gift Guide for Booze Enthusiasts
Cordials (Liqueurs)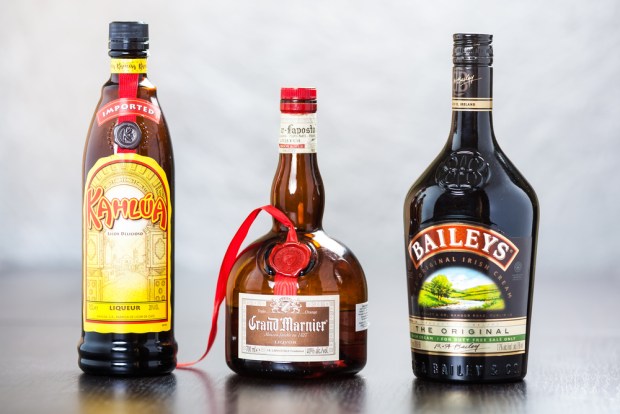 Since you're stocking a home bar, you shouldn't feel like you need to have a dozen cordials on hand at all times. Instead, you should just get liqueurs on an as-needed basis. "Depending on how often you're making drinks at home, a single bottle could last you six months," says Heuisler. "I definitely buy cordials sporadically."
Pick one or two easy-to-make cocktails that you like, and get the appropriate cordials. The Manhattan, for example, is a great first cocktail. "All you need is vermouth and bitters," says Heuisler. "Those are two super-cheap and super-versatile things that are used in a ton of drinks."
Fresh Fruit and Mixers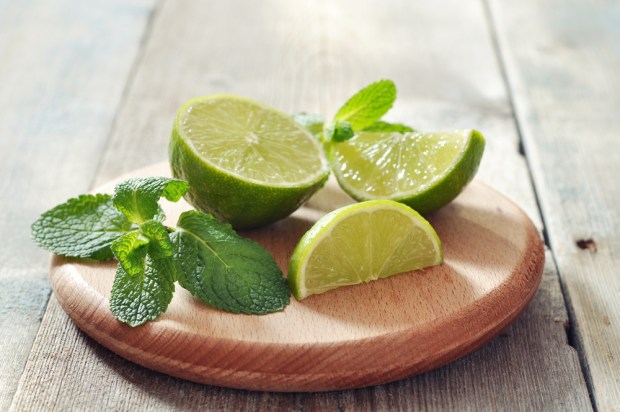 Most home bars don't have the ingredients necessary to make every cocktail in The Ultimate Bar Book. For simplicity's sake, just keep the ingredients to your favorite drinks on hand. If you're hosting a party, maybe make a small menu of 3 or 4 cocktails for your guests to choose from — that way, you won't feel overwhelmed by leftover drink ingredients.
Fresh Citrus: Fresh lemon, limes, and grapefruits are great to have on hand regardless of your alcoholic preferences. Citrus juice and rinds are key elements of numerous popular cocktails. "Fresh citrus is huge," says Heuisler. "You don't want to get any of that frozen stuff from concentrate — having fresh fruit makes a big difference."
Simple Syrup: Many cocktails call for sugar, whether in the form of granules, cubes, or simple syrup. "I can barely fry an egg, but I can make simple syrup," says Heuisler. "Anyone can boil water and add equal part sugar and make simple syrup. So, I always keep that in my fridge. I don't think it will ever turn; it's just sugar water."
Other Ingredients: Depending on what you like to drink, you might keep Coke, Sprite, soda water, champagne, cranberry juice, egg whites — the list of potential ingredients is endless. "Use whatever you got available to you," says Heuisler. "Once you understand that most drinks are just a spirit, citrus, sugar, and aromatics, you can incorporate almost anything in your fridge into your drink."
Equipment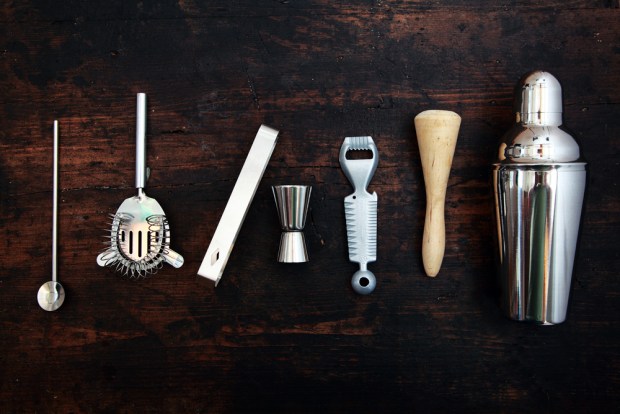 Equipment is where a lot of people get tripped up. Some guys want as little time as possible to elapse between wanting a drink and enjoying a drink. However, most pieces of bar equipment are very inexpensive, and having the right gear on hand can seriously boost the production value of your cocktails.
Metal Shaker: A metal-on-metal shaker is perhaps the most important piece of bar equipment you can own. "If it's metal on glass, that's fine, but metal on metal is going to keep your cocktail that much colder."
Hawthorne Strainer: If you're going to be a serious home bartender, you'll need a Hawthorne strainer. A lot of bars double-strain their cocktails, but you don't really need to do that when you're just starting out. A Hawthorne strainer should keep most of the pulp and muddled herbs out of your drinks.
Bar Spoon: If you're not shaking a cocktail, you have to make sure it's properly stirred. Generally speaking, a typical spoon won't cut it for a tall cocktail, which is why it's a good idea to have a long bar spoon. That said, you can probably do without a bar spoon if James Bond is your roommate.
Muddler: A muddler is great for releasing the aromas and oils from citrus and herbs; however, a bonafide muddler isn't absolutely essential. "You don't necessarily need to crush it," says Heuisler, "you're just putting some pressure on it. You can use a spoon if you really want to. But a muddler is cheap — a lot of this stuff is really cheap.
Glassware: When you're first starting your home bar, you probably don't need to invest in a dozen of each type of cocktail glass. However, it's fun to collect handsome and/or funky glassware. "One of my favorite things is having nice glassware," says Heuisler. "That's what I have at my house. I can make a drink pretty easily, but it's nice to have a proper glass for it. It can make you seem like you might actually be sitting at a bar, and not someone's kitchen."
Mallet: While ice cubes are fine for some drinks, other drinks — including the Mint Julep — benefit from crushed ice. If you're partial to crushed ice, you would do well to have an ice mallet. If nothing else, you'll have a great time smashing stuff in your kitchen.
Jigger: A jigger is super handy for measuring precise amounts of fruit juice, spirits, cordials, or whatever else you might put in your cocktails. Standard jiggers measure 1.5 oz on one side and .75 oz on the other.
Don't let this list intimidate you. Instead, do your best and think of your home bar as a work in progress. No man goes to the hardware store and buys $10,000 worth of tools at once; rather, he collects the tools in his garage over time. Consider taking the same approach with your home bar. Start out simple, then slowly increase your collection of spirits, liqueurs, and equipment. After a while, you'll have a formidable bar that will make your place a top hangout spot.
Editors' Recommendations