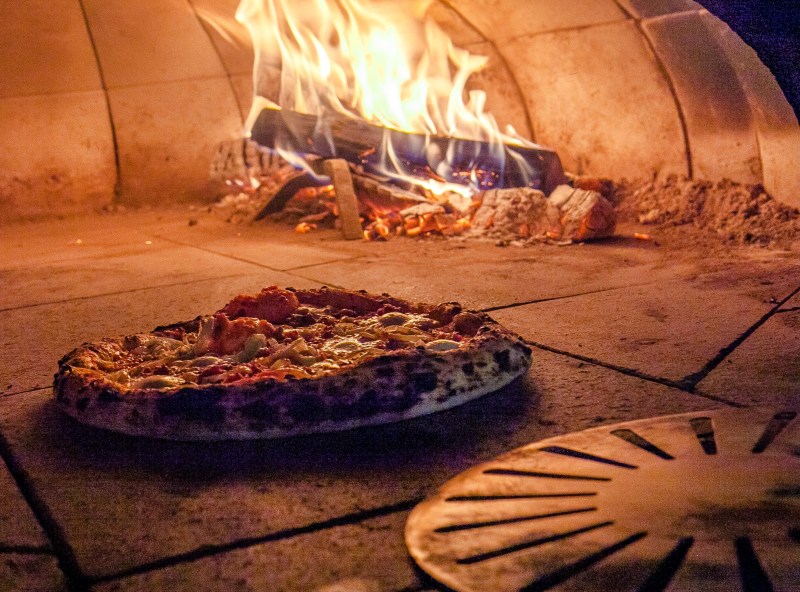 Sappy professions of love, the exchange of hearts full of chocolate, and champagne-glass engagements aren't for everyone. For those who don't enjoy making starry-eyed confessions of love and affection, Valentine's Day can be kind of a drag. But it doesn't have to be.
After all, food is still a thing. A delicious, delicious thing that you can either share with the one you love or enjoy solo. And there are plenty of proprietors who don't participate in the whole prix fixe thing. Take, for instance, Chef Jeff Pond, partner and chef at Area Four, a wood-fired pizzeria, bar and café in Cambridge, Massachusetts. Every year, he throws a Haters Valentine's Day party.
"I know people like to go out and feel special on Valentine's Day," he says. "I just wanted to have some fun with it."
During Haters Valentine's Day, Area Four offers up dishes like pizza with arrabbiata—Italian for "angry"—sauce and "slapped" pork cheeks, plays emo music and sad movies, and gives guests cheeky chalk hearts with their checks at the end of the night. This year, he says, the arrabbiata sauce pizza is particularly exciting, because he's using locally-grown chilis for the sauce. "It's going to add a little something extra, I think."
Area Four, according to Pond, really tries to go all out for the event.
"We try to do a special experience but with a little twist," he says.
Eating delicious food while making fun of Cupid's favorite day? Sounds like a ton of fun—whether or not you're attached. If you're in the Boston area, you're lucky enough that you can go check out the event. But if you're somewhere else this holiday—well, you're still lucky, because Chef Pond let us in on the secret to making angry pizza so you can throw your own Haters Valentine's Day for you and all your friends.
Oh, and hey, just a heads up: the dough takes two days to prepare, so make sure you plan ahead! Pond's dough is some of the best you'll ever taste. The time and effort will be worth it—trust us.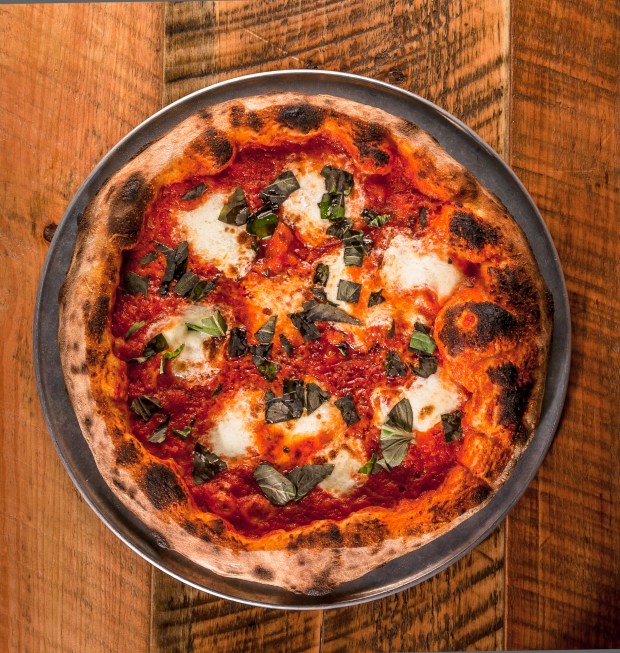 Prep
Sourdough Pizza Dough
1 ½ cups sourdough starter
4 cups unbleached baking flour (preferably one containing malted barley)
3 ½ teaspoons kosher salt
1-1 ½ cups 70° water
In a stainless steel bowl add your water and starter. Mix by hand until combined.
Have a separate bowl of room temperature water next to you for you dipping your hands.
Add your flour to the starter mixture.
Dip your hands in the bowl of water periodically to keep the flour from sticking.
Fold the loose flour mixture from the center of the bowl in on itself.
Continue mixing the dough for 10-15 minutes to develop some of the gluten. This process can also be done in stand mixer equipped with a dough hook.
The dough will be loose by the end of 10-15 minutes. Cover the bowl and allow it to proof in the refrigerator for 24 hours.
The next day, remove from the fridge, wet your hands, and put on a lightly floured surface.
Cut into four 10 ounce balls. Work the dough into balls and place in a baking pan with sides.
Cover with plastic and put back in the refrigerator for 12-24 more hours.
Sauce Arrabbiata
24 grams garlic, minced
5 grams fresh oregano, chopped
3-4 fresh red jalapeños, seeded and sliced thin
1-2 green jalapeños, seeded and sliced thin
1 ½ tablespoons salt
1 ¼ cups extra virgin olive oil
1 can Alta Cucina San Marzano tomatoes, drained, excess liquid squeezed out of tomatoes, juice reserved
Very lightly toast garlic, red and green jalapeños in ½ cup of extra virgin olive oil over low heat in heavy-bottom pot.
Add oregano and let cool.
In the meantime, chop the tomatoes.
Add salt and remaining olive oil to reserved liquid.
Combine ingredients.
Toppings
1 red, green and yellow bell pepper each
2 shallots, peeled and sliced into ¼ inch rings
4-5 oz. of shredded provolone picante
2 large farm eggs
chopped parsley, for garnish
Seed and julienne all three bell peppers in ½ inch strips.
Toss the bell peppers and shallots with 2 tablespoons extra virgin olive oil.
Roast peppers and shallots for 4-5 minutes in oven (about 450-500 degrees) then let cool.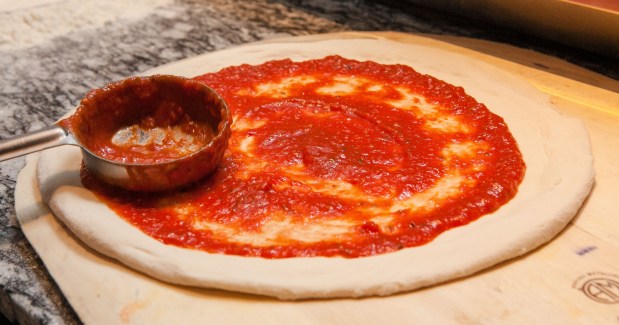 Assemble
The Dough
Preheat your wood oven to 600-650 degrees. (If you don't have a wood oven, no worries! You can still use a conventional oven. Fire that puppy up to 500 degrees, and make sure you have a pizza stone. It'll mimic the bubbly crust of a wood-fired pizza, and the porous surface will draw out moisture, so you'll get a nice crispy effect.)
Temper your pizza dough for 30 minutes prior to use. (This just means to let it get to room temperature before you throw it into the oven.)
Once ready, use a bench knife to lift 1 dough ball out of your pan and into a generous pile of flour. Flip the dough over to coat the entire thing in the flour.
Using floured hands, press the air from the center of the dough ball out towards the edge leaving a ½ inch around the perimeter untouched. Continue pressing out the center of the dough, until you have achieved a 12" circle.
Lift the dough onto a pizza peel (or pizza stone, if you're using a conventional oven) and brush off any excess flour.
The Toppings
Ladle 3 oz. of sauce onto the center of the pizza, and work around the interior diameter of the dough until it is evenly spread, with enough room for crust.
Sprinkle your provolone onto the sauce. Strategically lay your bell pepper and shallot mix on top of your provolone. A little goes a long way, and too much will not allow you to cook the pizza properly.
The Heat
Shimmy your pizza into your preheated hearth (or oven!) and allow to rise and begin to color before you attempt to move it.
Once it starts to rise, slide the pie toward you and crack the eggs onto opposite sides of your pizza.
Slide back toward your fire (or other heat source), spinning periodically to create even toasting and blistering.
As your pizza starts to look close to done, pull the pie toward the mouth of the oven and cook away from the fire to set the ingredients a little more. Your eggs should be set but the yolks should be runny.
Eat
Pull that baby out of the oven onto a cooling rack, to allow the steam to dissipate. You don't want the crust you just worked so hard on getting soggy. Break your yolks and season with some salt and pepper. Sprinkle with dried chilis, parsley and grated pecorino romano if you prefer.
Slice and enjoy! Emo music and sad movies optional.
Editors' Recommendations