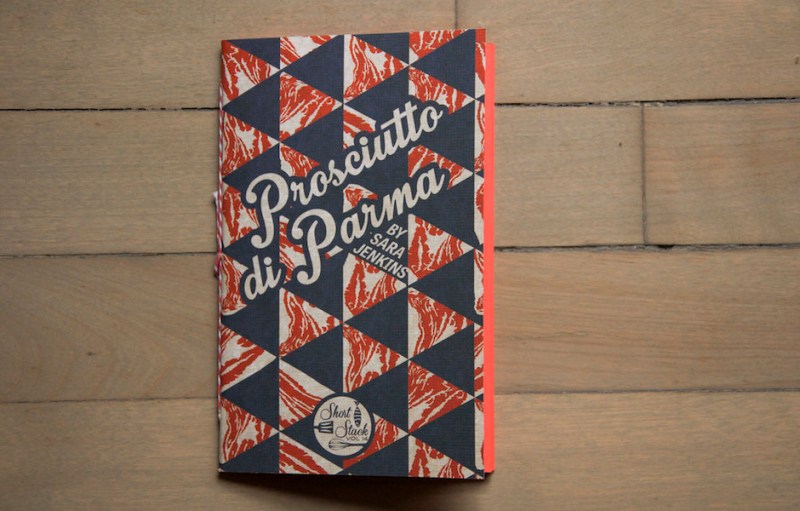 Whenever we see a pile of wonderful Prosciutto di Parma on a charcuterie board, our eyes get big. The delicious saltiness of that dry-cured Italian ham just makes our palettes jump for joy, so when we saw that the newest edition of Short Stack, a series of small cookbooks that focus on one ingredient, was centered around our favorite Italian ham, we couldn't hide our excitement. For the edition, the folks at Short Stack tapped Sara Jenkins, a New York-based chef, restaurateur and cookbook author. Jenkins even worked in Florence and Tuscany before moving to New York to open what would become two of the city's most popular Italian restaurants, Porchetta and Porsena, and authoring two cookbooks. Mario Batali even gave Jenkins huge praise: "Sara's one of the few chefs in America who understands Italy and how Italians eat." Now to us that sounds like an excellent CV for somebody who wrote a book about Proscuitto di Parma.
The 48-page, hand-sewn booklet comes complete with a vibrant cover and tomato-red pages. Jenkins provided a number of recipes that we can't wait to try, like cold cantaloupe soup topped with prosciutto crostini. Others are a more adventurous take on traditional recipes that use prosciutto, like olive oil-fried slices of persimmon wrapped in prosciutto or salmon with prosciutto-cider broth or roasted corn and crispy prosciutto tucked into warm corn tortillas and topped with lime, pepper and cilantro. The booklet also comes with a number of stories on the dry-cured ham. Our mouth is watering just thinking about these dishes. We can't wait to try them out at home, and we're sure you can't wait either, so go grab yourself the latest copy of Short Stack.
Short Stack Vol. 14 Proscuitto di Parma by Sara Jenkins, $14 at shortstackeditions.com.
Editors' Recommendations