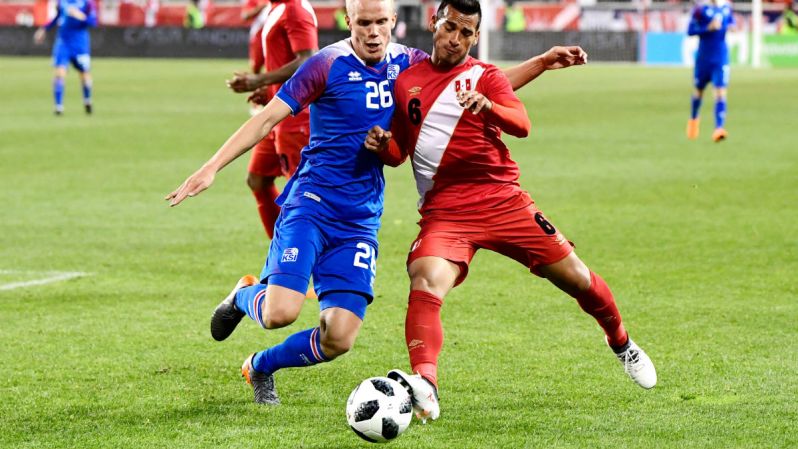 If you're an American and you follow soccer, it was probably heart-breaking to see the U.S. Men's National Team not qualify for the World Cup this year. No matter how bad the team might be, there was always hope that a miracle would happen. This World Cup, there will be no American miracles.
There is, however, an opportunity to still cheer for the red, white, and blue when the World Cup rolls around this summer. Better yet, it's an underdog story — and who doesn't love one of those?
The underdog in question: Iceland.
Yes, the island nation of just over 334,000 people is on its way to the 2018 FIFA World Cup, and one of its most famous exports (after Björk, naturally), Reyka Vodka, wants you to cheer for Iceland's flag colors of red, white, and blue since you can't cheer on the U.S. this time around.
Starting April 18, Reyka Vodka (which is made in Iceland from glacial spring water, lava rock filtration, geo-thermal energy, and distiller a rare Carter-Head Still) will start selling a new line of "Go Iceland" gear for all fans preparing for the upcoming games, featuring everything from shirts and sweatshirts to the necessary-for-soccer scarf to koozies, flags, and bumper stickers. (You can check out some of our favorites above, or peep the full collection here.)
"Games are always more fun when sharing the experience with friends and fans, and rooting for one's favorite team," said Trevor Schneider, ambassador for Reyka Vodka. "Just because the U.S. team is not participating in the big game doesn't mean those fans should be benched and miss out on the fun."
Know nothing about the Icelandic national soccer team? Don't worry, most people probably know nothing, as this is the team's first World Cup appearance. We do think you've probably seen this clip of their announcer losing his damn mind during the win against Austria in 2016, though:
If that doesn't do it for you, check out their Viking chant. If it doesn't get you pumped up, nothing will.
For those wanting to be super fans: Tthe colors of the Icelandic flag, while the same as ours and other countries around the world, stand for very different things. The red represents the fire of volcanoes, the white represents the snow and ice, and the blue the Atlantic Ocean which surrounds the island nation.