The absolutely delectable English gastro-pub food of Portland, Oregon's Raven and Rose restaurant is often initially overshadowed by the very building in which it resides.
Because that building is, in fact, a former Victorian carriage house or "horse palace" built in 1883 for one of Portland's first great businessmen, William Ladd. The building has outlasted Ladd's estate by over a century, was placed on the National Register of Historic Places, and was literally moved three blocks away for over a year to make room for construction of an underground parking garage, before being moved back to its original location. In 2011, the building was purchased by the Mygrant family who worked with architects to restore and renovate the building and bring it not only up to code, but to exceed all environmental standards to become the LEED-Gold certified restaurant it is today.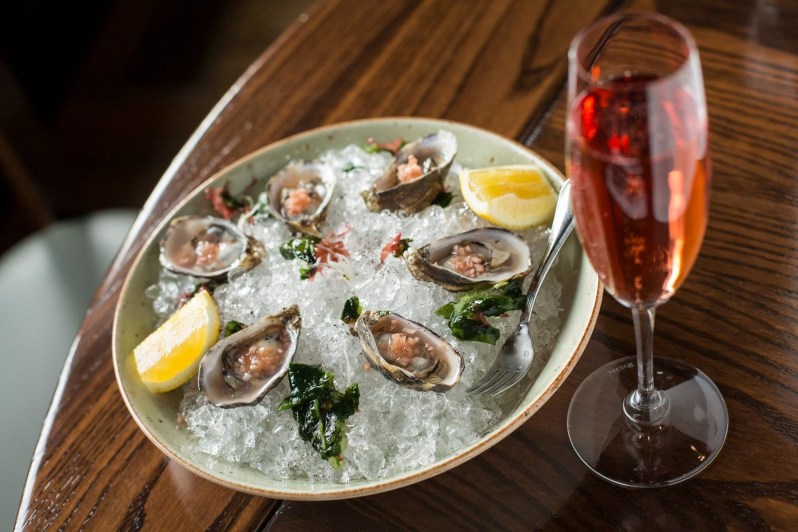 Inspiration for Raven and Rose's amazing food came from owner Lisa Mygrant's "time spent living, cooking and learning in England and Ireland." Taking a page from the book of classic British Pubs, Raven and Rose's dinner menu gives prominence to game-based dishes including hearty venison and tender rabbit and also offers up duck, lamb, pork, beef, and the spoils of the sea, including fish, oysters, and clams. Focusing on working directly with local farmers and makers, Raven and Rose believes their ingredients and the companies they come from should be as environmentally sound as possible. Raven and Rose makes clear, "From pastured meats to sustainably harvested seafoods to organic produce to biodynamic and natural wines, the health of the planet and of our guests and our employees."
To fully appreciate the British-Isles inspired food, start your meal at Raven and Rose with a half dozen mignonette oysters and follow it by a couple unique starters: First, the beetroot salad made from roasted beets, apples, curried yogurt cream, and Marcona almonds. The brightness of the curried yogurt cream works well with the apple and is all balanced by the slight earthy, bitterness of the beets. The plate is also a feast for the eyes, with the attention-grabbing pop of red from the beets. Follow this with the second starter called "Under a London Fog." Made with chicories, wine-poached pear, walnut vinaigrette, and Humboldt fog goat cheese, the poached pear helps to neutralize the intense flavor of the cheese, melding the flavors from the chicories and walnuts into an overall nuanced, yet distinct palate-pleaser.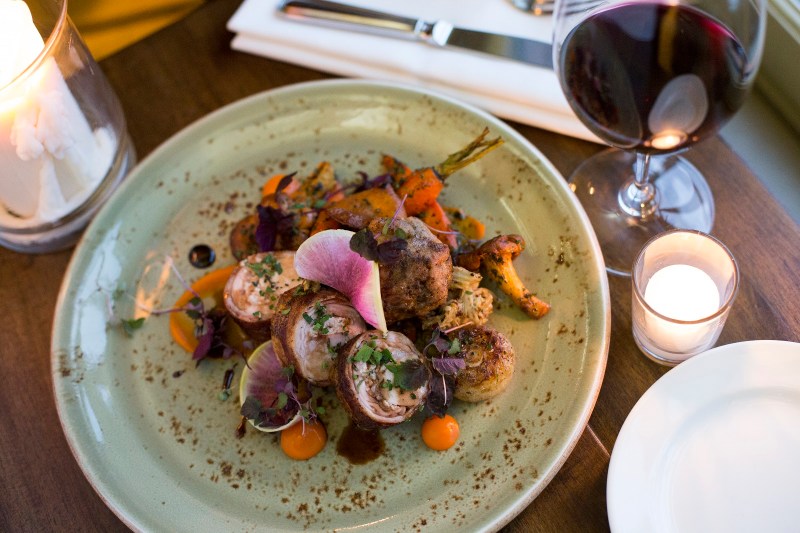 After such cheese and cream oriented dishes, have a go at Raven and Roses's lighter fare, especially the Fisherman's board. Composed of only the freshest local seafood, the version we had while at Raven and Rose consisted of a refreshing salmon tartar, salty trout roe, cod brandade, perfectly cooked BBQ prawns, grilled octopus (which was cooked sous vide (for supreme tenderness) before being finished off on the wood-fired grill), and grilled mackerel. Other sharable plates that are worth your while are the Ballymaloe chicken liver pâté and the Goan curried clams.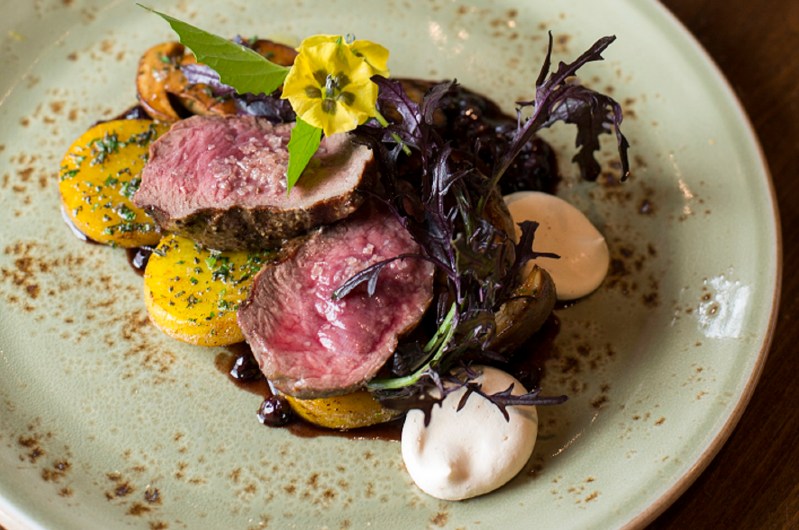 For an entree, we recommend the West Cork rabbit two ways, a beautiful dish that cooks the locally rabbit in the form of a bacon-wrapped saddle and a braised leg with accompany mustard, cream, sweetbread, and carrots, chanterelles, and onions. Our server, Joe, mentioned that the chef created this dish so that the sides are "what the rabbit itself would eat." Another great option is the grass-fed venison (raised in southern Oregon). Venison is an extremely hard dish to get right, owing to the fact that it is extremely low in fat and, if cooked too long, can result in a tough, rubber-like piece of meat with no flavor. Not so at Raven and Rose. This venison was cooked to an absolutely perfect rare center with accompanying mushrooms, huckleberries, and potato coins. Again, the main dish is surrounded with vegetables that the deer itself would have eaten in the wild.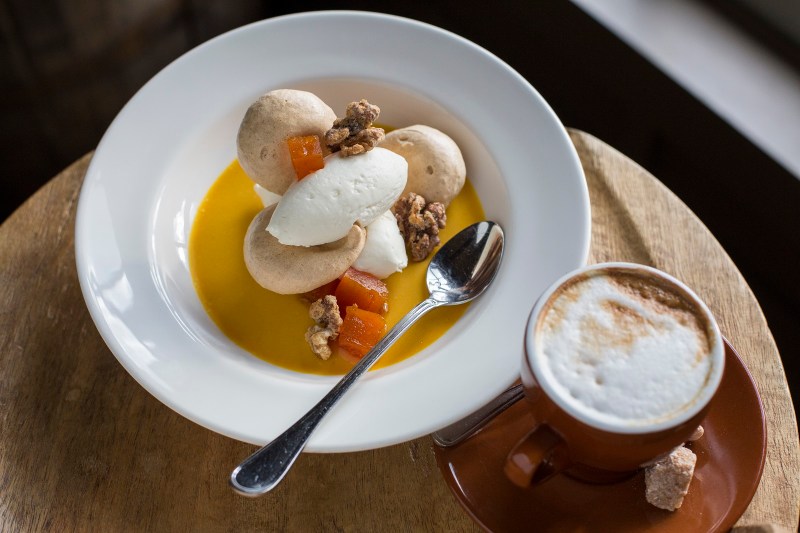 If you've still got room after all that, Raven and Rose serves a mean dessert menu (we're partial to the Crème fraîche cheesecake) and some great after dinner drinks.
If you're looking for a full-on boozy beverage to send you to bed full and warm, try the super smooth Ladd's Manhattan, complete with a single giant ice cube.
At Raven and Rose, the team is "dedicated to making everything [they] can in-house, daily and by hand…[They] butcher steaks, roasts, rabbits, birds, and fish in-house everyday. For the bar, [they] hand-squeeze all of [their] juices each day, and make all of [their] own syrups, cordials and tinctures. [They] believe it is all worth the effort, and we hope you will taste the difference."
We certainly did.