If you've ever gone to Quebec, or been to a primarily French-Canadian area, or been to a restaurant that prides themselves on delicious bar foods, you've probably seen poutine on the menu. Made of potatoes, cheese curds, and gravy, they are (along with disco fries), one of the purest forms of enjoyment one can get when mixing potatoes and cheese together.
Originating in Quebec in the 1950s, poutine was first served almost exclusively in diners and other greasy spoons (while also serving as a means of mocking the Quebecois). Over time, though, it's grown in popularity, with more and more chefs experimenting with it and, in doing so, giving it a place of honor in the realm of Canadian cuisine.
Made of potatoes, cheese curds, and gravy, poutine is of the purest forms of enjoyment.
What does that mean to us? Well, it means that we have ample opportunities now to eat fries, cheese, and gravy together — sometimes with other delicious things added in. What it also means is that you can now make it at home, as you'll find a recipe to make your very own poutine below.
This recipe comes to us from Patrick Bassett, executive chef of Forge & Vine at The Groton Inn in Groton, Massachusetts. Know how we mentioned that chefs are adding other things to the poutine?
Poutine Recipe
With Duck Confit, Gravy, and Maple Brook Farm Cheese Curds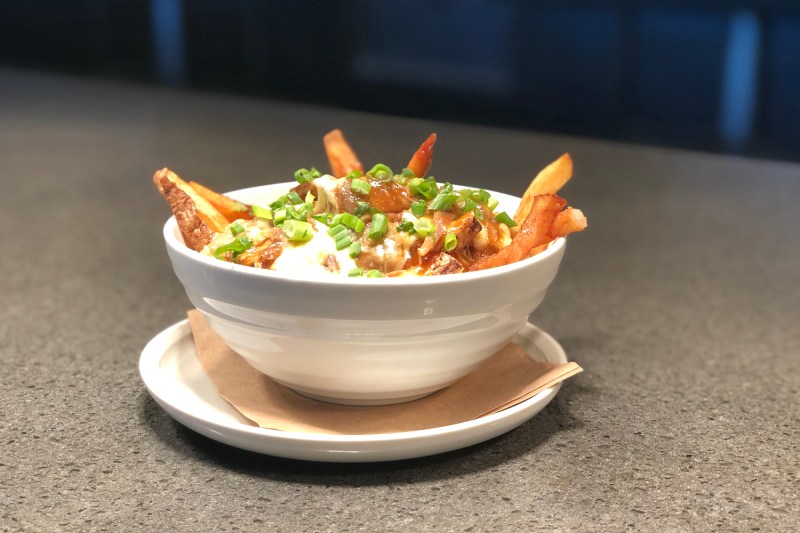 (Serves 4)
Ingredients:
5 lbs large Idaho potatoes, cut into large sticks
.5 cup unsalted butter
1 cup all-purpose flour
3 tbsp extra virgin olive oil
2 tbsp garlic, chopped
1 large white onions, diced
1 carrot, sliced thinly
.5 lb beef trimmings (sirloin trim recommended)
5 stems of thyme
1 bay leaf
.5 cup white wine (house table wine of your choice)
5 qt roasted chicken stock
1 qt veal stock
1 tbsp tomato paste
1 tsp Worcestershire sauce
1 tsp soy sauce
1 tsp green peppercorns
1 bunch scallions, shaved
1 tbsp duck fat (Bassett prepares his own from scratch but says it can be purchased at major specialty gourmet retailers)
Preparing the French Fries:
Wash potatoes. Preheat deep fryer to 300 degrees Fahrenheit.
Cut potatoes (skin on) in a bowl with water to keep potatoes from oxidizing.
Once potatoes are cut, remove a few handfuls at a time and let drain for a second. Then add them to the hot oil. Blanch fries for 3-5 minutes (until they soften up). Dump blanched fries on a baking tray lined with absorbent towels to soak up extra grease.
Note: Fries can be used immediately or can be wrapped and stored in the refrigerator for later use.
Making the Gravy:
In a large heavy pot, combine the butter and flour to make a roux like wet sand. Cook over low heat or in a medium oven until light brown (past blonde).
While the roux is cooking, heat a separate pan on high and add the oil and garlic; stir for 30 seconds. Then add the onion and carrot. Cook over high heat. When the onions start to brown, add the beef trimmings, thyme, bay leaves, and peppercorns.
Deglaze this pan with white wine, scraping up the good brown stuff.
When the roux is light brown and nutty in aroma, and while still hot, add the chicken and veal stock a little at a time, allowing the mixture to thicken each time before adding more.
Add the tomato paste, Worcestershire, soy and green peppercorns. Bring to a boil and then lower to medium heat.
Add the onion mixture and let the sauce simmer slowly. Cook for about 1 hour, adding stock, as needed, to get the right consistency.
Strain through a fine whole chinois and check seasoning.
Building the Poutine:
To build the poutine, deep fry two hand fulls blanched fries @ 350 degrees until golden brown. As soon as the fries come out of the fryer, place on absorbent towels to soak up extra grease and sprinkle with coarse sea salt.
Place hot seasoned fries in cast iron skillet. Top with duck fat, a ladle of gravy (about 4 oz) and a sprinkle of cheese curds and place under broiler for 2-3 minutes until cheese is melted.
Garnish with shaved scallions and enjoy!
Editors' Recommendations