The ketogenic diet may be the biggest diet trend these days, with many people cutting carbs to the extreme. Everyone knows that it is necessary to eat a balanced amount of carbs even if you aren't on a keto diet, so it's nice to cut out carbs where you can. If you're on a keto diet, you will need a good amount of recipes in your arsenal to keep yourself happy and on track. One of the biggest reasons diets fail is lack of variety — no one wants to eat the same things repeatedly. If you're cooking for someone who's eating keto, this is a meal that they will love since it's not every day you see a keto-friendly meatloaf. Meatloaf is comforting, and everyone needs that from a meal once in a while. Plus, you won't even know the carbs are missing.
Bacon-wrapped keto meatloaf
Everyone will love this meatloaf recipe whether they eat carbs or not. The bacon, while totally optional, gives this loaf tons of flavor, and the chili powder (also optional) will make people ask what your secret ingredient is.
Ingredients
Cooking spray
1 tablespoon extra virgin olive oil
1 medium onion, chopped
1 stalk celery, chopped
3 cloves garlic, minced
1 teaspoon dried oregano
1 teaspoon chili powder (optional)
2 pounds ground beef
1 cup shredded cheddar cheese
1/2 cup almond flour
1/4 cup grated Parmesan cheese
2 eggs
1 tablespoon low-sodium soy sauce
Kosher salt
Freshly ground black pepper
6 thin strips of bacon (optional)
Directions
Preheat your oven to 400 degrees and grease a baking dish or loaf pan with cooking spray. In a medium pan over medium heat, heat oil and add onion and celery. Cook until soft, about five minutes.
Once the veggies are soft, add the oregano, chili powder, and minced garlic and cook for about another minute. Turn the heat off and let the mixture cool.
In a large bowl, combine vegetable mixture with the ground beef, cheeses, almond flour, eggs, soy sauce, and salt and pepper. Mix thoroughly but don't overwork.
Shape the meat into the baking dish or loaf pan but don't press down too hard.
Lay bacon slices on top of the formed load and cook until the bacon is crisp and the beef is cooked through. This should take about an hour. If the bacon seems to be cooking faster than the rest of the loaf, cover the pan with aluminum foil.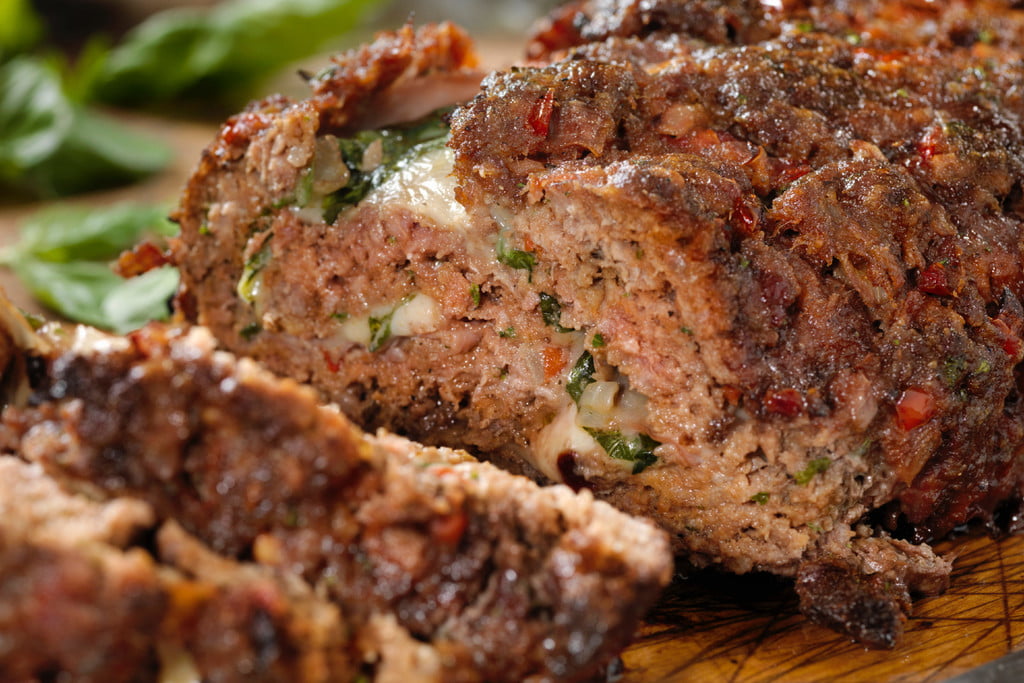 Tips
If you don't want to use chili powder, try some other seasonings, such as a cajun spice blend, for a spicy kick. You can also leave the chili powder out without a substitute — since the meatloaf has fresh garlic in it, it will be flavorful enough.

If you don't have soy sauce, don't panic. You can leave it out; you'll just have to add more salt (probably).

Typically, cheddar cheese isn't necessary for a good meatloaf, but here, the cheese helps bind the meatloaf together. Since there are no breadcrumbs in this recipe, the cheese is needed and also happens to be delicious.

If you don't have a loaf pan or baking dish, you can form the meat mixture into a loaf and bake it on a baking sheet.

If you don't want to use almond flour because you don't have any or due to an allergy, you can use a different keto breadcrumb substitute such as coconut flour, hemp hearts, or ground flaxseed. Whatever you do, don't cut out the breadcrumb substitute altogether, or your loaf won't form properly and will come out tough and dry.
Once you try this keto-friendly meatloaf, you will probably add it to your regular rotation whether you're on the diet or not. With bacon and cheddar cheese, this recipe is far from your grandma's meatloaf recipe and hard to resist.
Editors' Recommendations