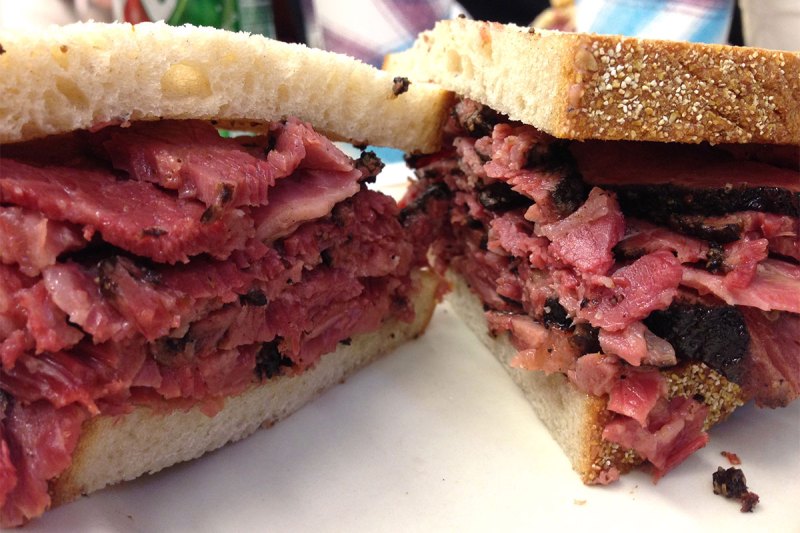 Katz Deli is synonymous with pastrami. For well over a century, Katz's Deli in New York City has been serving up thick, tender slices of cured meat on delicious rye bread, smothered in spicy mustard. All the glory and deliciousness of Katz knishes fried to golden perfection with potatoey centers, tart homemade pickles, and, of course, orgasmic turkey used to be reserved for those in the Big Apple. But not anymore: Katz to the rescue for your next game day, dinner party, or hell, even spice up your Election Night party.
Since 1888, Katz has been making pastrami the same way: pickle the meat in their "secret brine solution," rub the outside with a collection of spices, smoke it for three languid days, boil it for a further three hours (they like the number three), then steam it behind their counter where some of the most skilled knife men and women carve it up for sandwiches. And now, they're delivering it directly to your house!
You can order a number of packages, like pastrami by the pound (they say you get about 2 or 3 sandwiches per pound) for $32. Or, if you want a full meal kit, try the cleverly named "Package 1" which is pastrami or corned beef–your choice– for two, which includes pickles, eight slices of rye bread, two knishes, mustard, and a Katz deli hat, shirt, or apron. All this food and apparel for $70!
But now, in the chilly last days of baseball and the ramping up of football, they have a package geared specifically toward game days. For $175, you can feed six to eight of your favorite people a pound of pastrami, a pound of corned beef, full loaf of rye bread, a pound of mustard and Russian dressing each, and one pound of Swiss cheese. But you also get sliceable salami, an order of a dozen pigs in a blanket and a quart of homemade pickles. They also cover the shipping on all orders over $100.
If you have way more friends than that, check out the party platter for 18. This is second only to going to Katz yourself: you get a pound each of corned beef, pastrami, turkey, brisket, American Swiss cheese, Russian dressing, and mustard. Plus, a loaf of rye, two dozen pigs in a blanket, a choice of medium or hard salami, eight gorgeous potato knishes, two quarts of pickles, but only one hat. It's a steal at $335. But good luck deciding who gets the hat.