Let's face it, during the summer, grilling is every American man's God-given right (cue the patriotic music). We all have our different methods and rituals, but a good grill-session makes every summer outing that much more memorable.
While we understand that you may have your own beloved portable, propane grill that has helped you out at the beach, concert parking lots or camping trips over the years, we'd like to introduce you to something a little "next level"—the KANKA Electric Spit Grill.
The name KANKA means "barbecue" in Mapudungun, which is the native language of Patagonia. Based on the slow-rotating open fire cooking methods of South America, KANKA will change the way you think about a portable summer grill.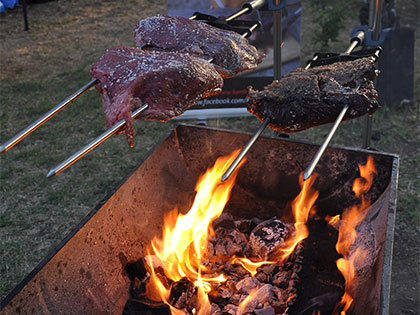 Sure, a little hibachi grill always does the trick, but you want to barbecue in style. The KANKA Electric Spit Grill is made of a full stainless steel structure that may look complicated, but is simple to set up, and compact and easy to store. The flexible stainless steel skewers provide you with the ability to fit anything (up to 11 pounds) you want over the fire—from whole chickens to ribs and pork chops. The high torque, low-consumption motor works connected to a power source or on the power of four AA batteries.
The KANKA is easily adaptable to any heat source. So, after a day at the beach, you can get ambitious and dig your own hole in the sand and set up a fire for some seaside grilling; or, you can simply assemble the spit over your gas grill and wait for your slow-cooked meat in the comfort of your own backyard.
The KANKA was just introduced to the world last month and the product is still in its infancy. So, you can get in on the ground floor by placing an order and pledging your support over at their Kickstarter page.
It may be time to finally say goodbye to that rusty ol' camping grill. Take your barbecue game to the next level with KANKA.
Editors' Recommendations