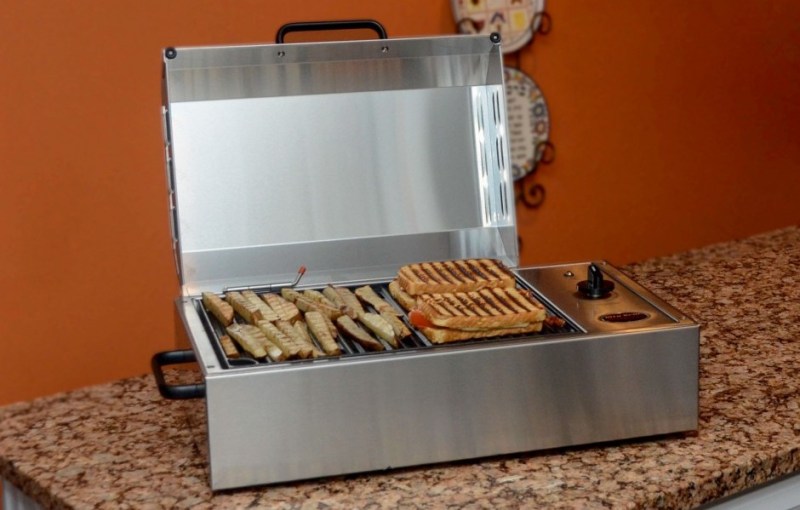 Of all summer possibilities, BBQing is easily one of the greatest. However, grilling is widely considered an activity that requires a large amount of space; many of us who live in apartment buildings, condos, or other urban spaces feel locked out of this kingdom. In reality, urban/indoor grilling is possible — especially if you get your hands on a City Grill from Kenyon. For help putting together an indoor grilling guide, we reached out to Mike Williams, the Grill Specialist for Kenyon.
1. Get an Electric Grill
Cooking with an open flame is fine when you have miles of sky above you, but not so much if you live in cramped quarters. Since electric grills do not have an open flame, they're legit for use in apartment and condos. Though you can use any electric grill on your balcony or building roof, or any indoor-grade grill (hello, George Forman!), we really don't think you can do any better than the City Grill.
"We noticed that there was a need for a safe grilling option," says Williams. "We needed to make something that wouldn't catch fire, and wouldn't have any flare-ups or smoke. So we developed our City Grill, which eliminated all those drawbacks from grilling while giving the user the benefits of the grill marks, grill flavor, and the overall enjoyment of grilling."
The City Grill is small, portable, and easy to use. Williams goes on to extol the main benefit of the grill: "It's the only grill that's UL-approved for indoor and outdoor use, so people who live in an apartment can take it outside to the balcony, or if it's cold out they can bring it inside, and use it the exact same way they would if they were grilling outdoors." The City Grill is meticulously designed to give off very little smoke — definitely not enough to set off a smoke alarm (or your neighbors).
Related: BBQ Trends Just in Time for Summer
2. Evaluate Your Space
Even if you don't have a lot of space, you have enough for grilling, we promise you. You just have to make sure you're realistic about the type and volume of grilling you can achieve. "For small spaces, you need to think about how much room you have to prepare," says Williams. "The types of food that you would grill if you had a big backyard are probably not going to be as open to you."
Unfortunately, you won't be able to cook multiple racks of ribs at a time, or stick a whole pork butt in the smoker and leave it in there all day. You'll also need to think about your grilling capacity in terms of the number of guests you're inviting — don't make food for 40 people if you can only fit 10 into your tiny apartment.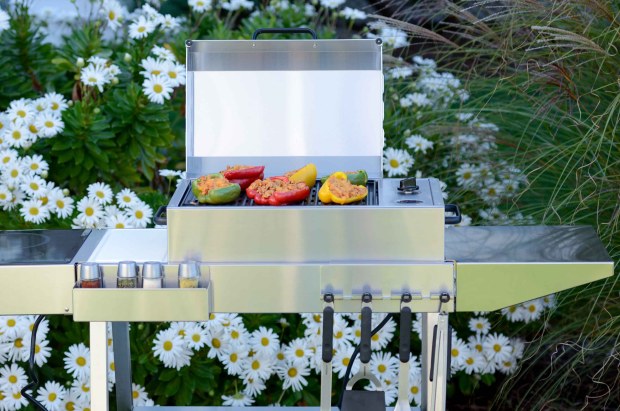 3. Have No Fear
Though grilling indoors presents some limitations, we urge you to push against those limitations as much as possible. Mike Williams shared an anecdote with us regarding the City Grill's capabilities: "One thing people might not think they can do in a small space is ribs," he says. "We actually won a BBQ competition against Jackson charcoal grills using our own grill to cook ribs, proving that indoor grillers can still achieve legitimate BBQ-style ribs."
Whether you're into grilling steak, burgers, hot dogs, fish, veggies, pineapple, or literally anything else, a good indoor electric grill should accommodate your needs. The only limitation, which we mentioned above, is the volume of food. The City Grill even offers something that gas and charcoal grills can't deliver: The ability to add flavor by adding any kind of beverage to the drip tray. "I put wine in there if I'm cooking steak, then take the wine out after I'm done and turn that into a nice little dressing over the steak itself," says Williams. "You can put Sprite in there if you're doing fish, or you can put beer in there if you're doing burgers or brats. To get the smoky flavor you'd get from a charcoal grill, you can put some liquid smoke in the bottom." Whichever liquid you choose, you can count on the flavor evaporating into your food during the cooking process.
As a reader of internet articles, you probably don't appreciate having products jammed into your face. Sorry about that. We wouldn't do this to you unless we truly believed the City Grill was a great product, which we do, and it is. We will leave you with one more piece of indoor grilling inspiration, courtesy of Grill Specialist Mike Williams: "Don't be scared of getting creative. There's no reason to sacrifice the enjoyment of grilling whatever you want just because you live in a small space or an urban setting." So get out there — or in there, as the case may be — and get grilling.
The City Grill is available for sale at Kenyon's website for $475