The Smashburger is coming for your favorite dish and the taco is next in line. The internet is already making the tasty hybrid dish, so we thought it was high time you knew how to as well.
What is a Smashburger? It's pretty much what it sounds like, a burger pressed with some weight as it cooks, locking in flavors and creating added texture. Turns out, it works with foods beyond the burger, too. If you're working with some good meat or meat substitute, it's like making an elevated version of your favorite fast-food burger.
We chatted up Chef Ty Goerke for some sharp advice on the latest Smashburger creation. He's the head chef and culinary innovation director at Smashburger. He's smashed it all — his company's S'mac and Cheese Burger to a Carolina Burnt Ends Burger. Now, he's smashing tacos. The latest trend is like an all-American version of the street taco.
Read on for his tips on creating the Smashburger taco, as well as why it's currently taking the spotlight.
Part of the popularity of the smash trend is owed to the viral food culture. Another part is the big flavor involved. "Our exceptional 'smashing' culinary technique creates an impeccable flavor that is unique to smash burgers," he said. "When we smash burger patties onto a hot-buttered, seasoned grill, the burger patty caramelizes and creates an irresistible crisp to the edges of the burger patty."
That kind of texture and buttery goodness is hard to argue with. But there's more. The Smashburger taco is just fun and carries mass appeal. "Not only is this technique fun for the whole family to be a part of, but the smash technique satisfies virtually any occasion and situation," he added. "I think families are having fun exploring the various ways they can spin the smashing technique — and the Smashburger taco is a great example of how this culinary technique can create endless modern inspired recipes."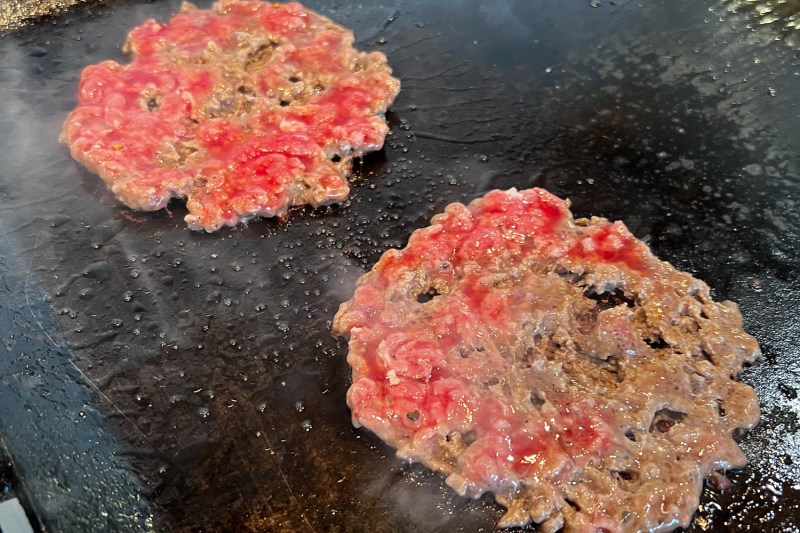 How to make a Smashburger taco
If you have a metal smasher, go nuts. The rest of us can get away with a metal spatula, Goerke told The Manual. "Personally, I like to use a grill because there is less risk of burning yourself using that appliance," he said "Another reason I like the grill is because it is easier to 'cut' the burger patty off the surface. When the burger patty is smashed, it develops a crust that must be cut off from the grill to keep it attached to the smashed burger patty."
He said the crew at Smashburger actually sharpens their spatulas for the grills to knock out that step properly. Oh, and don't forget that it's a pretty quick process. Goerke advises against overcooking anything, so take the taco off the heat as soon as the cheese melts.
Step 1: Paint your grill or griddle with melted butter.
Step 2: Place the beef burger on top of the melted butter and the tortilla on top of the burger ball.
Step 3: Time to smash. Using a metal smasher (or metal spatula), press each tortilla/patty onto the hot-buttered grill for about 90 seconds. This caramelizes the patty — which allows the juices to seep through every square inch of the tortilla and adds an irresistible crisp to its surface.
Step 4: After about 90 seconds of smashing, flip your patty over so the tortilla is now on the grill. Be sure to add cheese and pull it off the grill as soon as it is melted.
Step 5: Finally, add your toppings of choice, such as diced onions, shredded lettuce, Kosher pickle chips, etc.
What about sides and pairings?
"I would suggest either Brussels sprouts or French fries, as they will pair perfectly with the 'traditional' taste of a burger," Goerke said. "For drinks, I would suggest coupling the dish with consumers' favorite soda or juice beverage — given the savory flavor profiles of the taco, it can be paired with any drink."
What else? Think classic taco fixings that would adapt well to a burger, like guacamole, pickled onions, and different kinds of cheeses (try Oaxacan, you won't regret it). Grilled peppers or corn can be a nice addition, as can fresh tomato. And don't shy away from using plant-based meat if that's your thing. You might want some Smashburger sauce, or something like it. Mix up something akin to mayonnaise, mustard, ketchup, pickle brine, and maybe a little pepper and you'll be happy (think fry sauce, with a little more depth).
Drink-wise, on top of what the chef mentioned above, we'd go with a fruity cocktail like a margarita or Paloma or a lighter, refreshing beer like a Mexican lager or pale ale. If you like wine, go with a bigger rose or even a chillable red wine like Gamay Noir or a lighter Barbera.
We love a good smashed meal. Check out our guide on working with a traditional Smashburger recipe, as well as our piece on how to make authentic tacos. You can never have too many great meals. Wash it all down with our favorite wines of the year and the best beers in the land.
Editors' Recommendations