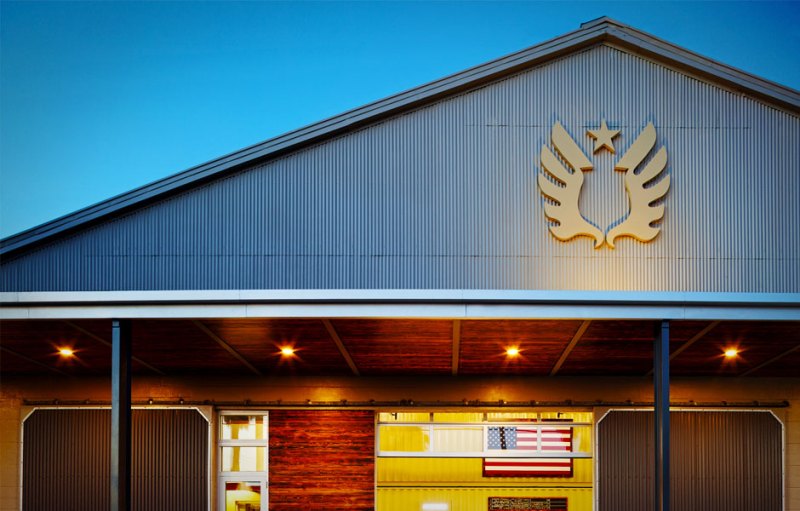 There's no tastier way to celebrate the Fourth of July than by drinking an American-brewed beer. Take that patriotic experience up a notch by drinking a beer that was crafted by Service Brewing Co., one of a handful of new breweries founded by former US combat veterans.
Service Brewing Co. is proud of its Army roots. Kevin Ryan, Co-Founder and CEO, is a West Point graduate that commanded two companies in Iraq. After leaving the military, he followed his passion for home brewing into the thriving craft beer scene.
In branding his brewery, Kevin chose to celebrate the men and women that have devoted their lives to bettering their communities and world by serving in the Armed Forces as well as firefighters, police officers, EMTs and their compatriots. To honor those individuals, a portion of Service's revenues is distributed to charities that support those groups.
Service's military theme spills over into its beer names, label art and the brewery décor. Year-round offerings Compass Rose IPA, Ground Pounder pale ale and Rally Point pilsner are true-to-style beers that are clean, crisp and exude quality. Seasonal releases creatively veer from the mainstream and include oyster stout Lincoln's Gift, marzen Teufel Hunden and bière de garde Old Guard.
Based in Savannah, GA, Service Brewing Co. enlists local artists to illustrate labels for its large format bottle releases and hand-craft tap handles for use in the tasting room. That commitment to local includes using honey, fruit and other ingredients from neighboring businesses and farms.
Related Post: Savannah Crawl: Get Some Culture With That Southern Charm
A visit to the brewery showcases the full vision of the Service Brewing Co. team. Stacked shipping containers painted desert tan create a massive back bar, separating the production and consumption areas. Displays of military patches, hung parachutes and an American flag reinforce the fact that while you're enjoying a delicious beer, you're helping to support those that have devoted their lives to service.
In addition to seeing all of the shiny steel of the brewery, purchasing a tour package also entitles you to sample Service's R&D batches, limited, often one-off brewing experiments that in the past have included a fruit beer brewed with hibiscus petals, white wheat, and fresh blueberries, a session coffee stout and even a carrot cake-inspired ale. Thanks to recent changes in Georgia beer laws, you can also take home fresh draft beer encased in 32 ounce "Crowlers," cans that are filled and capped on-demand.
It's rare to find a brewery that not only crafts excellent beer; but also inspires its patrons. The question "How Do You Serve?" is emblazoned on a large chalkboard in the Service Brewing Co. tasting room. While many leave their mark on the board stating their years serving as infantrymen, teachers or community leaders, others walk out into the warm Savannah heat with that question still on their minds, searching for ways that they can make a difference.
Photo credits: Brewery exterior by Richard Leo Johnson. Compass Rose by Adam Kuehl.
Editors' Recommendations