When people think of Israel, they tend to think of an old, old place. When they think of Israeli wine, they tend to jump straight to Manischewitz. For shame. The Middle-Eastern country of more than nine million people boasts a surprisingly robust wine scene thanks to geographical diversity and a plethora of producers. Oh, and a lot of history, too.
It's fair to tie the ancient element to the wine scene. Israeli wine and viticulture is mentioned in the book of Deuteronomy, for Pete's sake. Romans made special requests for the vintage versions of the stuff back in the day (shipped in amphora no less). What began as absorbed knowledge from the nearby Egyptians thousands of years ago is now its own sovereign winemaking world, built around added expertise and varietals introduced by the French in the 19th century.
Yes, Manischewitz is very much around. In fact, Israel still produces a lot of kosher wines for Jewish communities all over the globe. Most of what's produced is kosher, but that really doesn't mean much from a winemaking standpoint. Wine made and used solely for sacramental purposes is a tiny slice of the pie. Most of today's Israeli wine has no religious purpose beyond the divine enjoyment experienced from a couple of good glasses. And because the U.S. get the most of what's exported, Americans are being let in on the evolving scene.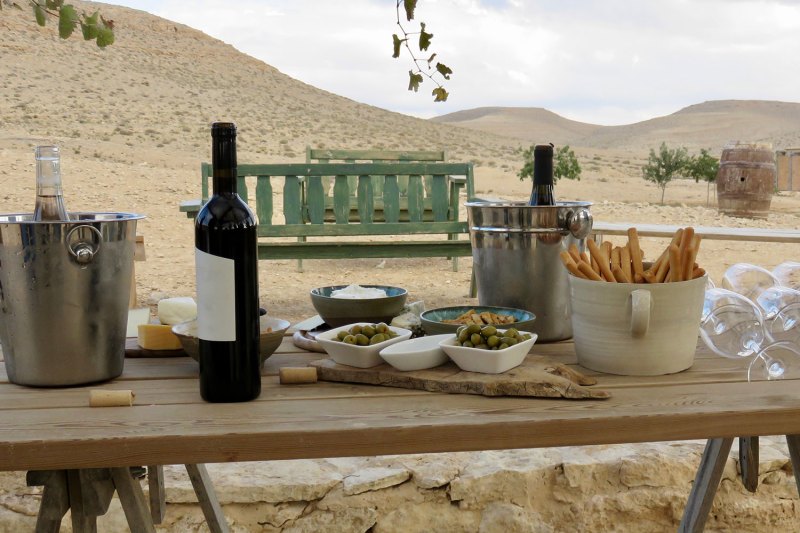 Let's start with the landscape. In terms of latitude, Israel is on par with southern California and Baja, Mexico. The climate is influenced greatly by the nearby Mediterranean and much of the growing happens in the nation's cooler northern parts. A mix of soils and microclimates add layers and terroir to the Israeli wine world.
There are five main growing regions. The Galilee is the most renowned, the backdrop for some of the highest elevation vineyards in Israel. The big diurnal swing in the hills of the northwest corner of the country make for quality growing conditions. The Shomron sits along the Mediterranean, south of Haifa and made famous by Mount Carmel, the winery established by the iconic Baron Edmond de Rothschild.
There's also Samson, set south of Tel Aviv and a bit inland and the Judean Hills south of Jerusalem and set closer to the Dead Sea. Finally, the Negev, a desert region but showing some promise thanks to irrigation.
What's being made within this age-old nation roughly the size of New Jersey? Well, primarily Cab, Chardonnay, Syrah, Merlot, and Sauvignon Blanc. Varieties like Riesling, Gewurztraminer, Roussanne, and Chenin Blanc are showing some real potential. There are also fun, relatively obscure types like Marselan and Argaman.
Our country has always had a pretty tight relationship with Israel. Politics aside, this administration is very much reflective of that. And because the sitting Prez doesn't touch the stuff, that means more Israeli wine for you and me.
L'Chaim!
Want to try Israeli wine? Here are a few to sample:
Yatir Mt. Amasa 2017 White
A mix of Viognier, Chenin Blanc, and Roussanne, this wine shows lots of melon and pear flavors. The fruit comes from the Yatir Forest and rests in a combination of oak, concrete, and stainless steel before bottling.
Binyamina Reserve Roussanne 2018 Orange Wine
This orange wine has as much texture as it does color. Floral and fruity with a honey-like backbone, it's rich without being sweet, with a nice acidity to back it all up.
Recanati 2017 Shiraz
Made from Upper Galilee fruit, this Syrah (Syrah and Shiraz are the same grape) is almost always a great value no matter the vintage. It's spicy, berry-driven, and soft on the palate.
Editors' Recommendations