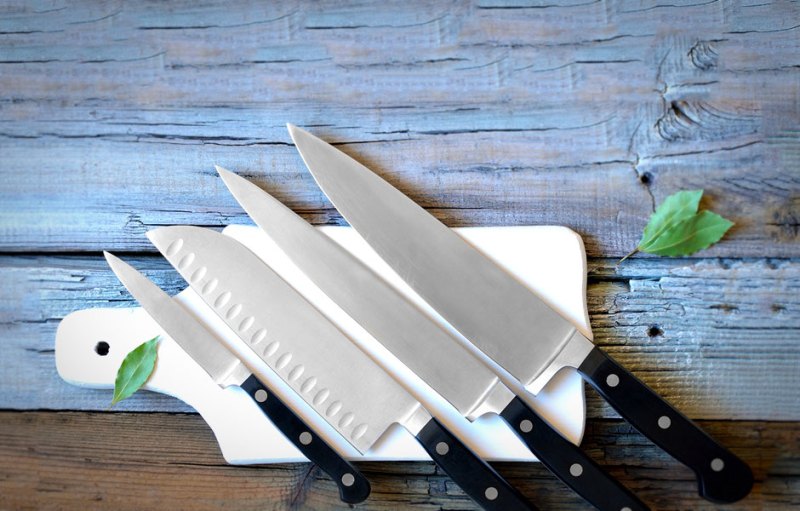 Fall is approaching, and while we're not ready to tuck in our grills quite yet here in the Northeast, we can see the change at the farmer's market. As zucchini and tomatoes come to an end, winter squash begin to dominate. And if there's one thing you need in order to prep a tough butternut squash, it's a damn sharp knife.
The Knife
If you haven't invested in a quality chef's knife yet, it's time. A good knife will be a noticeable improvement in your cooking life. Instead of struggling to hack your way through a squash, a sharp, high-quality knife will allow you to slice cleanly through an acorn squash and then chiffonade basil without crushing the leaves.
When it comes to cutting through a tough winter squash, a heftier knife is what you should go for. Not only will a heavier knife do some of the work of cutting through the squash, you'll be applying a lot of pressure on the knife itself and it should be able to withstand some tough love. Choose a 10" chef knife and make sure your cutting board is on a no-skid surface to prevent the squash from slipping out from under you as you cut.
Knife Maintenance
We can't stress how important it is to maintain the blades of your knife. Be sure to wash and thoroughly dry your knife after each use. Avoid those cheap knife sharpening tools you can get at the grocery store – you want to not only make your knife sharp, but maintain the shape of your blade. The Manual learned how to sharpen knives with 'Knife Master' Eytan Zias and food expert Josh Ozersky. Check out the video and instructions and remember that knife sharpening takes practice. If you're nervous about testing out your new skills on your brand new $150 knife, test yourself on one of your cheaper grocery store knives.
If you don't feel like maintaining your blade yourself, many higher end knife companies will sharpen your blade for you. My go-to chef knife is a layered damascus Shun, a Japanese blade made of layered metal alloys. They take their knives so seriously that part of their warranty includes free sharpening as long as your own the knife. Shun also just won the Blade Show's Kitchen Knife of the Year award, so you know you can expect quality from your investment.
Cutting A Butternut Squash
I have a formula that works quite well for cutting a butternut squash. In addition to my super sharp Shun chef knife, I also use a sturdy (and sharp) vegetable peeler to remove the skin. You can definitely remove the skin with a knife if you don't have a peeler, but the peeler definitely gets the job done faster and with less waste.
Remove each end of the squash.

Separate the "neck" portion from the "bulb" portion and peel each. Having a flat base to stand the squash on makes peeling much easier.

Cut the bulb in half and scoop out the seeds and stringy insides with a spoon. (You can save the seeds if you want to roast them later.)

Slice each half into about 1" semi-circles and cut those into 1" cubes.

Cut the neck in half and slice that into 1" semi-circles.

Slice the semi-circles into 1" slices and then cut the slices into 1" cubes.
Editors' Recommendations