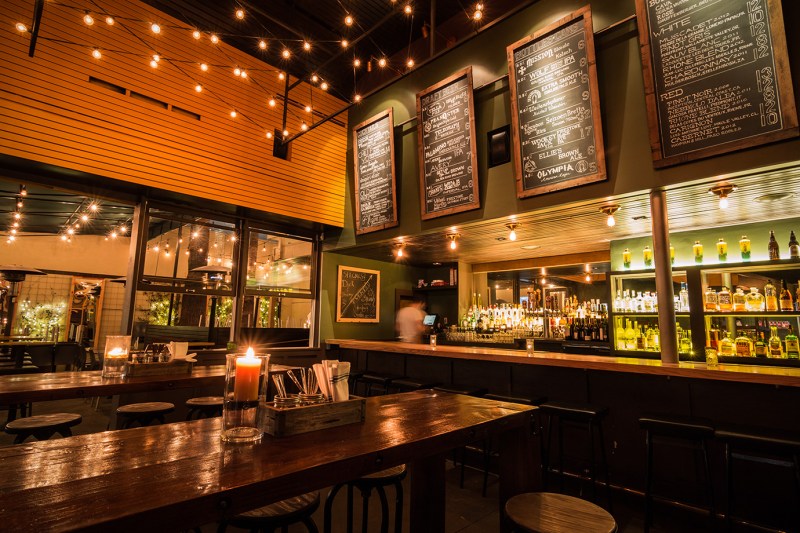 You should go to Mud Hen Tavern. Opened by renowned chef Susan Feniger and named for the minor league Toledo Mud Hens, it's the kind of after-work place that makes a good day better and a bad day worth it. It's a social restaurant/bar, cozy and inviting, making it feel a bit like going to someone's house for a dinner party. In this case, though, you only have to talk to the people you came with.
Let's start with the food: you would be crazy not to order the Cauliflower Popcorn, which is, admittedly, a bizarre statement. But this isn't boring old cauliflower! It's salty and poppy and delicious and somewhat healthy. It's the best thing to happen to cauliflower since… ever. If fish is your thing, you must order the Albacore Tuna Crudo: it's simultaneously creamy and crunchy and is incredibly fresh and satisfying. On the brunch side, start your morning off right with the Old Fashioned Maple Donut (with espresso glaze and spiked whipped cream) and then follow it up with the Chicken and Waffle Croquettes. If you're in a hurry and can't have the full Mud Hen experience, at least fuel up at Blue Window, rotating go-to food items.
Their drinks list is stellar, with rotating taps for seasonal brews and a fairly expansive list of craft options, like Bell's out of Michigan, which can be tough to find. Give their Mud Hen Sour a try if you like bourbon and aren't afraid of a little egg white. The bartenders are friendly and knowledgeable and can help you order the perfect libation.
Now atmosphere: at first glance, it seems like it's going to be a hole-in-the-wall, but it opens up into a fantastic patio that makes the best of Southern California weather. There are blankets and gas heaters if it gets chilly, so there's rarely a moment in the year when you can't make use of this place. And the hits keep coming: Every Tuesday at 8 pm Mud Hen offers "Geeks Who Drink" trivia. Wednesdays are for "Whiskey Wednesdays" where the featured whiskey cocktail is $5 and the whiskey flights are $15.
They offer a rewards card where for every dollar you spend, you get a point that adds up to gift certificates: to valet parking vouchers, to an incredible chef's table meal with gift bags, and even wine pairings. All are amazing perks, but they had Angelenos at valet parking voucher…
Mud Hen Tavern a sophisticated neighborhood joint where it's easy to eat well, drink well, and maybe make a few new friends. Or just stick with the ones you've got and bring them along.
Editors' Recommendations